Don't Test Restraint Shown by Police, CM Mehbooba Mufti Warns Kashmiris
Jammu and Kashmir Chief Minister Mehbooba Mufti on Friday termed as "shameful" the mob lynching of a police officer outside the Jama Masjid in downtown Srinagar and warned people of severe backlash if the police loses its patience.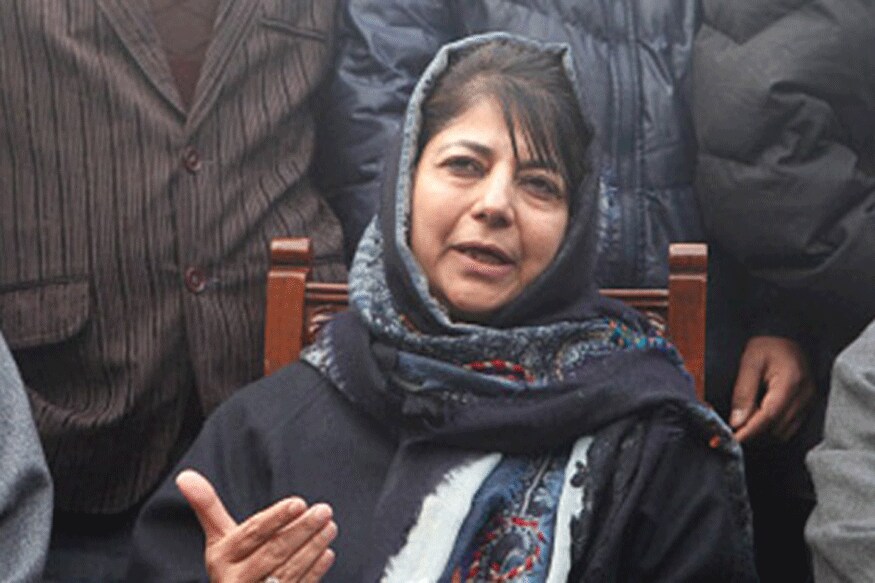 File Photo of Jammu and Kashmir Chief Minister Mehbooba Mufti.
Srinagar: Jammu and Kashmir Chief Minister Mehbooba Mufti on Friday condemned the lynching of a senior police officer Mohammed Ayub Pandith by a mob outside the Jamia Masjid in Nowhatta area of Srinagar and warned people of severe backlash if the police loses its patience. She called the incident "shameful".
She said, "What can be more shameful than this (lynching of officer). I want to say that J-K police is one of the best police forces in the country, they are brave but they are showing maximum restraint (while dealing with law and order situation) because they feel that they are dealing with their own people in J-K, reported PTI.
ALSO READ | Cop Beaten to Death Near Srinagar Masjid, Mirwaiz Says 'I Wasn't There'
"But, for how long? she told reporters on the side lines of a wreath-laying ceremony of the slain officer here. "The day their patience wanes away, then, I believe, things will be difficult. I appeal the people that there is still time and we should understand. The police force is our own force, they are our children and such a treatment is shameful," the Chief Minister said.
She said the officer had not gone to the mosque for personal work but was there to protect the lives of the people and fulfil his duty.
ALSO READ | Kashmir Mob Lynching: Mufti, Abdullah and Gandhi Condemn in Same Language
"A SHO along with five cops was killed some days back and now this DySP...I appeal to the people that this is a shameful incident, that those who protect you, show patience while dealing with you, but if you behave like this with them, then if they lose their patience, then God forbid, such a time will come when people have to flee after seeing a (police) gypsy on the road," she said.
Condemning the incident, former chief minister Omar Abdullah announced a donation of Rs 10 lakh and a month's salary as MLA to the police welfare fund to support families of such martyrs. "I am personally anguished and devastated by this tragedy. That this happened on the most auspicious night and outside Jamia Masjid is shocking," he said.
His death is a tragedy & the manner of his death a travesty. May the people who lynched DySP Pandith burn in hell for their sins. https://t.co/uuddYdbJYc

— Omar Abdullah (@abdullah_omar) June 23, 2017
"Such heinous elements are the enemies of Kashmiriyat and humanity and should be given the sternest possible sentence as per the law of the land," he added.
(With PTI inputs)
Get the best of News18 delivered to your inbox - subscribe to News18 Daybreak. Follow News18.com on Twitter, Instagram, Facebook, Telegram, TikTok and on YouTube, and stay in the know with what's happening in the world around you – in real time.
| Edited by: Swati Sharma
Read full article