GET Stock

Quotes


Maharashtra Environment Minister Seeks Ban on Sale of Firecrackers
Maharashtra Environment Minister Ramdas Kadam bats for cracker-free Diwali in the state.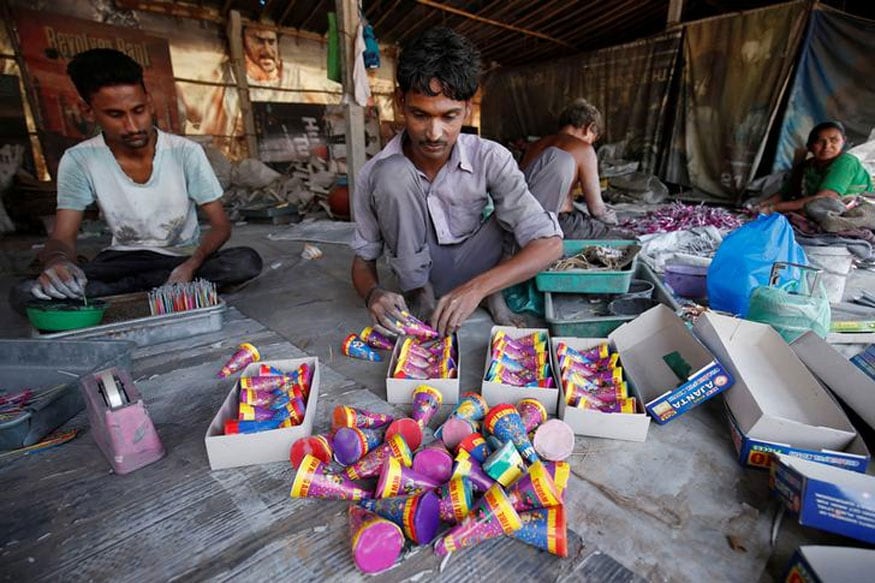 Workers make firecrackers at a factory ahead of Diwali. (File photo/Reuters)
Mumbai:
Maharashtra Environment Minister Ramdas Kadam on Tuesday said he would request Chief Minister Devendra Fadnavis to ban the sale of firecrackers in the state, on the lines of the Supreme Court's verdict for the Delhi-NCR region.
"Yesterday, the Supreme Court gave its decision that there should not be firecrackers shops in residential areas. Keeping peoples' health in mind, and there should be no pollution and for this, everybody should take care," Kadam told reporters here.
"I will request the Chief Minister and see if something similar could be done here as fire crackers cause pollution, human beings and animals get affected and even shops at times catch fire," he added.
Senior Shiv Sena leader and Rajya Sabha MP Sanjay Raut, however, said the livelihood of scores of Marathi youth depends on the firecracker business and demanded the government refrain from imposing any ban.
"What great work are you doing by snatching the livelihood when you cannot give them employment. Firecrackers are burst in 199 countries around the world," he claimed.
"Then why are you dousing the kitchen fire of the poor," he went on. "Ban on firecrackers is not a solution to stop environment pollution."
"River Ganges did not get polluted because of firecrackers. This business gives thousands of people their source of employment. Scores of Marathi youth earn an livelihood by putting up firecracker stalls. Shiv Sena gave them space to put up stalls," Raut added.
Voicing his strong protest against the firecracker ban, MNS president Raj Thackeray sarcastically asked whether people should burst them on WhatsApp.
"People should celebrate Diwali festival as they have been doing so all these years. Why is there ban imposed on celebrating Hindu festivals only?"
The Supreme Court had yesterday said that its order of last November banning the sale of firecrackers in Delhi- National Capital Region (NCR) would continue till October 31 -- Diwali falls on October 19 -- in an effort to check pollution during the festival of lights.
Also Watch

News18 Reel Movie Awards: Ratna Pathak Shah Bags Best Actor (Female) Award
Read full article