Maharashtra Just the Beginning, Farmers from Across India Planning 'Mother of All Protests' in Delhi
Farmer leaders from states like Gujarat, Assam and Tamil Nadu have confirmed that a mega protest will be held in the national capital in April.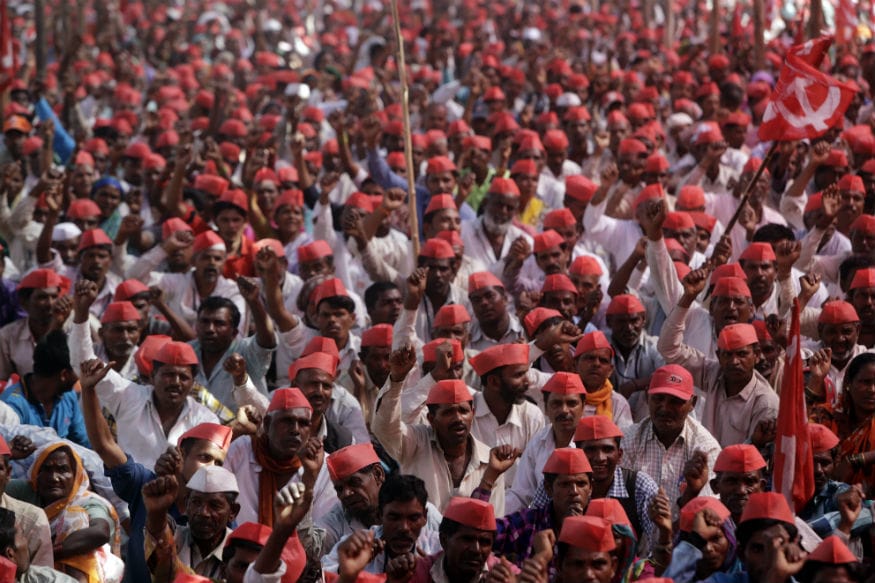 Farmers shout slogans during a rally at the end of their six-day long march on foot in Mumbai on March 12, 2018. (AP Photo/Rajanish Kakade)
New Delhi:
The ongoing protest by thousands of farmers in the heart of Mumbai may just be the beginning. For, leaders of farmers' associations in several states are planning to hold similar marches in their respective states — in the lead-up to a mega protest in the national capital in April.
"The government's anti-farmer stand needs to be challenged. We will hold a rally for the same in Guwahati very soon. Also, all state farmer heads are in close collaboration and we are planning to hold a big protest in New Delhi sometime in April. Farmers from all over India will be present in that rally. State farm heads are meeting in Guwahati this month itself," said Akhil Gogoi, a Northeast-based farmer rights leader.
India's Northeast has been reeling under farmer crisis caused by land erosion, floods and the general terrain of the land. "The state government does not buy our output, which results in heavy losses to our farmers. The issues that have been raised in Maharashtra apply to farmers all over the country. The Mumbai march was a plan well-conceived and all of us had planned it keeping in mind the government's stand," said Gogoi.
More than 30,000 farmers and members of tribal communities from across Maharashtra have covered a distance of more than 180 km on foot to table their demands before the Maharashtra government.
Azad Maidan in south Mumbai turned into a sea of red on Monday morning as thousands of farmers, carrying red flags, converged there after walking for almost a week. They are scheduled to meet a government committee later on Monday.
"Farmers have suffered a loss of more than 50% this year. There was a severe pest attack on Kapas or raw cotton that has destroyed crops. The government has made a joke of MSP. Farmers are not given any sort of MSP at all. There is a severe problem of loan waiver. If the farmer does not get money from his produce, how will he return the loan?" said Raju Shetti, a farmer leader in Maharashtra.
Farmer leaders from Gujarat and Tamil Nadu also confirmed the mega rally in New Delhi and expressed their displeasure with government policies on farmers.
"The general farmer is unhappy today. What do you expect them to do? They are still peacefully marching. The government has to do something about this as soon as possible," said Sagar Rabari, farmer leader in Gujarat.
Shiv Kumar Sharma from Madhya Pradesh, also known as Kakkaji, said all states are in solidarity with the Mumbai protest and if the government does not pay heed, there are bigger protests coming up. "We have just two demands — loan waiver and providing us with 1.5 times the cost of production. The situation is such that farm produce is sold at a price lesser than the production cost which is obviously a loss to farmers. The government has been talking about implementing the Swaminathan Commission report since 2006 and it has not touched ground till date," said Kakkaji.
MS Swaminathan, chairing the National Commission on Farmers, during the release of the report had said, "We will change the Minimum Support Price (MSP). There will be a new formula — the entire cost of production and 50 per cent profit. It will not only help farmers but this step will also not allow anyone to loot farmers."
| Edited by: Nitya Thirumalai
Read full article
Countdown To
Elections Results
To Assembly Elections 2018 Results