Mumbai: "Ask anyone where Goli lives, and that person will direct you to her house," says a middle-aged woman, as she hurries to the nearest water tap, with a bucket. "Sab jante hai usse, woh bahaut famous hai yahan." (Everyone knows her. Around here, she is very famous), she adds, before disappearing in a narrow bylane of Sai Sadan Gali, in the Cuffe Parade slums.
The slums is an intricate maze to winding narrow lanes overflowing with people and pee smell, wastes, and sewer water. Small rickety houses stand cramped up in each others' shadows on both sides of these lanes. Thin slices of light from the sky cut into the darkness of these lanes in some spots, where the canopy of tarps is missing. This is not a place where many famous people live. But, Goli is different.
Her fame too is curious and coincidental. She is often known as the 'bullet baby' or 'miracle baby' of India because she was born in Mumbai on the horrifying night of November 26, 2008, when the maximum city experienced the worst terror attack in its history, wherein 164 people lost their lives, and 308 were injured.
As terrorists open fired at civilians, staff, and policemen in The Cama & Albless Hospital, Goli's mother silently gave birth to her in the labour room of the building. Today, as we commemorate the day when many brave hearts lost their lives, Goli turns 10. It may seem awful to many children to share his/her birthday with a day when a national tragedy happened, a day that's mourned by thousands of people every year in this country, but Goli doesn't complain because that is what makes her famous.
On the contrary, she takes her birthday as an omen and speaks about her future plans in the purposeful tone of a novel's hero(ine), who knows that she is the 'chosen one'. "Mujhe collector banna hai, kyunki main desh ke liye kaam karna chahti hu," she says (I want to become a collector, because I want to serve the country.) Even as she sits down to chat with me in her 6 feet by 6 feet one room kholi (house), she is surrounded by other kids of the slums, who quietly wait for her to frame her replies, which she tries to deliver in English every single time. There is awe and admiration in the eyes of the little ones sitting around Goli, as they hear her retell the story of the night she was born.
The story rolls off her tongue in a rehearsed manner; she had heard her parents talk about it many times, and over the years, there have been several other 'news people' who have come to talk to her and her parents about it.
Although it is impossible for her to remember that night, the events of that fateful night are a part of her inherited memory. She parrots the sequence of 'all that happened' as though she is reciting her crammed up exam answers.
"That day India had won a cricket match. So, when the gunshots were being fired my parents thought that people are celebrating by bursting crackers," says Goli. Her mother was taken to the hospital earlier that evening because she was about to go into labour. Her dad, Shamu Chavan admitted her mom, Viju, in the maternity ward and went downstairs to find a drugstore from where he can get some medicines for her. But, as he climbed down, he saw something that no one expects to see in their real life.
The liftman of the hospital was hit by a bullet, and so was the watchman. He immediately went back and alerted everyone in the corridors to take cover. The doors of different wards were slammed shut as people hid behind them. Hospital beds were piled up behind those doors to make sure terrorists cannot enter.
As terrorists fired on policemen outside the hospital from the terrace, Goli came to this world. Her mother didn't make a sound too afraid that the terrorist would come if they hear her. A bullet lodged itself in the door of the labour room, prompting the doctors and the staffs to hide Goli's mother—who had just given birth—under the bed, in case there was more firing. It wasn't until a few hours later that Shamu Chavan, who was hiding behind the door of a different ward heard that he has been blessed with a beautiful little girl.
"One of the doctors at Cama Hospital named my sister Goli, because she was born amid such heavy firing," says Goli's brother, Shashikant Chavan, who studies in ninth standard and wants to be a software engineer someday.
Shashikant was four years old when the attacks happened and although his memory of that whole evening is fuzzy, he says he remembers being "scared, very scared." Goli also has a little sister, who coincidentally was born on the day the Pune German Bakery blast happened.
In the days that followed the Mumbai attacks, Goli received a lot of media attention because of the way she was born under siege. She represented a ray of hope in those dark times for us as a nation. But, as years passed by, the attention began to fade. In fact, for a short while, she and her family were also rendered homeless because of the Mumbai rains. Few reported it, fewer stepped up and helped. But, fame or no fame, Goli and her family members still have the quality of silent resilience that makes them capable of many small miracles in their day-to-day lives.
Goli has visited several places in Mumbai—Gateway of India, Girgaum Chowpatty—but her favourite place is home in the Cuffe Parade slums which is plagued by acute water shortage and lack of proper sanitation. Sitting in her small Kholi, she likes to draw.
"My brother helps me draw, he teaches me drawing from YouTube," says Goli enthusiastically as she shows a sketch of Dahi Handi that she had made. Her favourite subject is Marathi, but what really interests her is sports. She is a student in the fifth standard at Little Flower School and is currently enjoying her holidays as the school is closed. She mostly stays away from films and likes to play outdoors with other kids of the slums.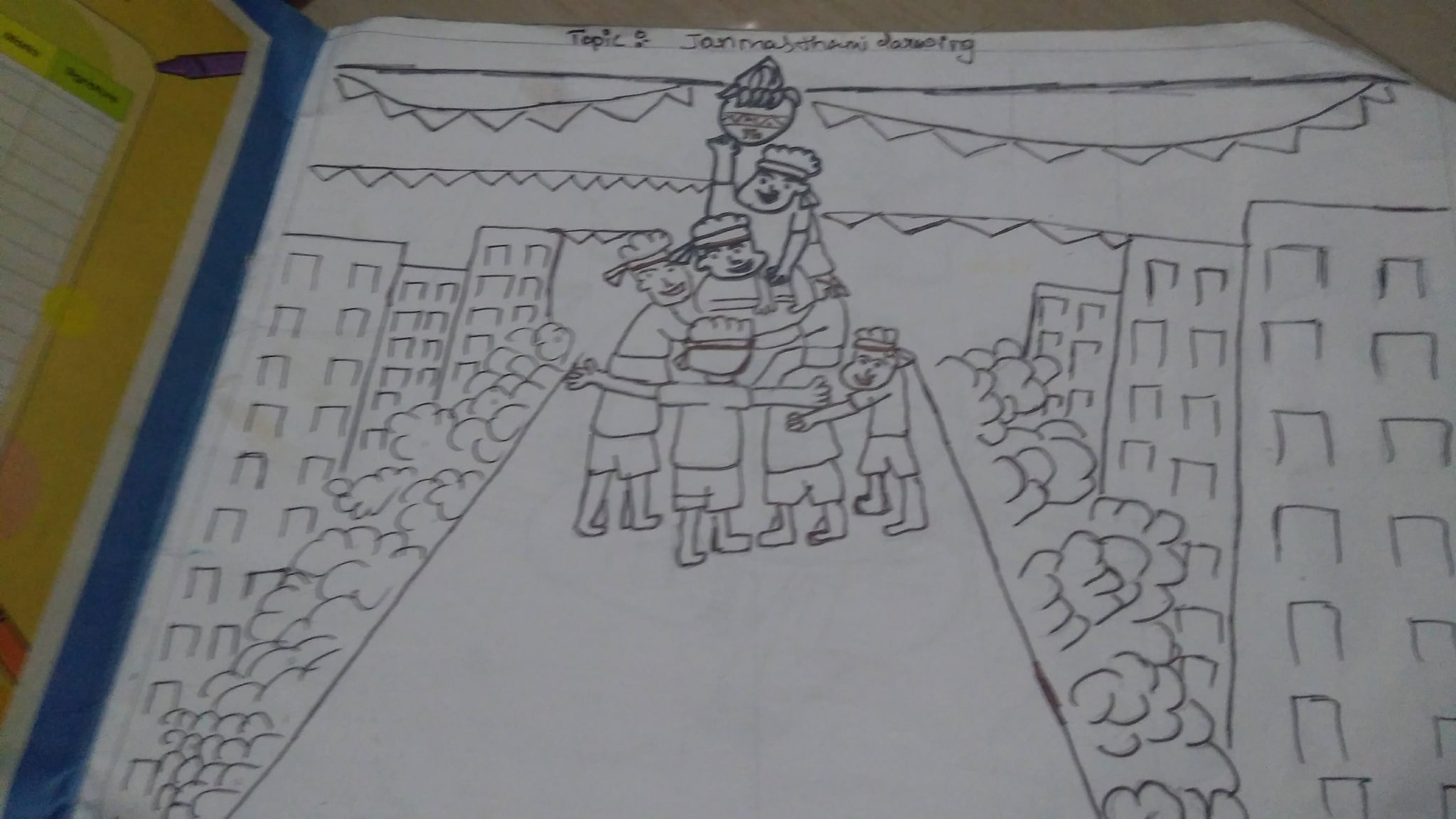 While 'Goli' is still the name she is popularly known by, her mother officially named her Tejaswini Shamu Chavan, a name that was inspired by a courageous policewoman character in a Bollywood film. "Her parents hope that she would serve the nation one day," said a neighbour. Her dad, a worker at Sassoon Docks, and her mom who cooks in different homes in Cuffe Parade are trying hard to give the kids a good education. They want their girl to work for the country, she adds.
Goli too is keen to do something for her 'desh' but her brand of nationalism isn't jingoistic. When asked who does she thinks terrorists are, few kids sitting and watching her, almost instinctively replied "Pakistanis" before Goli can frame her answer. But Goli isn't hasty, after a thoughtful pause, she simply answered, "they are just bad people."​