Making our neighbourhood qualitatively safe and secure
'Make them work' in India will add to improving quality of life and making our neighborhood safe and secure in all respects.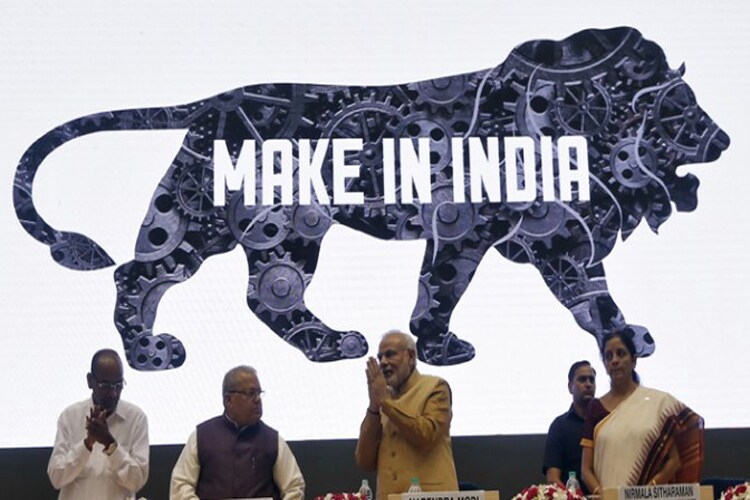 'Make them work' in India will add to improving quality of life and making our neighborhood safe and secure in all respects.
It is good that Prime Minister Narendra Modi has given a clarion call to manufacturers abroad to come and 'Make in India'. India has woefully lagged behind in making products up to international standards and had to import from computers to mobile phones, staples to jet planes. This is a serious lacuna which our Prime Minister seeks to address. Governments in past have not paid serious attention to this aspect which has left India between two stools when it comes to critical spare parts for its weaponry. Even computers were banned by the Clinton administration as part of the so called 'sanctions', as a punishment when India went ahead with testing its nuclear prowess. India of course responded splendidly when its own technocrats developed indigenous computer capability. Though India has come a long way 'Make in India' call has not come a day too soon.
But there is another problem which has dogged our country for long but left unaddressed. Equipment meant for public utility does not work on most occasions. I still remember in the Eighties and even Nineties our public telephone booths accepted coins gleefully but failed to connect with the called party on the other side. People cursing the kiosk, kicking it in despair for losing one rupee coins and hobbling in pain was a sight to behold. What used to happen routinely couple of decades back now seems as part of Stone Age.
Despite overall improvement, simple things confound us even now.
In the cinema halls the fans would not work, and traffic signals do not work at times even now on main roads. In hospitals out of 5 X-ray machines only 2 will work with milling patients spilling over to corridors waiting endlessly.
Most taps in washrooms, public toilets in government offices as a rule do not seem to work, try as you might. Taps embarrassingly run dry in toilets in trains.
It is quite common to see patients coming for treatment in hospitals walking up the stairs with a board hung across the ground floor lift, 'Not Working'. This remains unattended for weeks and months at a stretch.
The list is endless.
Sometimes they can cause serious damages.
Water does not flow from fire hydrants when firemen connect their hoses to fight fire and crucial time is lost in saving life and property. Sometimes cars and vehicles are parked next to fire hydrants making access impossible to fight fire in skyscrapers. This is a common feature in most of our urban areas.
It looks like we are not a nation interested keeping our equipments in working condition. Where maintenance is need of the hour, apathy is written all over. 'Chalta hain' seems to be the attitude. The bulbs will not burn, there will be a loose livewire hanging from a pole while people will be walking underneath and children will be running around at play.
The municipality, local corporations do not seem to care with apathetic public joining them.
One has seen many instances where contractors who had dug up for borewell leaving the work unfinished which becomes death-traps for children playing nearby. Such events get great minute-by-minute television coverage only to get repeated in the next locality without learning any lessons.
Closed Circuit Cameras Television (CCTVs) sets are located at important junctions to assist in catching terrorists and other anti-social elements bent on breaking the law. As the police wait for crucial footages from the scene of crime to identify the perpetrators more often they see only empty screens. Poor maintenance, lack of spare parts result in the cameras not working when it is needed most. This is one of the reasons why many cases remain unsolved.
Even in the recent chilling murder of Prof MM Kalburgi, police have not been able to identify the culprits as the CCTV cameras located near his place were not working properly as in the earlier case of Narendra Dabholkar couple of years back.
Here's a shocker. All the 51 close circuit television cameras (CCTV) cameras under the Cyberabad traffic police department were defunct. The information, furnished in reply to an RTI query, also revealed that 34 CCTV cameras out of the 370 in Hyderabad were not functioning. This fact surfaced, despite a terror attack sometime back in the city!
As if falling off an overcrowded Mumbai suburban train wasn't enough, 11 persons injured in an accident on Central Railways were in for a shock when they were taken to a civic body-run hospital where the x-ray machines weren't functioning.
The 11 injured commuters, who were taken to Rajawadi Hospital in Ghatkopar East after the incident, discovered that the hospital did not even have functioning x-ray machines.
Additional secretary and Mission Director of National Health Mission CK Mishra mentioned in Committee of Biomedical Management and Maintenance program that between 30- 60% of medical equipment does not work in States.
The above instances are a story that is true all over India with varying degree of complacence, carelessness or cussedness if you will, over the years.
The government should give sufficient importance to this crucial aspect of keeping the equipment whether they are traffic signals, street lamps, CCTV cameras, lifts in working order. It needs the right approach, attitude, technical skill and keeping stock of critical spare parts.
The local municipal bodies, the state governments should address these problems. An enlightened public along with voluntary agencies can bring about a sea-change to improve the quality of life.
Our Prime Minister already has talked of imparting training to skilled labour to increase their proficiency.
Who better than our Prime Minister to exhort our nation in this regard and change the mindset?
It is here the Prime Minister can give importance over his Sunday talk of 'Mann Ki Baath' stressing the right attitude to keep our public utility service in top working condition. Like the way the Prime Minister promoted 'Swacchh Bharat', which caught on with entire nation, 'Make Them Work' in India can galvanize every neighborhood to ensure their local municipal corporations keep the utility running well. The states can really ensure success of this. A crucial footage of CCTV, a working lift for the aged, sick and disabled, burning street light can help in many ways for catching culprits, preventing ghastly incidents in lonely spots.
'Make in India' is important, no doubt. 'Make them work' in India will add to improving quality of life and making our neighborhood safe and secure in all respects.
Get the best of News18 delivered to your inbox - subscribe to News18 Daybreak. Follow News18.com on Twitter, Instagram, Facebook, Telegram, TikTok and on YouTube, and stay in the know with what's happening in the world around you – in real time.
Read full article