GET Stock

Quotes



Making Sense of Doklam Deadlock: Is it De-escalation or Stalemate?
China claims that the number of Indian troops at Doklam tri-junction has come down from 400 to 40, but sources in Defence Ministry say it is status quo and there has been no reduction in troops.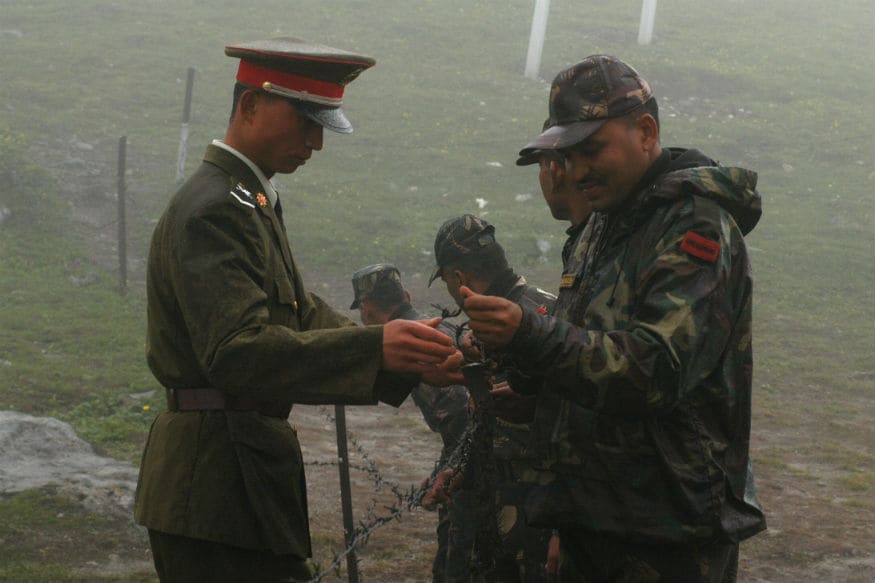 File photo of Indian and Chinese soldiers on the border fence at Nathu La. (Representative image/Getty Images)
New Delhi:
The standoff between Indian and Chinese troops at the tri-junction in Doklam is now approaching its 50th day. This is officially now the longest standoff since the Samudorong Chu incident in 1986-87.
But over the last few days, there has been a significant climbdown in the rhetoric from the Chinese, which possibly signals a thaw in the faceoff.
The Chinese Foreign Ministry put out a 15-page factsheet on Wednesday in which it claimed that the number of Indian troops had come down from 400 to 40. For the record, no one in the Government of India, either in the Ministry of External Affairs or in the Ministry of Defence, is corroborating this.
On the contrary, MoD sources have told News18 that it is status quo and there has been no reduction in troops. But this could well be for public consumption.
Defence analyst Ajai Shukla put out a piece on his blog a couple of days ago, pointing out that the number of troops have come down substantially on both sides.
He separately also confirmed to News18 that while the number of Chinese troops had come down to 40-odd, the number of Indian troops had come down to between 100 and 150.
In any case, you cannot start a war or any kind of military escalation with these kind of numbers.
So are both sides now laying the ground for a possible de-escalation? It's become clear to both sides that this is not a sector in which there are going to be any easy victories.
The Chinese seriously under-estimated how far back the Indian troops would push in response to their action of building a road at the contested tri-junction.
India's position was captured by External Affairs Minister Sushma Swaraj in her statement to Parliament on Thursday, which always was to find a mutually acceptable solution.
If troop numbers have come down, it is indeed a big victory for India. Not only did she stand her ground, but also got the Chinese to swallow their pre-condition that a dialogue can start only after 'unilateral withdrawal' by Indian troops.
Having taken a very harsh tone in public statements, it would be difficult for both sides to now acknowledge publically the troop reduction. Hence, this reticence.
There are some valuable lessons for India in how she handled Doklam. It is possible to be firm with China and yet not come across as bellicose. At the same time, it would be naïve to assume the Chinese will not test India's resolve in other theatres.
China under Xi Jinping is a new animal, unafraid of her own inhibitions and uncaring towards the concerns of others. In the last four years, we have had four major standoffs with China —Depsang, Chumar, Demchok and now Doklam. What could be next, is anyone's guess.
Therefore, as former NSA Shiv Shankar Menon has been arguing recently, it's time for a new modus vivendi with China. For the last 30 years, ever since Rajiv Gandhi's historic 1988 visit to Beijing, India and China had an understanding that while difficult issues like boundary will be dealt with under special mechanisms, that would not stop both countries from co-operating in trade and commerce, converging positions on climate change etc.
The series of incidents in recent years illustrate the need for a new understanding. But can the dragon and elephant dance to a new tune?
Also Watch
| Edited by: Nitya Thirumalai
Read full article