Malayalam Review: 'Hero' is total action treat
In the final look, this 'Hero' is heavily loaded, for Prithvi's fans.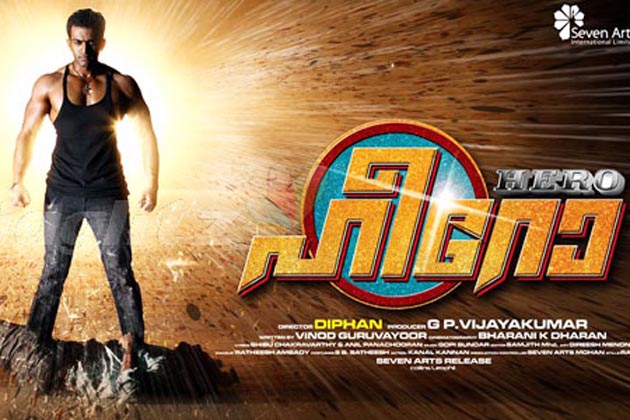 In the final look, this 'Hero' is heavily loaded, for Prithvi's fans.
After the flop run of the recent movie 'Masters', all eyes were on Prithvi's latest 'Hero' which was supposed to celebrate the stardom and heroism of the young super star of Mollywood. No doubts about that, 'Hero' has plenty to rejoice and lap up for the devoted fans of the star's stunning well toned physique, handsome looks, loaded fights and punches that gets any villain land few metres away and of course, nicely choreographed songs. The only thing that the movie is deficient is a well nourished script that can lend our 'Hero' an easy walk over. Now what we have got from Vinod Guruvayoor is not so bad one, with the big pitfall being the lack of a believable, powerful villain, to take on the extreme heroics of our protagonist.
The movie has Thalaivasal Vijay as a former stunt master Dharmarajan , who finds an opportunity with the new movie of Aadityan (Anoop Menon). He is making a movie with an incompetent hero named Premanand (Sreekanth), the son of state home minister, who doesn't know stunts or emoting and is facing a slump in his career with a continuous dozen flops. (Any comparisons with real heroes?) Dharmarajan brings in an efficient hunk Tarzan Anthony (Prithviraj), his former assistant currently living in his 'Five Star Colony' taking petty 'quotations', to choreograph the dare devil stunts, which ultimately gets the heroine of the movie Gauri Menon (Yami Gautham) interested in him. In no time Premanand who has already fallen for the heroine finds it difficult to go on with Tarzan, as the latter's charms pull the eyes of everyone around.
Trying to recreate the magic of their 'Puthiya Mugam', Diphan tries his level best to make a grand mass masala flick, with every ingredients that may satisfy the die hard fans of Prithvi. And so the gravity defying action scenes and slow motion walks takes time, as the rest is marred by a tipsy-topsy run of an average screenplay by Vinod Guruvayoor. The wonderful similarities in story lines with the recent movie 'Josettante Hero' where the still photographer of the movie is forced to be at the helm as the lead hero' may not be that much coincidental. Interestingly, as the former movie had died out earlier than expected, people will start comparing only when both come on the mini screen.
In 'Hero', to give more space for the stunt artist, the screenplay plots much of the 'film shooting' around action sequences and the heroine who flock around much of the time. The opening and former half that goes on to 95 minutes is constructed well which gives us a feel that Diphan is ready with a sure shot winner. But the latter half has some cliched scenes which are not that convincing and predictable. The transition of an otherwise scared filmy hero into a villain trying out unbelievable action in the finale is also most improbable.
In the acting front Prithviraj is fine with an apparently handsome physique and finer performance, though there are not much scenes offered to him to bring out that extra. His action sequences choreographed by Kanal Kannan are all visualized with splendor, though not realistic. Yami Goutham in her first outing to Mollywood looks good in her debut role and appears all through the movie with a notably good performance. Anoop Menon and Thalaivasasl Vijay gets much of applauds for their lines and careful performances, while Sreekanth, Bala, Tini Tom and the rest of the cast play to their roles.
Deepan had been able to etch out the best from his technical side, with nicer visuals by Bharani K Dharan' and fine editing by Samjad Mohammed. Gopi Sundar's songs are foot tapping with 'Nero Nero' the pick among the four. While the first two songs are brightly visualized, the poor lyrics take out the spirits of a couple of songs.
In the final look, this 'Hero' is heavily loaded, for Prithvi's fans. And for the rest, a film on 'film making', that too about stunt men have got something to cherish. At least, it makes you realize to some extent, the pains taken by a few unknown, uncredited men to 'thrill' us for a few minutes in every two hour film.
Get the best of News18 delivered to your inbox - subscribe to News18 Daybreak. Follow News18.com on Twitter, Instagram, Facebook, Telegram, TikTok and on YouTube, and stay in the know with what's happening in the world around you – in real time.
Read full article