Malegaon blast case: Sadhvi's bail plea rejected
Sadhvi argued that prosecution had not followed certain provisions of MCOCA.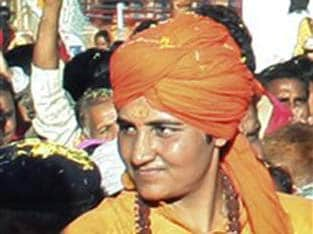 Sadhvi argued that prosecution had not followed certain provisions of MCOCA.
Mumbai: A bail plea by Sadhvi Pragya Singh Thakur, one of the prime accused in the 2008 Malegaon blast case, was rejected on Thursday by a special court which refused to accept her argument that the prosecution had failed to follow certain provisions of Maharashtra Control of Organised Crime Act (MCOCA).
In her bail plea filed in January, Thakur had said that the prosecution failed to file its charge sheet in the case within the stipulated 90-day period and thus she is entitled to bail.
Under the provisions of MCOCA, the period to file the charge sheet can be extended to 180 days if the prosecution files a brief of the progress report in the investigation before the court within 90 days and seeks extension to file
the charge sheet.
"When the Anti Terrorism Squad (ATS) filed its progress report in the case, Thakur had spent 95 days in custody and thus she was entitled to bail. Although the ATS has shown Thakur's arrest date as October 23, she was taken into custody on October 10 and thus was illegally detained for 13 days," Thakur's lawyer Ganesh Sovani argued.
Special public prosecutor Rohini Salian, however, opposed the bail plea stating that the ATS had filed the report on the 89th day since Thakur's arrest on October 23 and had thus not violated any provision.
Thakur and 10 others, including Lt Col S P Purohit, were arrested last year for allegedly conducting the September 28, 2008 blast in Malegaon that killed six persons and injured several others.
All the accused are in judicial custody. The court is expected to pass its order on the bail applications of Purohit and other accused next week.
Get the best of News18 delivered to your inbox - subscribe to News18 Daybreak. Follow News18.com on Twitter, Instagram, Facebook, Telegram, TikTok and on YouTube, and stay in the know with what's happening in the world around you – in real time.
Read full article