'Don't Play with Fire': Mamata Banerjee Warns BJP in Kolkata Protest Rally Against NRC
The Trinamool Congress leadership, which has been one of the vociferous critics of the NRC, has accused the BJP of trying to divide people through the exercise.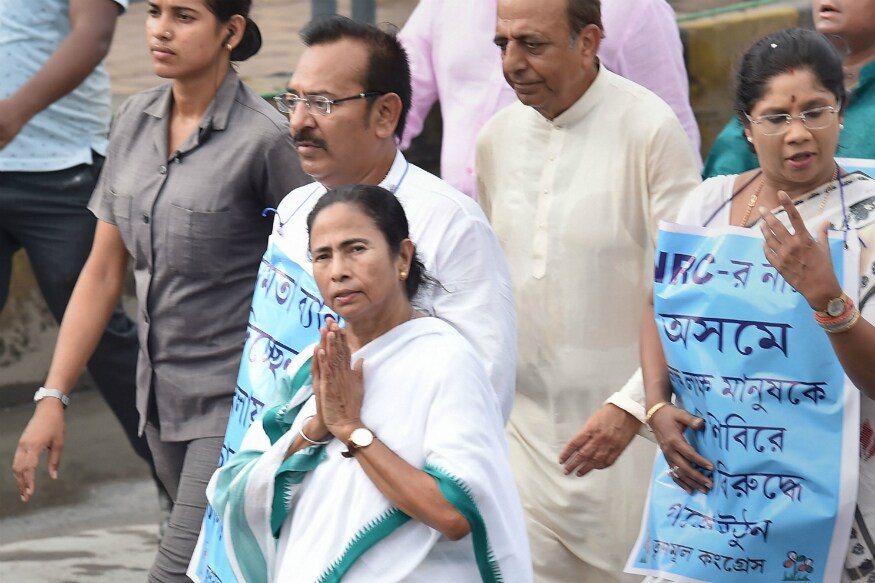 Mamata Banerjee leads a rally to protest against the NRC in Assam, in Kolkata, Thursday, Sept. 12, 2019. (PTI)
Kolkata: West Bengal chief minister Mamata Banerjee on Thursday took out massive a rally against BJP's attempt to bring National Register of Citizens (NRC) across the country and warned the BJP not to play with fire in the name of NRC.
"I dare the BJP to touch a single person in Bengal in the name of NRC. I will not let the NRC happen in Bengal till I am alive. If I die, then my young leaders will fight against this conspiracy to divide people in the name of religion," the TMC chief said while addressing the gathering. Banerjee on Thursday took out a rally in north Kolkata and led the protest march from Sinthee to Shyambazar five-point crossing, 5 kilometre away, in North Kolkata.
In a veiled attack at the BJP, Banerjee said vested interests are trying to break the backbone of Bengal's unity by trying to divide people along communal lines.
"Our battle against NRC is for our existence. It's a battle of our existence. No one is going to fight for you. It is our battle and we have to fight it," Banerjee said.
The party had on September 7 and 8 taken out rallies in other parts of the state to oppose the exercise to update citizenship register.
On August 31, the final list of NRC was released in Assam and nearly 19 lakh people were left out. A total of 3,30,27,661 people had applied to be included in the NRC. Of them, 3,11,21,004 have been included in the document. Those who have been excluded from the NRC have 120 days to appeal against it at Foreigners Tribunals.
Bengal BJP President Dilip Ghosh said, "The higher authority will decide on NRC but as far as we know that nearly 2 Crore people entered India from Bangladesh and they are settled across the country. They need to be sent back through NRC."
Get the best of News18 delivered to your inbox - subscribe to News18 Daybreak. Follow News18.com on Twitter, Instagram, Facebook, Telegram, TikTok and on YouTube, and stay in the know with what's happening in the world around you – in real time.
Read full article