Maneka Asks Adityanath for Central Facility in Lucknow to House Women, Children
At the inauguration of Krishna Kurtis, a 1000-bed facility for widows in Vrindavan, Maneka Gandhi urged CM Yogi Adityanath to allocate land to the ministry to build a central facility for women and children in Lucknow.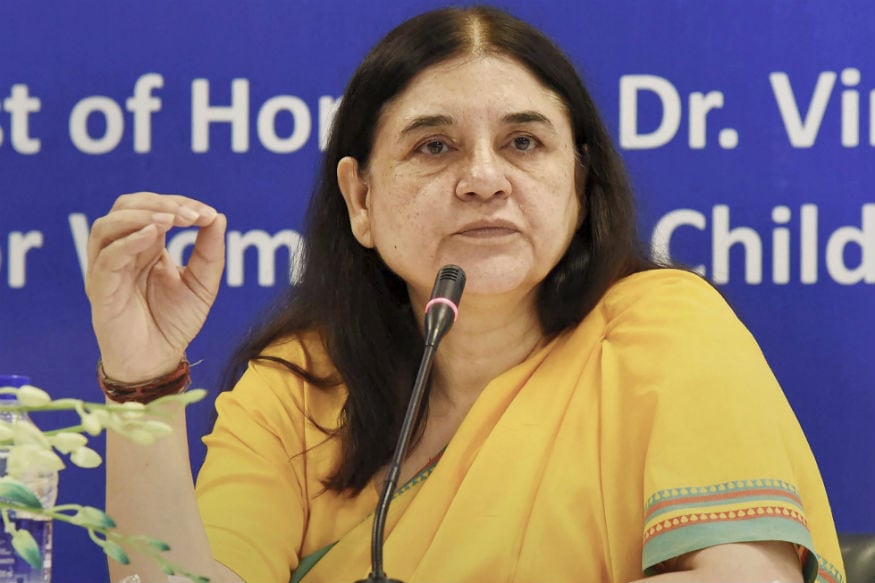 File photo of women and child development minister Maneka Gandhi.
Vrindavan: Women and Child Development Minister Maneka Gandhi on Friday urged Uttar Pradesh Chief Minister Yogi Adityanath to collaborate to build a large central facility in Lucknow for women and children in a bid to prevent Muzaffarpur-like incidents.
Noting that it was "impossible" to monitor every shelter home, Gandhi said ensuring safety of children and women at such centres would be better.
She was speaking at the inauguration of Krishna Kurtis, a 1000-bed facility for widows in Vrindavan.
Gandhi asked Adityanath who was also present there to allocate land to the ministry so they can build a similar central facility for women and children together in Lucknow.
"We don't want incidences like Muzaffarpur to reoccur and for that I urge Adityanath to kindly allocate the ministry land in Lucknow to build a similar central large facility for women and children," she said.
The Uttar Pradesh chief minister, in his response, assured Gandhi that the state will allocate land to the ministry in Lucknow as well as in Kashi to build such a facility.
The Muzaffarpur shelter home incident had come to light in a social audit conducted by Mumbai-based Tata Institute of Social Sciences, which expressed grave concern over the condition of women at these centres.
The TISS audit report stated that many girls at the shelter home had complained of sexual abuse. A special investigation team was formed to probe the complaints.
The NGO running the shelter home in Muzaffarpur in Bihar was blacklisted and the girls were shifted to shelter homes in Patna and Madhubani.
Gandhi said she has written to all the states to build a central facility for women to prevent such abuses of children and women at these centres.
Speaking about the widows centre located on the outskirts of Vrindavan, Gandhi said it is "twice the size of a five-star hotel" and equipped with all modern facilities.
She also assured the widows that the perception that it would act as a jail for them was wrong.
"The widows can come and leave whenever they want. There is no compulsion to stay here. Our aim to build this facility was to ensure the women could have a decent life," she said.
Krishna Kutir' has been developed by the Ministry of Women and Child Development under the the 'Swadhar Greh' scheme. It has been constructed on 1.4 hectares of land through the National Building Construction Corporation(NBCC), at a cost of nearly Rs 57 crore to accommodate 1,000 women.
It consists of amenities like ramps and lifts for senior citizens and differently-abled people.
The facility is also equipped with a large modern kitchen and a skill-cum-training centre.
The building's construction has been funded by the Centre and will be managed by the state government, according to a Women and Child Development official.
The WCD Ministry had earlier signed a memorandum of understanding (MoU) with the state's Women and Child Development Department.
The number of widows living in Vrindavan is estimated to be around 3,000. Currently, there are five other government-run homes in the town.
The shelter home will jointly be operated by the ministry and the state government.
While the Centre will provide food, medicine, clothing and other related stuff, power supply, sewage, drinking water and cooking gas facilities will be arranged by the state government.
However, despite all these facilities, the widows are apprehensive of the home. Many believe that the location of the centre would prevent them from frequently going to Vrindavan to pray.
A WCD official said the government is trying to allay the fears of the widows and has made provision of e-rickshaw service to take them to cities.
Currently, 23 widows have moved in the 1000-bed facility and officials at the facility said they are convincing more widows to move in and start their life here.
| Edited by: Naqshib Nisar
Read full article