Lata Mangeshkar, Ban on E-cigarettes & Sportsman Spirit: What Modi Talked About on 'Mann ki Baat'
In the previous edition of 'Mann ki Baat', the Prime Minister called for curbing use of single-use plastic from October 2, Gandhi Jayanti, a pitch he also made in his UN address.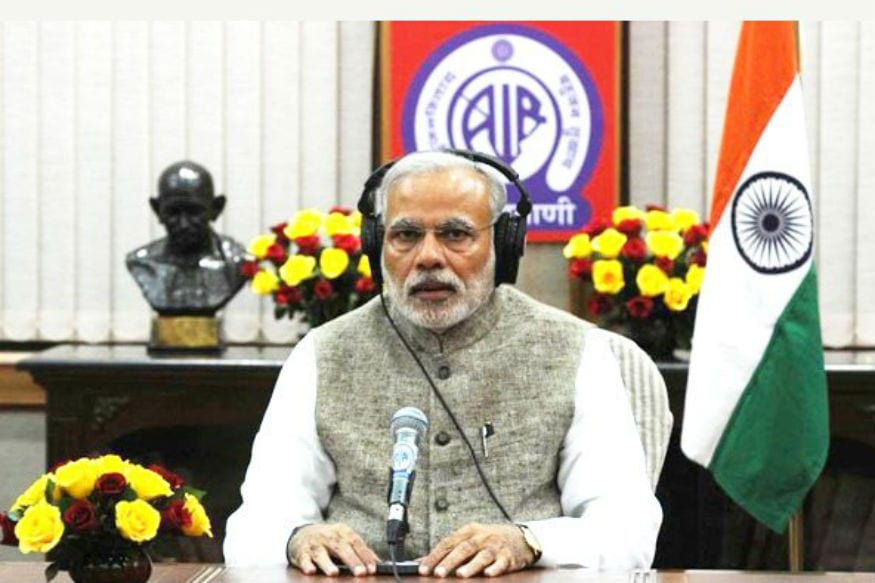 File photo of PM Modi in Mann ki Baat.
New Delhi: Prime Minister Narendra Modi on Sunday began his 'Mann ki Baat' radio address by extending birthday wishes to veteran singer Lata Mangeshkar. Airing his telephone conversation with Mangeshkar, who celebrated her birthday on Saturday, PM Modi said: "There would hardly be anyone who does not show utmost regard for Lata Mangeshkar ji. She is elder to most of us and has been witness to different eras in the country. We address her as 'didi'."
The singer thanked the prime minister for his wishes and said with Modi in power, the picture of the country was changing.
PM Modi then spoke about celebrating "inclusive" festivals, saying: "On one hand, when we experience the 'Delivery In' of sweets and gifts, let us think for a moment on the process of 'Delivery Out'. At least in our homes, items that are in excess and thus not required anymore could be allocated for 'Delivery Out'."
He also asked people to celebrate their daughters and launched the #bharatkilaxmi mission.
E-cigarettes, which were recently banned by the government, also found a mention in the prime minister's address. "We all know that addiction to tobacco is extremely harmful for health and it becomes very difficult to get out of this addiction. People who consume tobacco are vulnerable to diseases like cancer, diabetes, blood pressure. However, there is very little awareness among people about e-cigarettes. They are completely unaware of its danger and for this reason sometimes e-cigarettes find their way into homes out of curiosity."
The prime minister also referred to a speech by Daniil Medvedev — who lost to tennis sensation Rafael Nadal in the US Open — which inspired him and personified the spirit of sportsmanship.
Get the best of News18 delivered to your inbox - subscribe to News18 Daybreak. Follow News18.com on Twitter, Instagram, Facebook, Telegram, TikTok and on YouTube, and stay in the know with what's happening in the world around you – in real time.
Read full article