Pak govt trying to prevent my testimony: Ijaz
Mansoor Ijaz said the Pakistani government is trying to ensure that his name is placed on an exit control list.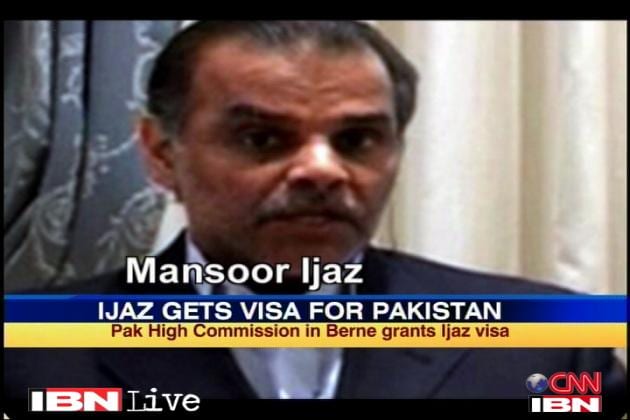 Mansoor Ijaz said the Pakistani government is trying to ensure that his name is placed on an exit control list.
New Delhi: US-based businessman Mansoor Ijaz, the man who could severely embarrass the Pakistani government in the memo scandal, is now claiming the government is doing its best to prevent him from testifying before the Supreme Court, in front of which is scheduled to make an appearance.
Ijaz said the Pakistani government is trying to prevent his entry into the country by ensuring his name is placed on an exit control list, a list that bars people from travelling out of Pakistan.
Ijaz threatened to make public what he claimed was evidence of Pakistan's Interior Minister Rehman Malik's involvement in alleged "corrupt practices". He accused the Minister of indulging in "character assassination".
Ijaz, the central character in the memogate scandal the has sparked a political crisis in Pakistan, claimed in a statement that Malik and the government of President Asif Ali Zardari were behind a "massive cover-up" to prevent him from testifying next week before a Supreme Court-appointed judicial commission investigation the memo scandal.
He contended that Malik had asked Pakistan's Parliamentary Committee on National Security to "rubber-stamp his demand" for putting him on the Exit Control List.
Ijaz further accused Malik of playing "devious and underhanded tricks" to prevent his appearance before the commission.
"This development comes just as I am finalising my travel arrangements to come to Pakistan," Ijaz said in a press statement. Ijaz failed to make a scheduled appearance before the commission on Monday. The panel then summoned him to appear before it on January 24.
Ijaz, who was issued a visa by the Pakistani mission in London on Thursday, declined to say when he would travel to Islamabad to testify before the panel.
Ijaz claimed he possessed "sufficient evidence" of Malik's "direct involvement in matters that would be of material and direct investigative consequence to Interpol, the Supreme Court of Pakistan and other investigative and judicial authorities around the world".
This evidence related to "certain financial dealings" that Malik allegedly "conducted, supervised and acted as legal attorney-in-fact for during the time preceding" his appointment as Interior Minister, Ijaz claimed without giving details.
"Your appointment as Interior Minister was a direct consequence of these dealings within the Zardari-Bhutto family," he said.
The alleged evidence against Malik was "simply another instance in a long line of corrupt and venal practices of the Zardari government," Ijaz claimed.
"Mr Malik demonstrates a malice of forethought toward me that is unacceptable. His repeated taunts and threats against me during the past several weeks as he became President Zardari's point man on assassinating my character and my family's good name are a direct result of his knowledge that I know everything about him as well," he said.
Accusing Malik and Zardari of stopping at no cost to prevent his arrival in Pakistan, Ijaz said: "Mr Malik miscalculated his brinkmanship by entangling himself with me. You want a war with me, Mr Malik? You just got it."
Ijaz has been summoned by the judicial commission to appear in person on January 24 to provide evidence regarding the alleged memo that had sought US help to prevent a possible military takeover in Pakistan after the killing of Osama bin Laden in May last year.
Ijaz sparked a political crisis in Pakistan last year by his claims that he delivered a secret memo on behalf of President Asif Ali Zardari to the then Chairman of the US Joint Chief of Staff, Admiral Mike Mullen, to help stave off a possible military coup in Pakistan.
He claims that memo was drafted by then Pakistani Ambassador to the US, Husain Haqqani, who resigned in December after the alleged memo became public.
The Pakistan government and Haqqani have denied Ijaz's claims.
(With additional information from PTI)
Get the best of News18 delivered to your inbox - subscribe to News18 Daybreak. Follow News18.com on Twitter, Instagram, Facebook, Telegram, TikTok and on YouTube, and stay in the know with what's happening in the world around you – in real time.
Read full article