Woman boxer asks govt how many fights to get honour?
She clinched a fourth world title in Ningbo City, China this year.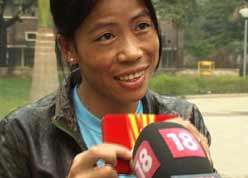 She clinched a fourth world title in Ningbo City, China this year.
New Delhi: A four-time world champion, M C Mary Kom has never been considered worthy for Khel Ratna and disturbed by the apathy, the Manipuri -- arguably world's most successful woman boxer -- is asking what more she needs to do to get the country's highest sporting honour.
"I have won the World Championship four times on the trot. (Indian cricket team captain Mahendra Singh) Dhoni gets a Khel Ratna for winning just one World Cup, I fail to understand why am I being ignored then. How can anybody expect an athlete to stay motivated if he or she is ignored like that?" Mary Kom told PTI in an interview on Monday.
The pin weight pugilist, who clinched a fourth world title in the fifth edition of the event in Ningbo City, China, managed the feat despite being away from the ring for two years after becoming a mother.
Hurt at being ignored twice for the award, Mary Kom says even more disturbing than that is the sheer ignorance about the sport in which she competes.
"Last year, when my name was recommended by the federation, I had been shortlisted along with Dhoni but (Arjuna awards selection committee chairman) Milkha Singh struck off my name saying that he did not know which sport I competed in. That hurt me terribly," she revealed.
"I want to ask him today, how many more titles do I have to win for him and for the country to believe that I deserve the honour?" she asked.
"Don't give me the award if you think I am not worthy but please don't insult me with statements like that. It angers me. People should be encouraging but they are not and I have accepted it as part of life," she said.
The pint-sized boxer said of all the four gold medals she has won at the World Championships, this is the most special.
"It is certainly the most cherished because I have managed it after a lengthy lay-off.
It was tough but I had faith in god and whatever hard work I put in during the four months of training," she said.
Mary Kom's spectacular feat notwithstanding, India could not retain the overall team crown that it won in New Delhi.
"It is slightly disappointing not to win the overall title. That would have been nice but our team was smaller and I think it was a commendable effort," she said.
Mary Kom said women's boxing has become more competitive in the past two years when she was away from the ring.
"China has improved immensely. Their focus on training and facilities is remarkable. But I don't think that would affect us much and we would continue being a strong force in the international arena," she said
Read full article