Mary Kom hopes suspension of IBF is lifted by world body
M C Mary Kom is very upset with the suspension of the Indian Boxing Federation by its parent world body AIBA.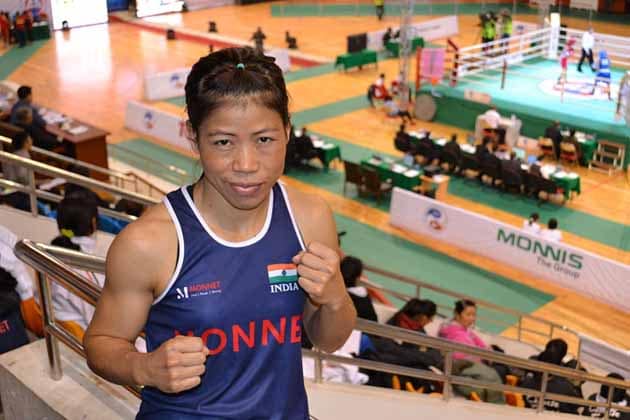 M C Mary Kom is very upset with the suspension of the Indian Boxing Federation by its parent world body AIBA.
Mumbai: Star boxer M C Mary Kom is very upset with the suspension of the Indian Boxing Federation (IBF) by its parent world body AIBA and is fervently hoping that the issue would be sorted out at the earliest for the benefit of young Indian hopefuls.
"I feel very upset. I hope this issue is resolved because it will affect the youngsters. I have proved myself, but what about the youngsters," said the London Olympics bronze medallist at a meet-the-press organised by the Press Club, Mumbai, here today.
AIBA, which has suspended IBF for not complying with its rules, has provisionally allowed Indian boxers to participate in next month's World Championships, but will bar them from all competitions later if the IBF fails to conduct a re-election by November.
The five-time world champion, who is currently on a sabbatical from the sport after having a baby, said she is targeting next year's Commonwealth Games in Scotland. "After the Olympics, I had a baby. Recently, I underwent an operation for gallbladder stone. I am recovering and my will is to continue. The Commonwealth Games are being held next year, so I will train and try to qualify for that," she said.
The star Manipuri boxer said that she will start her training for the multi-discipline event to be held in Glasgow from December. With incidents of crime against women increasing by the day, Marykom urged them to learn some martial arts to defend themselves while narrating how she fought her way out of a potentially dangerous situation in the past when she had started learning the ring sport.
"I remember the incident when I took a rickshaw alone. I was wearing a traditional wraparound Manipuri dress and was visiting the church. I had just started learning boxing then and my dress wasn't fit for fighting. "The rickshaw driver started harassing me after some time and we were in a deserted area. I got down and started hitting him. I don't know what would have happened if I had not started learning boxing. Women should learn some form of martial arts as it is a good self defence."
A biopic is being made on her path-breaking career as a boxer, and Marykom said she is excited about it and hoped that more youngsters would be inspired by it. "A superstar (Priyanka Chopra) is playing my role, which is big for me. It will be exciting for both of us. We went through the script and corrected it. I don't think there will be any problem with the movie," she said.
"Children will be inspired more with the movie. They will understand how difficult and tough it was and how I overcame it. I couldn't give training to Priyanka, but when she visited Manipur we interacted. She visited the villages and understood our culture and diet. Hopefully it will be a good movie," she added. Marykom has her own academy and said she will also look at other places in future, beyond her hometown, for this purpose.
Get the best of News18 delivered to your inbox - subscribe to News18 Daybreak. Follow News18.com on Twitter, Instagram, Facebook, Telegram, TikTok and on YouTube, and stay in the know with what's happening in the world around you – in real time.
Read full article