Mature Gasquet ready for big stage: Grosjean
Richard Gasquet's coach feels, once crushed by the weight of expectation, he has matured on and off the court.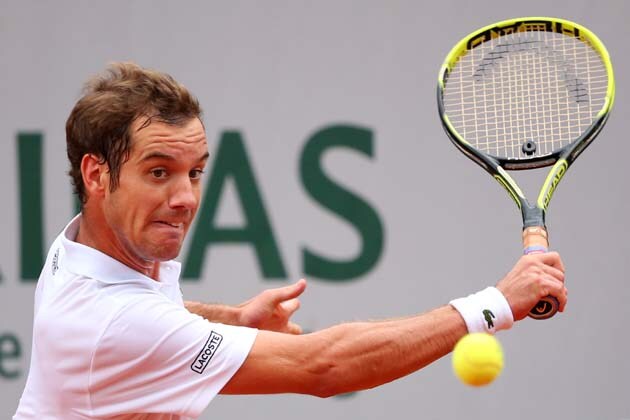 Richard Gasquet's coach feels, once crushed by the weight of expectation, he has matured on and off the court.
Paris: Richard Gasquet, once crushed by the weight of expectation, has matured on and off the court and is ready to burst on to the big stage, according to coach Sebastien Grosjean.
The Frenchman, dubbed the Mozart of tennis in his teenage years, has been something of an underachiever, having gone past the last 16 at a grand slam only once when he reached the Wimbledon semi-finals in 2007.
The 26-year-old Gasquet, who has one of the most beautiful one-handed backhands on the tour, was the youngest man to finish inside the ATP top 100 in 2003.
This year, the seventh seed has not dropped a set at the French Open and has been looking impressive ahead of Monday's fourth-round meeting with Swiss ninth seed Stanislas Wawrinka.
"For Richard, the tournament starts tomorrow. He is physically fit," Grosjean, a former semi-finalist at Roland Garros, told Reuters in an interview.
"It will be tough but he has the cards in his hands."
Grosjean believes Gasquet, who is ranked ninth in the world, is a different man after going through a rough time following a positive test for cocaine four years ago.
"He has grown up, he feels comfortable with himself, even off the court and he is aware of his level," Grosjean, who coaches Gasquet along with Italian Riccardo Piatti, explained.
"He is regular, he is in the top 10, he knows what he's worth."
Gasquet, who avoided a lengthy ban after the International Tennis Federation ruled he had taken cocaine inadvertently, is also aware he should play only for himself.
"He had the impression that he was judged for everything he was doing," Grosjean said.
"He understood that he has to play for himself. He got fed up of being criticised for everything. Everything he went through helped him grow. He doesn't mind being judged anymore."
Having regularly choked when it started to matter, Gasquet is now offered a golden opportunity to stamp his authority against Wawrinka as he looks to join fellow Frenchman Jo-Wilfried Tsonga in the last eight.
"Wawrinka won the Estoril tournament after beating (David) Ferrer, he played the final in Madrid, but I still bet on Richard because I trust him," Grosjean said.
Get the best of News18 delivered to your inbox - subscribe to News18 Daybreak. Follow News18.com on Twitter, Instagram, Facebook, Telegram, TikTok and on YouTube, and stay in the know with what's happening in the world around you – in real time.
Read full article