Delhi loves politics just like cricket. How else could one explain the excitement on the city roads about the April 23 municipal elections, right after the tiring, two-month long political slugfest in five states? Municipal polls are also interesting because local issues often overpower the wider narrative, making things unpredictable. When it comes to a complex metropolis like Delhi, the issues determining local elections change not only from constituency to constituency, but sometimes from street to street.
The bustling and cluttered 3-km-long Govindpuri road near posh neighbourhoods of south Delhi is one such example of competing interests surviving what could appear as a civic disaster. The auto-rickshaw drivers here are perpetually angry with e-rickshaw drivers, alleging the latter have taken away a large chunk of their business. Every few minutes, an argument breaks out between them, or the fruits and vegetable vendors who demand equal opportunity on this crowded stretch.
"E-rickshaws have taken away most of our customers," says Syed Jawaid, who has been driving an auto for 20 years and is most vocal among the 15 odd auto drivers awaiting passengers. "Can't the government clear the road? It takes us 45 minutes to go to the nearest Metro station, a ride which should not take more than 10 minutes," he says.
The term 'government' here could mean the state government, the Municipal Corporation of Delhi (MCD) or the Delhi Police that play different yet sometimes overlapping roles in administering the civic infrastructure.
The e-rickshaw drivers, who were given licences and training by the Aam Aadmi Party-led Delhi government, ferry passengers to and from the Metro station at breakneck speed. One e-rickshaw driver bumped into an auto but was not bothered about it. "If you drive on the road, you bump into a few vehicles," he told the auto driver rather unapologetically.
ALSO READ |
MCD Not Perfect, But has Saved Delhi From AAP: Delhi BJP chief Manoj Tiwari
The vendors, meanwhile, question the rational of anti-encroachment drives. "Where would we earn our livelihood if the 'government' forces us to leave?" a vegetable vendor asks.
The mini battles of Govindpuri road exemplify the million mutinies taking place in Delhi everyday as the urban poor and informal labourers struggle to earn their livelihood in the national capital.
The elections for Delhi's three municipal bodies, currently controlled by the Bharatiya Janata Party (BJP), hold larger significance for those who live in the shanties knows as jhuggis and 'unauthorised' settlements, and whose lives may witness a sea of change by something as basic as supply of potable water, repair of sewerage system or easy availability of medicines during annual dengue and malaria outbreak.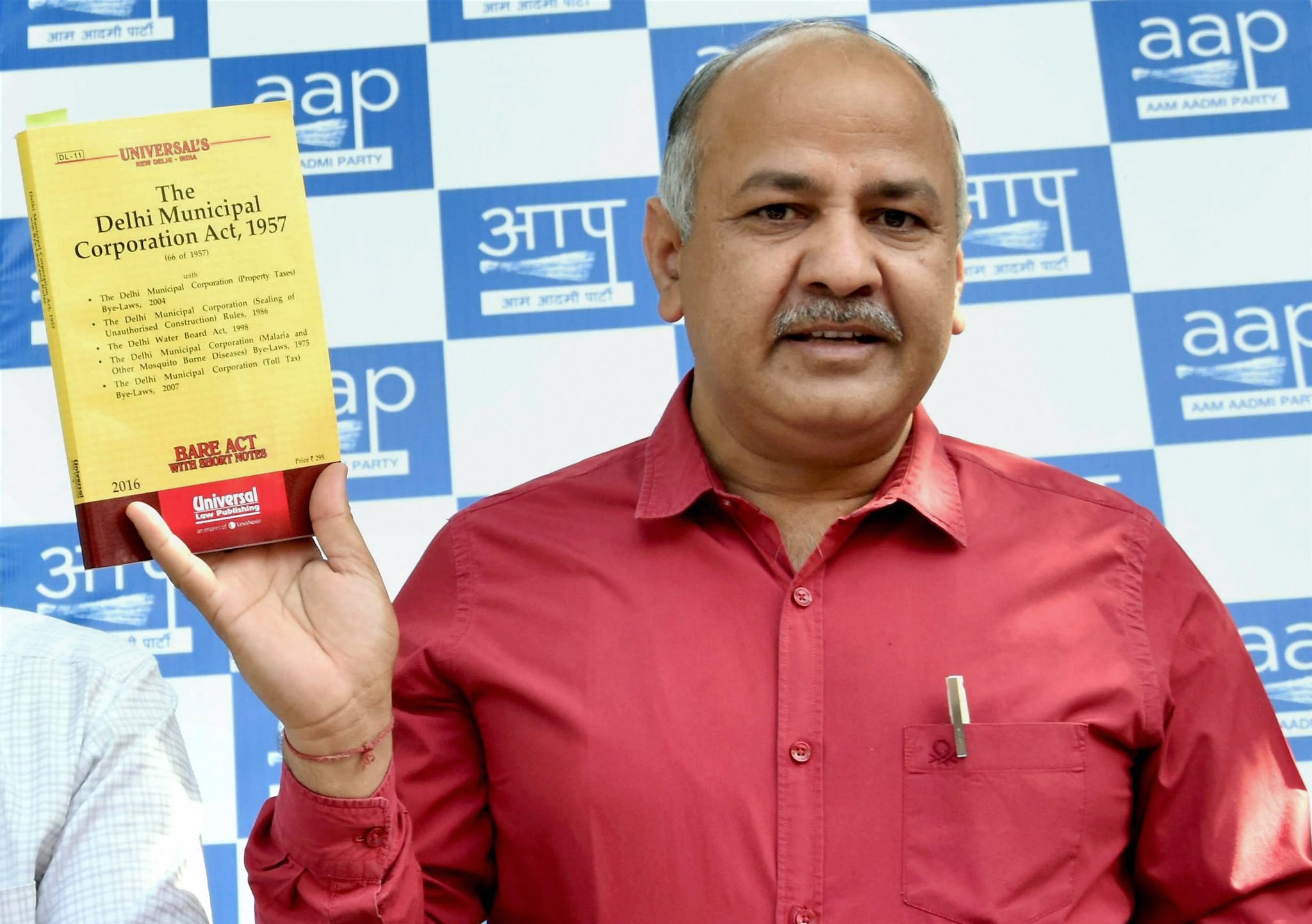 Delhi Deputy CM Manish Sisodia addresses a press conference on upcoming MCD elections in New Delhi on March 26. (PTI Photo)
Unlike other municipal elections, the MCD polls have already turned into a battle of honour for the three prime contestants — the BJP, AAP and Congress. While the BJP wants to continue its victory march and avenge the humiliation of losing out to a newbie in the last Assembly polls, the AAP has to defend its only fort after a disappointing show in Punjab. For Congress, it's an opportunity to start rebuilding what was once known as the grand old party, even as an all-new Swaraj India party, claiming to be the torchbearer of alternative politics, is also trying its luck in all the seats.
"Delhi is a classic model of how not to govern. The city's civic infrastructure has been thought through in patches," says Yogendra Yadav, academic-turned-politician and co-founder of Swaraj India. "Hunger is not the problem for Delhi's poor, but they have to pay more than the rich for basic services."
In Delhi's maze-like governance model, people get confused over who is responsible for which civic service, leading to public ire. "We autowalas helped the AAP win Assembly elections in Delhi, but they haven't stopped the police from harassing us," says Jawaid, who lives in nearby Tughlakabad Extension. When a fellow auto driver tries to explain to Jawaid that the Delhi government has no control over Delhi Police, he says, "How can they not do anything when they have full majority?"
"When private cars break traffic rules, cops ignore. But they are always eager to stop us," says Hukum Singh, who has been driving an auto for 16 years. "They make a living out of us. We have to pay the cops, otherwise they threaten us with heavy penalty."
ALSO READ |
Time to 'Finish Kejriwal off' in Upcoming MCD Elections: Amarinder Singh
Another auto driver pointed out that there are not enough auto stands in the city, forcing them to halt on the roadside, leading to penalty. "Sometimes cops ask us for Rs 2,000 bribe, otherwise they seize the vehicle. It's nearly impossible to get a commercial driving licence in Delhi without paying up to Rs 30,000 to the middlemen. Most auto drivers don't own the vehicle and have to pay Rs 300 a day as rent. After all this, we earn Rs 500-700 with 10 to 12-hour work a day," he says.
Bordering rich neighbourhoods, jhuggi jhhopadi (JJ) clusters and unplanned settlements are home to majority of the population in this supposedly planned city. Few metres from the entry in Sangam Vihar, Delhi's largest cluster of 30 unauthorised colonies, clogged drains have flooded the arterial Mehrauli-Badarpur road, blocking the already slow traffic. Here, the Delhi government-controlled Delhi Jal Board is installing the region's first sewerage system.
"Every monsoon, Sangam Vihar gets flooded in waist-deep water," says Rakesh Kumar, who sells small LPG cylinders to the households without proper gas connection. "During monsoon, our homes get flooded and we can't even walk out," says Murari Lal Gupta, engrossed in playing cards with Kumar to beat the afternoon lull.
However, sitting ward councillor Neeraj Gupta's office cites rules which prevent development work in 'unauthorised' areas like Sangam Vihar. "Most people who come to us with complaints return angry," says an aide of the councillor. AAP's Pankaj Gupta, who is contesting from one of Sangam Vihar's four wards, is confident that the under-construction sewerage system will win him votes. "We have also provided free drinking water to 70% houses," he says.
Sangam Vihar might have been lucky with drinking water, but residents of nearby Madangir are still forced to rely on bottled water. "The water supplied by Delhi Jal Board stinks and has flies in it," says Mamta, an 18-year-old resident of a JJ colony.
ALSO READ |
Arvind Kejriwal Promises to Abolish Residential House Tax, BJP Criticises
The Delhi government dispensary, nearest medical facility, often tells patients to go to private doctors. "If we had money to go to a private clinic, why would we stand in long queues outside the dispensary?" asks Mamta.
Other women pointed to the filth lining their houses because of the overflowing drains. "We keep calling the MCD people to clean the waste, but they don't show up," says Deepa. "In the end, we have to clean the drains," says Lajwanti, who has lived in Madangir for 35 years.
Poor health and sanitation facilities have been Delhi's bane for years. During dengue and chikungunya outbreak in 2016, all residents of a colony in Jhilmil industrial area suffered from mosquito-borne diseases. "No one cleaned the drains here. After people fell sick, fogging was done in patches," says a resident.
People here have lost faith in government hospitals or dispensaries. Neelam, a housewife, had to spend Rs 12,000 in a private clinic to treat her two children and husband, losing out on year-long savings. Zubeida has a similar story to tell as everyone in her seven-member household fell prey to mosquito-borne diseases.
According to Bhanu Joshi, a researcher with the Centre for Policy Research, the AAP has mobilised the poor on class and economic issues and their mohalla clinics in JJ clusters have strengthened primary care. Joshi's colleague Eesha Kunduri, who has worked on urban labour, says the weekly meetings of AAP volunteers in poor neighbourhoods are finding traction.
Traditionally, the Congress consolidated the support of the urban poor. The late HKL Bhagat, who was Delhi's mayor and developed East Delhi, used to win votes by providing patronage to the poor.
Over the years, various layers within the underprivileged have emerged. While the residents of older settlements now expect more than just basic amenities, those who have migrated recently are struggling to make ends meet. For example, those benefiting the most from better water and electricity supply in Sangam Vihar are the house owners. Those living on rent in such areas, like fruit seller Umesh Pandey and e-rickshaw driving Mohammed Asim, pay inflated bills. Pandey and his two roommates, also workers, pay an electricity bill of Rs 2,000 a month as the landlord charges them far above the government rates.
Every evening, after a hard day's work, Pandey and his roommates watch TV. On good days, there is a cricket match. On other days, they surf through news channels. With the MCD polls gaining national importance after AAP's defeat in Punjab and BJP's victory in Uttar Pradesh, it remains to be seen who the underclasses of Delhi will vote for.
(More Sunday features)