Medha Patkar Arrested After Vowing to Continue Hunger Strike For Sardar Sarovar Oustees
NBA activist Rahul Yadav told News18 that a group of 40-50 policemen intercepted Patkar's vehicle as she was approaching Dhar from Indore to resume her fast with the oustees.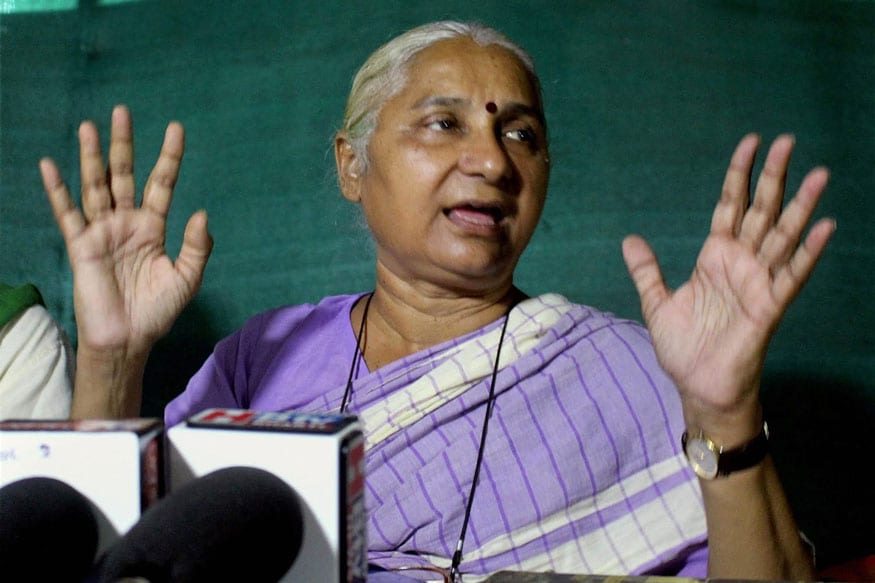 Medha Patkar was arrested on August 9 after she was discharged from an Indore hospital and was proceeding towards Dhar to resume her indefinite fast . (File photo)
Indore: Medha Patkar, who was discharged from a hospital on Wednesday, has been arrested while on her way to Dhar to resume her hunger strike. The Narmada Bachao Andolan activist has been on an indefinite fast since July 27 to demand proper rehabilitation of Sardar Sarovar Project oustees.
Ajay Sharma, Additional Director General of Police (ADGP), Indore range said Patkar was arrested as she insisted on going back to meet the oustees. "We have told her that it is not possible to allow her to go to Dhar as section 144, CrPc, has been imposed in the area," he said. "We will ask her to furnish a bond stating that section 144 will not be violated. If she furnishes it, we will release her," the ADGP said.
In an official statement, police said that Patkar was produced before a sub-divisional magistrate, who sent her to jail. They said that the administration had inputs that Patkar could disrupt law and order by instigating a chakkajam or gherao of government officials and this led to her arrest.
Patkar declined to submit bail bond so she was sent to jail, the order mentioned. Several cases were pending against Patkar and others in Dhar, police said in the statement.
NBA activist Rahul Yadav told News18 that a group of 40-50 policemen intercepted Patkar's vehicle as she was approaching Dhar from Indore this evening to rejoin the oustees. "Police supposedly also arrested 6-7 NBA workers but there was not information about them," he claimed.
This is the second time in three days that police has tried to break up her fast. On August 7, she was picked up from Dhar citing her worsening condition and taken to a hospital in Indore. She was discharged on Wednesday.
Soon after, a defiant Patkar told reporters that her fast was very much on as she did not take any food during the hospital stay. She reiterated her earlier stance that no one in the Sardar Sarovar Dam submergence area should be left without proper rehabilitation.
"The manner in which I was confined in the hospital amounts to house arrest," she alleged, adding that she was not allowed to use her phone and barring her co-activist Chinmay Mishra and one other person, no one was allowed to meet her.
She made it clear that her fast won't end unless the state government makes adequate arrangements for the oustees. I will consult my colleagues and would devise strategy for the future, said the NBA activist.
The "use of police force" had also led to protests in Delhi on Tuesday, as activists demanded her release. Twelve dam oustees also restarted their hunger strike at the same spot in Chikhlada from where Patkar was picked up.
According to NBA, no basic civic amenities are there in colonies meant for keeping oustees and the last group of oustees comprise 40,000 families from 192 villages contrary to state government claims of 141 villages and 18,386 families.
Get the best of News18 delivered to your inbox - subscribe to News18 Daybreak. Follow News18.com on Twitter, Instagram, Facebook, Telegram, TikTok and on YouTube, and stay in the know with what's happening in the world around you – in real time.
| Edited by: Aakarshuk Sarna
Read full article