Meet Former Judge KS Puttaswamy Who Won India Right to Privacy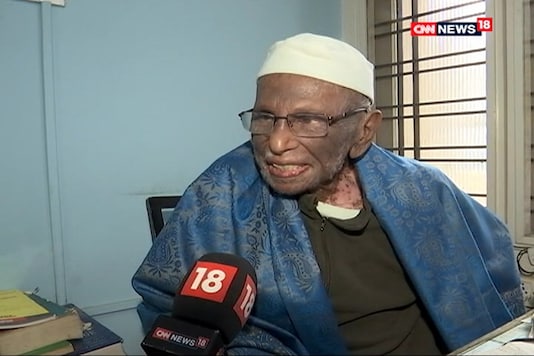 File photo of Justice KS Puttaswamy, a retired Karnataka High Court judge and original petitioner in the Right to Privacy case.
Retired Karnataka High Court judge KS Puttaswamy, the original petitioner in the Right to Privacy case, says the matter can be settled only when the government brings in a suitable law.
Last Updated: August 24, 2017, 12:03 IST
Edited by: Nitya Thirumalai
FOLLOW US ON:
Bengaluru: The Supreme Court's on Thursday declared Right to Privacy a fundamental right on a petition filed by retired Karnataka High Court judge and original petitioner in the case Justice KS Puttaswamy.
Justice Puttaswamy had filed the writ petition in the case in 2012 and subsequently fought against mandatory Aadhaar enrolment.
Speaking to News18 ahead of the historic verdict, Puttaswamy said, "What will be the parameters of the judgment is anybody's guess. While an eight-judge bench had declared that privacy is not a fundamental right, I would say it should be a fundamental right, but with restrictions."
"If there is a legislation put forward by the central government, it will solve 90% of the problems, not all problems, but most of them," Puttaswamy added.
He also acknowledged the fact that the verdict is sure to create a huge stir across the nation, just as it did two days ago when the apex court declared instant triple talaq as unconstitutional.
"Right to Privacy has assumed an uncharted flight. I never contemplated it would comprehend so many things, but the judges may write a good judgment. It will be a memorable one for him (the one writing the judgment)," said Puttaswamy.
The contentious issue had emerged when the apex court was dealing with a batch of petitions challenging the Centre's move to make Aadhaar mandatory for availing benefits of various social welfare schemes.
Initially, on July 7, a three-judge bench had said that all issues arising out of Aadhaar should finally be decided by a larger bench and the Chief Justice of India would take a call on the need for setting up a Constitution bench. The matter was then mentioned before CJI Khehar who set up a five-judge Constitution bench to hear the matter. However, the five-judge constitution bench on July 18 decided to set up a nine-judge bench to decide whether the right to privacy can be declared a fundamental right under the Constitution.
The decision to set up the nine-judge bench was taken to examine the correctness of two apex court judgments delivered in the cases of Kharak Singh and MP Sharma, decided by six and eight judge benches, respectively, in which it was held that this right was not a fundamental right. While the Kharak Singh judgment was delivered in 1960, the MP Sharma verdict was reported in 1950.
The high-voltage hearing saw a battery of senior lawyers, including Attorney General KK Venugopal, Additional Solicitor General Tushar Mehta, Arvind Datar, Kapil Sibal, Gopal Subaramaniam, Shyam Divan, Anand Grover, CA Sundaram and Rakesh Dwivedi, advancing arguments either in favour or against the inclusion of right to privacy as a fundamental right.
Next Story