Meet Hiralal Trivedi, the Architect Who Led the Upper Castes' Protest Against SC/AT Act
Samanya Pichhra Alpsankhyak Kalyan Samaj Sanstha, the organisation which spearheaded the Thursday bandh, has announced a mega rally in Bhopal. Normal life was hit a day earlier as schools and shops were shut down during SC/ST Act protest.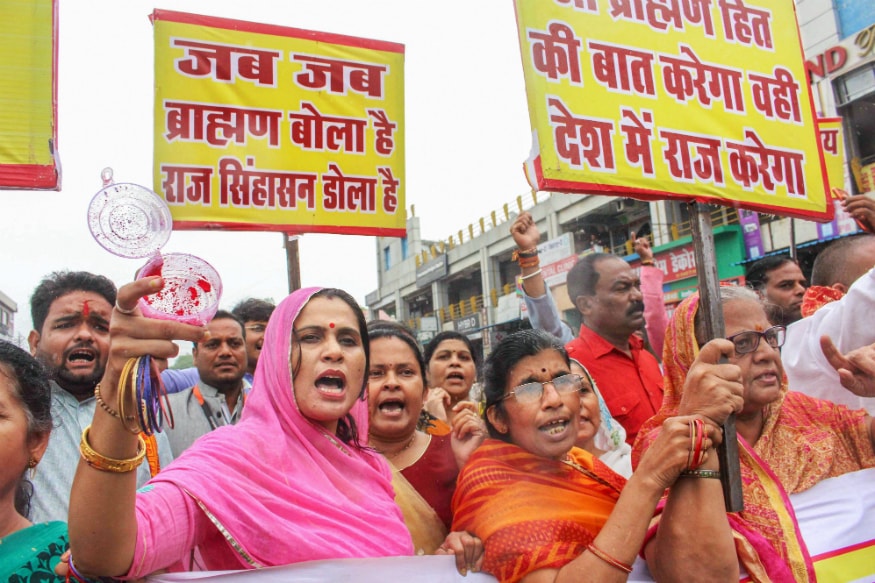 Image for representation. (PTI)
Bhopal: Sitting inside a cramped office, a wiry bureaucrat-turned-social crusader is busy chalking out his organisation's next plan of action — round two of protests against the SC/ST. This time, the agitation is going to be much bigger and massive, he claims.
Hiralal Trivedi, the patron of Samanya Pichhra Alpsankhyak Kalyan Samaj Sanstha (SAPAKS), says that the mega rally will be held in Bhopal of September 30. His organisation, which sprearheaded the Thursday bandh, not only represents the upper castes but also the backward classes, which is 'left behind' when it comes to reservations in the country.
Hiralal Trivedi, the patron of Samanya Pichhra Alpsankhyak Kalyan Samaj Sanstha (SAPAKS)
"We will continue to fight against SC/ST (Prevention of Atrocities) Act amendment bill. Next, we plan to hold a mega rally in Bhopal on September 30 in which small rallies would commence from across the city and would converge into a massive public meeting at New Market Dussehra Maidan," said Trivedi.
Trivedi served the state government in different capacities, including district collector and divisional commissioner and also as Information Commissioner. He later on joined SAPAKS in February this year, weeks after senior IAS officer Rajiv Sharma and former Health Director KL Sahu were inducted into the forum.
"We are not against reservation but it should be a one-time reservation for reserved families as this has been a tradition that same families keep availing benefits for generations and they are not more than 1% of the reserved category people," said the SAPAKS patron.
SAPAKS's fight primarily started when the Shivraj government decided to extend reservation benefits on the basis of caste. SAPAKS and the Madhya Pradesh government decided to pursue different directions and the matter is subjudice at Supreme Court with the MP government backing reserved categories.
Meanwhile, since Trivedi joined in as the patron, there has been no looking back for SAPAKS, especially after sectarian clashes erupted during Dalit mahabandh on April 2. This, many believe, managed to galvanise upper castes and OBC on a common anti-reservation platform.
In May, the chief minister was left in tight corner when a student had publicly questioned his laptop distribution scheme saying only SC/ST students are beneficiaries, while OBCs were left out.
The chief minister had later amended the distribution norms and SAPAKS openly backed the issue raised by the student.
The simmering discontent was fuelled further when chief minister Shuvraj on June 12 said, "Jab tak hum hain, koi maai ka laal aarkashan hata nahin sakta. (While we are in power, no one could end reservation)." However, the final blow came in August when Parliament cleared the SC/ST (Prevention of Atrocities) Act Amendment Bill.
Around 40,000 people are now associated with the SAPAKS, with organisational representation in every district. Trivedi's efforts have been the prime reason behind more and more people joining the forum.
Talking about the efforts put in by Trivedi, SAPAKS secretary Harion Gupta said that over the past three months, the organization has been moving across the state relentlessly.
Despite the success of the bandh on Thursday, Trivedi said they had no plans to protest during visits of PM Narendra Modi, BJP chief Amit Shah and Congress president Rahul Gandhi. "Let them do their job and we will do ours," the retired bureaucrat said.
The former bureaucrat affirmed his earlier announcement of fielding candidates at all the 230 assembly seats. "Those breaking away from BJP and Congress are welcome but on ideological similarity, not for political gains."
Commenting on the vehement opposition the SAPAKS members posed before BJP MLAs, MPS and ministers, Trivedi said this would continue in future as people won't spare them whenever they would come to seek votes.
Get the best of News18 delivered to your inbox - subscribe to News18 Daybreak. Follow News18.com on Twitter, Instagram, Facebook, Telegram, TikTok and on YouTube, and stay in the know with what's happening in the world around you – in real time.
| Edited by: Sana Fazili
Read full article