0/288 Seats ((145 Seats to Win)
Alliance
BJP+
YSRCP+
TDP+
INC+
OTH
Wins + Leads
0
0
0
0
0
+/- 2014
+0
-0
-0
+0
0/90 Seats ((145 Seats to Win)
| Alliance | BJP+ | INC+ | BJD+ | OTH |
| --- | --- | --- | --- | --- |
| Wins + Leads | 0 | 0 | 0 | 0 |
| +/- 2014 | +0 | -0 | -0 | +0 |
Meet The IIT Engineers Who Were Leading The Charge Against Section 377
Activists say the law at issue, commonly called Section 377, is used to harass and blackmail gay people.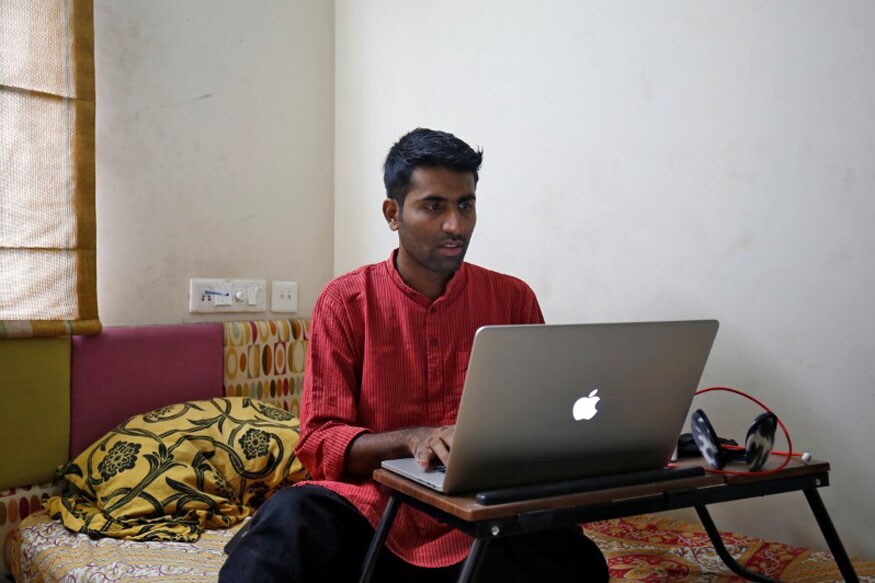 Akhilesh Godi, one of the petitioners challenging ban on homosexuality, checks his laptop as he poses inside his house in Bengaluru. (Image: Reuters)
New Delhi: When Akhilesh Godi was depressed and contemplated suicide while questioning his sexuality, he could not bring himself to see a therapist.
Godi, raised by liberal parents in the southern IT hub of Hyderabad and an engineering graduate from the elite Indian Institute of Technology (IIT), is by his own admission, privileged.
But he says that seeking help in socially conservative India - where a ban on homosexuality was reinstated in 2013 - was not an option until he had to be taken to hospital suffering from severe depression after his parents noticed he wasn't eating properly and had become much thinner.
"The tag of a 'criminal' makes it worse," said Godi. "You can't even talk about this to a psychiatrist. You don't know how they will react."
Follow live updates for Supreme Court's verdict on Decriminalising gay sex today.
Godi is one of the 20 openly gay students and alumni of various IITs across the country whose position as products of some of the country's most elite schools has made them one of the most high-profile groups challenging a colonial-era law that criminalises homosexuality.
"We got a lot of attention because of the IIT tag," says management professional Balachandran Ramiah, another member of the group.
The IITs enjoy an elite status similar to the US Ivy League universities, and attract some of the best and brightest students, who are typically scooped up by tech giants like Google, Microsoft and Apple.
Godi's group, which includes two women and a transgender woman, feels its presence in the courtroom lends a more mainstream voice to gay rights, which have largely been championed by activists and non-profit organizations.
"This time, most of the petitions, and particularly the IIT petitions, have actually shown that 'we exist'," says Debottam Saha, who began a PhD at IIT in New Delhi last year. "This is our story and it's high time that you hear our story".
The IIT-associated petitioners represent a pan-IIT group of around 350, largely comprising gay men, called "Pravritti" - which in Sanskrit roughly translates to "different thoughts".
"The group was made to enable people to have a safe space to share issues," Ramiah said.
Pravritti has enlisted lawyers including prominent Supreme Court advocate Menaka Guruswamy, and has raised funds internally to cover legal fees, the petitioners said.
Supreme Court judges, in their 2013 judgment, had said that the earlier decriminalisation of homosexuality by a lower court had overlooked that only a "minuscule" section of the population was homosexual.
"The words 'minuscule minority' hurt us a lot," said Godi, speaking by phone from Bengaluru. "The number of individuals that identify as LGBT within India is probably the size of a country."
"SLIT YOUR THROAT"
Activists say the law at issue, commonly called Section 377, is used to harass and blackmail gay people.
Because homosexuality is seen as illegal, gay and transgender people say they also face severe discrimination when they seek jobs or housing.
Saha says he was blackmailed by a man he met through a dating service, who threatened to expose him as gay and even slit his throat. "I was so scared and petrified ... whatever money I had in my account, I just gave it to him."
Because of Section 377, Saha says he could not file a police complaint against the man.
"You really need legal protection," he said. "(Otherwise) you're not even in an position to register a complaint."
Debottam Saha, one of the petitioners challenging India's ban on homosexuality, poses for picture in New Delhi, July 16, 2018. (Image: Reuters)
The caste system adds another layer of discrimination, and LGBT people from so-called lower castes suffer greater discrimination than others as a result, activists say.
While some within Pravritti say the group isn't diverse enough because it largely comprises upper-class gay men from the so-called higher castes, many group members say they feel their voice is important so that the less privileged may also benefit.
"I had such a great support system. I'm this privileged gay man who grew up in Delhi, who has liberal friends, and who works in an LGBT-friendly company," says Pravritti petitioner Udai Bhardwaj, who graduated from IIT at Kharagpur last year and recently came off medication after battling depression. "If I don't do this, then who will?"
Get the best of News18 delivered to your inbox - subscribe to News18 Daybreak. Follow News18.com on Twitter, Instagram, Facebook, Telegram, TikTok and on YouTube, and stay in the know with what's happening in the world around you – in real time.
| Edited by: Huma Tabassum
Read full article