Santa Claus, Customs and Holiday Season: How Christmas is Celebrated in India
Since an evergreen spruce tree is not easily found in India, people usually prefer artificial ones or decorate any tree available on the occasion.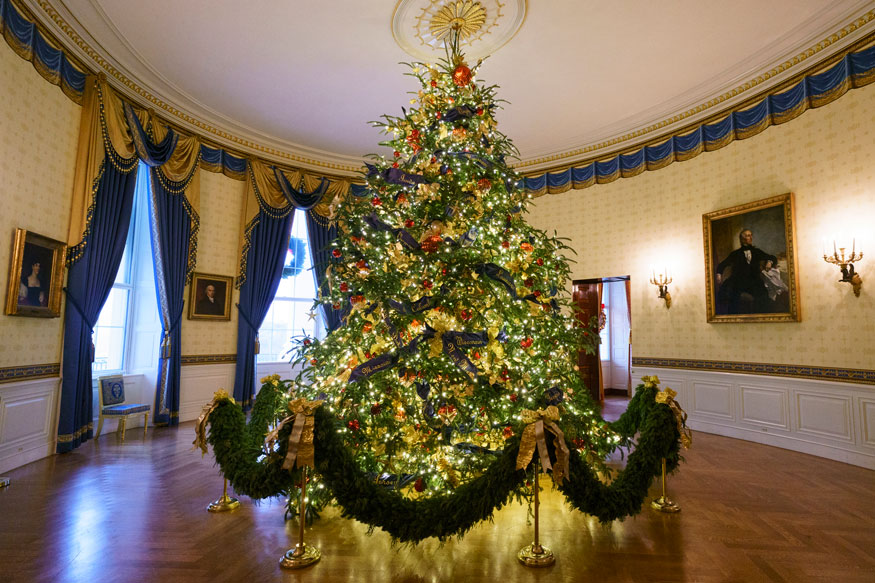 The official White House Christmas tree (Image: AP)
Christmas 2018 | Christmas is a Christian festival celebrating the birth of Jesus. The English term Christmas ("mass on Christ's day") is of fairly recent origin. According to Encyclopaedia Britannica, the earlier term Yule may have derived from the Germanic jōl or the Anglo-Saxon geōl, which referred to the feast of the winter solstice.
Since the early 20th century, Christmas has also been a secular holiday, observed by Christians and non-Christians alike. People exchange elaborate gifts on the day, and a mythical figure, named Santa Claus, plays the pivotal role.
How is Christmas Celebrated
Christians celebrate Christmas Day as the anniversary of the birth of Jesus of Nazareth, a spiritual leader whose teachings form the basis of their religion. Popular customs include exchanging gifts, decorating Christmas trees, attending church, sharing meals with family and friends and, of course, waiting for Santa Claus to arrive.
December 25, Christmas Day, has been a federal holiday in the United States since 1870.
Who is Santa Claus
Santa Claus is thought of mainly as the jolly man in red, but his story dates back to the 3rd century. The legend can be traced back to a monk named St. Nicholas. It is believed that Nicholas was born sometime around 280 A.D. in Patara, near Myra in modern-day Turkey.
Admired for his piety and kindness, the monk became the subject of many legends. It is said that he gave away all of his inherited wealth and traveled the countryside helping the poor and sick.
Over the course of many years, Nicholas's popularity spread and he became known as the protector of children and sailors. His feast day is celebrated on the anniversary of his death, December 6. This was traditionally considered a lucky day to make large purchases or to get married.
How is Christmas Day Celebrated in India
Christians, especially Catholics, arrive at churches for Midnight mass, which is followed by greeting friends and family. The places of worship are decorated with Poinsettia flowers and candles for the Christmas Eve Midnight Mass service.
A tree is decorated on the occasion. Since an evergreen spruce tree is not easily found in India, people usually prefer artificial ones or decorate any tree available. Sometimes people use mango leaves to decorate their homes.
Get the best of News18 delivered to your inbox - subscribe to News18 Daybreak. Follow News18.com on Twitter, Instagram, Facebook, Telegram, TikTok and on YouTube, and stay in the know with what's happening in the world around you – in real time.
| Edited by: Sumedha Kirti
Read full article