Michelle Obama to celebrate 50th birthday on Friday
<p>Nearing a milestone birthday, Michelle Obama exuberantly describes herself as "50 and fabulous."</p>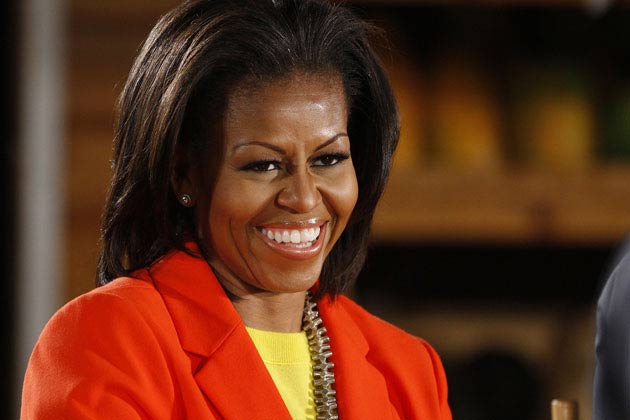 <p>Nearing a milestone birthday, Michelle Obama exuberantly describes herself as "50 and fabulous."</p>
Nearing a milestone birthday, Michelle Obama exuberantly describes herself as "50 and fabulous."
The US first lady hits the half-century mark on Friday and, by her own account, she feels more relaxed now that President Barack Obama's days as a candidate are over.
"It gives me a little more room to breathe," she told an interviewer.
Nearly five years after assuming the first lady's role following a bruising campaign in which she sometimes became a target, Mrs Obama is showing increased comfort amid many responsibilities and outsized expectations.
"I have never felt more confident in myself, more clear on who I am as a woman," she told Parade magazine when asked about the birthday. On Saturday, she'll be toasted at a White House party where guests have been advised to come ready to dance.
Second presidential terms can be freeing for first ladies, just as they are for presidents, because there is no next election to worry over.
Like all first ladies, Mrs Obama's every move has been closely watched and mercilessly critiqued. She gets wide credit for carefully shielding daughters Malia and Sasha, now 15 and 12, from the spotlight and for displaying a strong sense of style. But there have been missteps, too, like wearing USD 500 sneakers to a food bank, taking a pricey vacation to Spain during the economic downturn and being photographed wearing shorts aboard Air Force One.
Still, more of the public views Mrs Obama favorably, 59 per cent, than her husband, 46 per cent, in an Associated Press-GfK poll conducted last month. She's helped raise millions of dollars for him and other Democratic candidates and has drawn thousands to campaign rallies.
During her husband's first presidential campaign, Mrs Obama was widely criticized for saying she was proud of her country for the first time in her adult life.
After he was elected, she got back on the public's good side after declaring that her daughters, who were 10 and 7 at the time, were her top priority and she would be "mom in chief." She began to expand her role after feeling satisfied that they had adjusted to White House life.
Read full article