Militants Taking Advantage of Kashmir Unrest, Looting Banks and Arms
Suspected militants in Jammu and Kashmir are taking advantage of the prevailing unrest in the state by looting banks and arms on a daily basis now.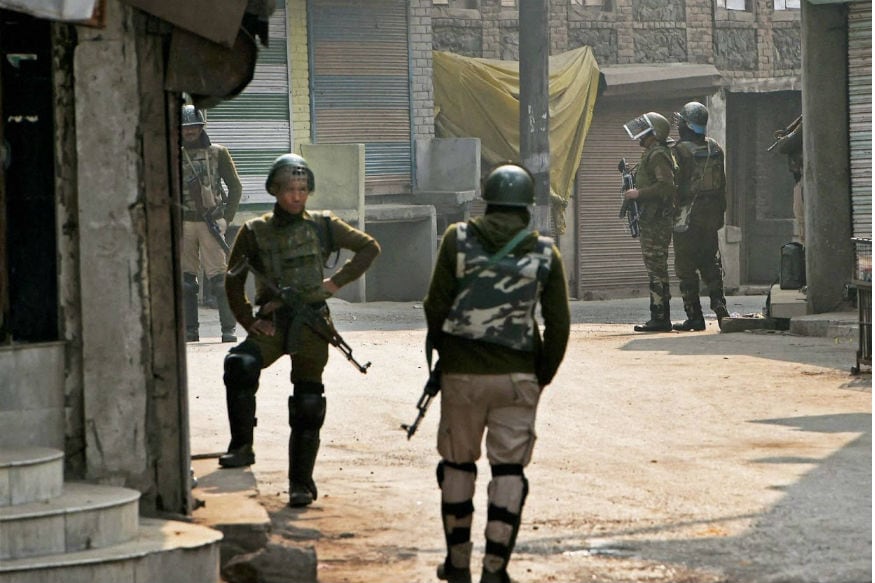 Image for representation (Photo: PTI)
Srinagar: Suspected militants in Jammu and Kashmir are taking advantage of the prevailing unrest in the state by looting banks and arms on a daily basis now. Two banks were looted in two hours in Pulwama on Wednesday, taking the total number to four in the last two days.
Nine rifles have been snatched, five of them when the police were disarmed on Tuesday night in a court complex in Shopian.
"Militants looted two banks within 12 KM and fled with over Rs 6 lakh cash in Pulwama district," Pulwama police chief Rayees Mohammad Bhat told News 18.
Five militants decamped from Ellaquai Dehati Bank with Rs 4.9 lakh at Wahibug, and Rs 1.3 lakh from Nihama branch of Jammu and Kashmir bank.
"Five armed militants of Lashkar-e-Toiba looted the two banks. We have identified two local militants, Majid Mir and Shabir Dar, who are behind the armed robberies," added Bhat.
The dacoities came several hours after a pistol-borne militant ran away with Rs 65000 cash from Ellaquai Dehati Bank in Yaripora village of Kulgam.
Five policemen and two bank guards were brutally killed when a Jammu and Kashmir Bank cash van, they were accompanying, was targeted by militants.
The militants ran away with four rifles but found no cash in the van as it had already been deposited at nearby branches.
"Militants are short of money and arms. They require money to buy costly cell phones. They are now buying I-phones and high tech cells. This because they think costly phones are safe and also to show off," said Bhat.
Since last six months, more than 11 attempts have been made to loot cash from banks. Four branches were looted in Pulwama, two in Shopian, two in Kulgam, one each in Budgam and Kishtwar. And Monday's attack on cash van.
Sources say demonetization had hit the militants and their overground workers hard and they were suddenly facing a cash crunch. This started to impair their operations like managing arms and ammunition, mainly for the 150-odd new recruits.
Though the Hizbul Mujahideen had recently told local media that they were flush with funds, police sources maintain lootings were being carried out by the modules of both Lashkar and Hizbul. "We have arrested seven people in two cases," Bhat said.
Police say they killed a Laskar militant named Abu Ali, a Pakistan national, who was the prime accused of the bank robberies in Pulwama.
Bank robberies apart, militants are now snatching arms to equip new recruits. Since the last six months, more than 35 rifles have been snatched. Only last night, militants disarmed five cops and decamped with four INSAS and one AK 47 riffles.
On Wednesday, the cops were placed under suspension for not standing up to militants.
Alarmed by the cash and arms loot, Jammu and Kashmir chief minister Mehbooba Mufti made a strong pitch to refrain from robbery and killings.
"What we are achieving by this robbery and bloodbath. There can't be a bigger misfortune than this," she said, soon after consoling families of the fallen Kulgam cops.
Get the best of News18 delivered to your inbox - subscribe to News18 Daybreak. Follow News18.com on Twitter, Instagram, Facebook, TikTok and on YouTube, and stay in the know with what's happening in the world around you – in real time.
| Edited by: Mirza Arif Beg
Read full article