Assembly Elections 2019
Exit Poll Results
Minority Panel Chief Says No Need for New Anti-Lynching Law
A citizen group has drafted a new bill that proposes stricter punishment and fixes accountability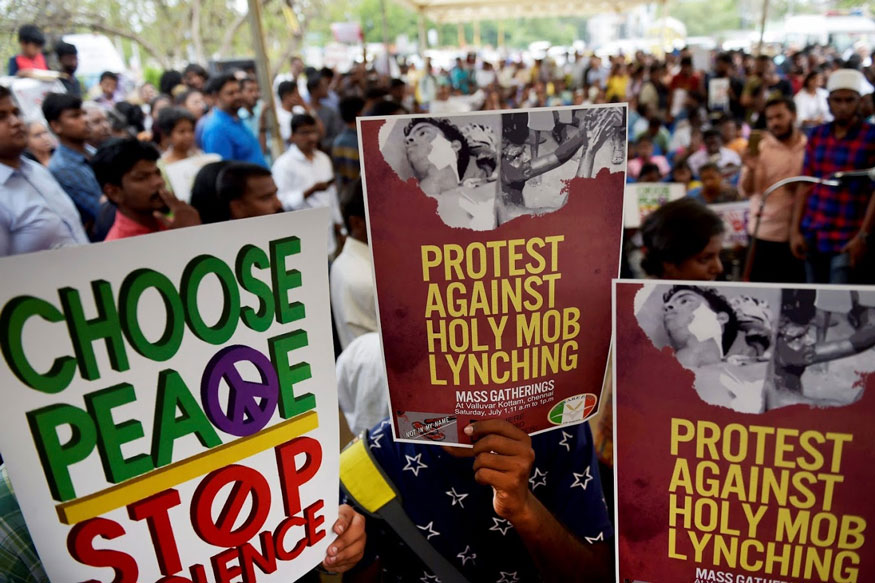 File photo of people hold placards as they participate in a protest against targeted lynching. (Image: PTI)
New Delhi:
Soon after a citizen group presented a draft of a new bill to deal with rising cases of mob lynching across the country, the chairman of the National Commission of Minorities, Syed Ghayorul Hasan Rizvi, said on Friday that there "was no need for a new anti-lynching law" and that "present laws are being effectively implemented."
The collective, National Campaign Against Mob Lynching, has drafted a bill known as the Manav Suraksha Kanoon (MaSuKa), which proposes stricter punishment and accountability for lynching under what they call "The Protection from Lynching Act, 2017."
However, the chairman of the National Commission of Minorities said that this was not at all needed. "The culprits must be punished and not only mob lynching, all murders must be punished. In fact they are being punished. In the recent Ramgarh lynching case in Jharkhand, close to 12 people were arrested by the police and before that in another mob lynching incident the police had arrested close to ten people," said Rizvi.
Rizvi also said that there would have been a need for a new law if there was deficiency in the present legal system. "So law and order is doing its work. If the law was not effective then there could have been a need for another law, but now there is no need for another law," Rizvi told News18.com.
MaSuKa proposes that the Station House Officer of the area where a lynching takes place should be suspended immediately. The bill also defines mob, lynching, mob lynching, rumour mongering, hate crime, etc, among other things. The word lynching, according to the proposed law, includes victims who suffer minor injuries, grievous injuries, or get killed.
It proposes a minimum punishment of seven years of imprisonment and a fine of Rs 1 lakh, while the maximum punishment would be life sentence and Rs 5 lakh fine. The act also defines conspiracy or abetment to lynch.
Speaking to News18, core member of the group, Tehseen Poonawalla said, "Lynching has become the new norm and hence there was an immediate need of such a law." "We have proposed to make lynching a non-bailable offence and the punishment for the ones convicted under it would be life imprisonment," said Poonawalla.
The bill will be available to the public for inputs, comments and review. The campaign will then push for it to be enacted by the central government and an enabling law by the state governments.
| Edited by: Aakarshuk Sarna
Read full article
Countdown To
Elections Results
To Assembly Elections 2018 Results