First Cut: 'Mittal vs Mittal' is relevant
The film touches upon an important issue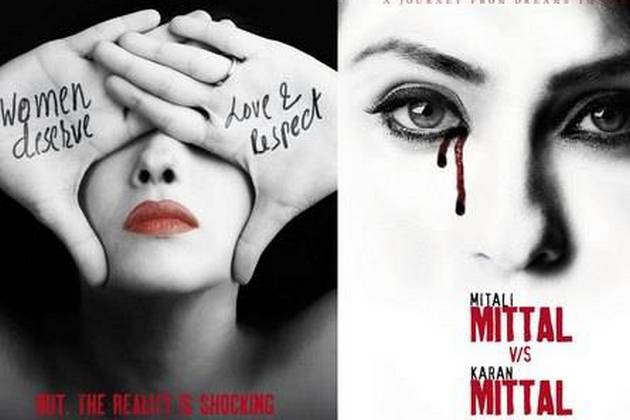 The film touches upon an important issue
Quite a few films have dealt with marital rape in India – Daman, Provoked (though in English) and Matrubhoomi to name a few. Karan Razdan's film, Mittal v/s Mittal, deals with a particular case involving Karan Mittal (Rohit Roy) and Mitali Mittal (Rituparna Sengupta).
Karan is a rich Casanova businessman who woos the very middle-class Mitali into marrying him. But problems start cropping up in their relationship in their courtship itself.
Karan charms Mitali very aggressively, even winning over her parents. But his real side is an egoistic womaniser and cannot tolerate a woman refusing an offer, especially if he has treated her well and showered her with gifts and all.
Mitali is a woman who's looking for romance and gentle behaviour from a man, and shoos Karan away. But the man woos her again, and soon they're married. On their first wedding night itself, Mitali sees Karan's true colours. Differences crop up soon, and Mitali ends up getting raped several times by Karan.
Finally, Mitali walks out and files a case against her husband with the help of lawyer Karuna Maheshwari (Suchitra Krishnamoorthi). Amongst high drama, Mitali has almost lost the case, but for the twist in the end. Watch the film to know that.
Mittal v/s Mittal has been shot with a very '90s feel to it. It is low on production values, but does involve you as an audience at some points, actually making you look forward to the court room drama – which does not disappoint either.
Some of the issues related to what a woman in Mitali's situation faces have been brought out well. Her mom and mom-in-law both don't support her, and her dad and dad-in-law both do. She has to face embarrassment in court due to the questions, and is also accused of having an affair with her husband's best friend.
Rituparna Sengupta performs OK, but she looks too old for the part, especially in the ramp shots. Plus, her voice seems to be dubbed which does not go with her performance. Either that or she needs to work on her diction.
Rohit Roy is perfect as the innocent-looking husband whose real face is obnoxious and dangerous.
Suchitra Krishnamoorthi is slightly repetitive in her court room scenes, but the jugalbandi between Gulshan Grover and her is watchable. Gulshan, as usual, is a cool cat as the lawyer. Though we wish someone had pointed out the correct pronunciation of 'violence' to him (he kept saying 'voilence').
Iravati Harshe does a cameo in this one, after being seen in Raat Gayi, Baat Gayi. We sure want to see her more. Reema Lagoo, Anjan Srivastava, Dolly Thakore and Amar Talwar perform well.
The placement of The RKB Show, which has now moved on to another channel, seems a bit weird. And nobody will try to have an amicable settlement with one's spouse through a TV interview, however famous the personalities might be. This whole sequence seems to be out of a Hollywood film. The importance of the media is shown to be too much. Strangely, nowadays every other film one sees, there is a scene involving reporters and cameramen. But surely no one will discuss their personal life or try to sort out issues on TV, unless they are getting monetary gain out of it – as happens on reality shows like Sach Ka Saamna, or Swayamvar… or Emotional Atyachaar.
Mittal v/s Mittal presents just one case inspired by the many real ones. So, one does have a few questions at the end of it – what if Karan wasn't a rich guy and Mitali did not have the support of the media and social organisations? What if her papa and papa-in-law had also gone against her? And what if Karan's behaviour was not the result of some childhood happening that had affected him? There are scores of marital rape cases in India and worldwide, and showing an excuse for the perpetrator's behaviour is like giving an idea of an excuse to such men in real life.
Verdict: Predictable, but it does touch upon an important issue and brings out the predicament of a woman who is a victim of marital rape.
Rating: Average.
Get the best of News18 delivered to your inbox - subscribe to News18 Daybreak. Follow News18.com on Twitter, Instagram, Facebook, Telegram, TikTok and on YouTube, and stay in the know with what's happening in the world around you – in real time.
Read full article