'Modi Govt Incompetent in Terms of Economic Management'
P Chidambaram slammed the government's economic measures like demonetisation and Goods and Service Tax in its four years and two months of existence.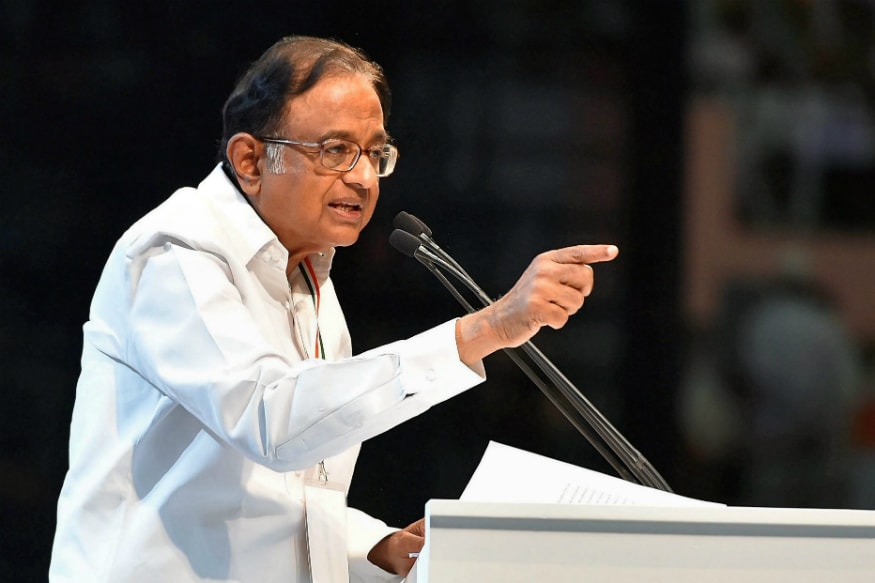 File photo of senior Congress leader and former Finance Minister P Chidambaram. (PTI)
Chennai: Senior Congress leader and former Union Finance Minister P Chidambaram on Sunday lashed out at the Narendra Modi government at the Centre, terming it 'incompetent' in terms of economic management.
Slamming the government's economic measures like demonetisation and Goods and Service Tax in its four years and two months of existence, he said "we are now worried what will happen in the next eight months."
The Lok Sabha elections will be held next year.
Reeling out statistics at a seminar titled 'Challenges Facing India' here, also attended by Left leaders Sitaram Yechury and D Raja, Chidambaram alleged that there has been a dip in the country's growth rate over the years due to lesser investment and lower lending by banks.
He said countries bigger in terms of GDP size like the US and China were doing well even as India was suffering from slow growth and issues like unemployment,spurred by steps like demonetisation.
The note ban, for instance, had severely impacted the Micro Small Medium Enterprises sector, he said and referred to recent reports that about 50,000 such units had closed down in Tamil Nadu post the ban on then high value notes of Rs 1,000 and Rs 500.
This was the case in many other Indian cities, he added.
Further, the Indian Rupee was becoming weaker against the US Dollar, he said, adding that if this continued, it would lead to increase in import costs, price rise and hike in interest rate, among others.
The Non Performing Assets (NPAs) stood at about Rs 10 lakh crore, he said, even while insisting that banks were now hesitant to lend.
"In terms of economic management, this (BJP-led NDA) is an incompetent government," he charged.
If the present economic condition continues, "the government will lose its self-confidence and start going haywire," the former Union Minister added.
The solution for the country's economic problems lay in the hands of the people and they should vote out the BJP government in next year's elections, he said.
"All that is required is the next government should not go haywire" on the economy, he said.
The earlier Congress-led UPA government had ushered good growth, even touching the eight per cent mark, he said.
"Mistakes did happen (during UPA) but it did good things to people as regards economic management," he said.
Yechury, the CPI(M) General Secretary, said the concept of Indian nationhood was now being "challenged."
"There is not a single concept of Indian nationhood that is not assaulted...targeting Muslims and Dalits, killings in the name of cow protection — all are happening with state patronage," he charged.
CPI National Secretary Raja alleged that after the BJP came to power, "RSS has come to the political centre stage."
"RSS' agenda is to shatter the Constitution.. what will happen to the poor people if the Constitution is changed?" he asked.
People should remove the "anti-people" Modi government to "save the country" in the next elections, he said.
DMK MP Tiruchy Siva alleged the Central government was making attempts to snatch away various rights of the states.
Get the best of News18 delivered to your inbox - subscribe to News18 Daybreak. Follow News18.com on Twitter, Instagram, Facebook, Telegram, TikTok and on YouTube, and stay in the know with what's happening in the world around you – in real time.
| Edited by: Naqshib Nisar
Read full article