MP Professor Who Touched Feet of ABVP Workers Faces Action for 'Insulting' Teachers
The professor and the principal of the college where the incident took place have been removed from a state-level body of government teachers for bringing 'disrepute' to the community.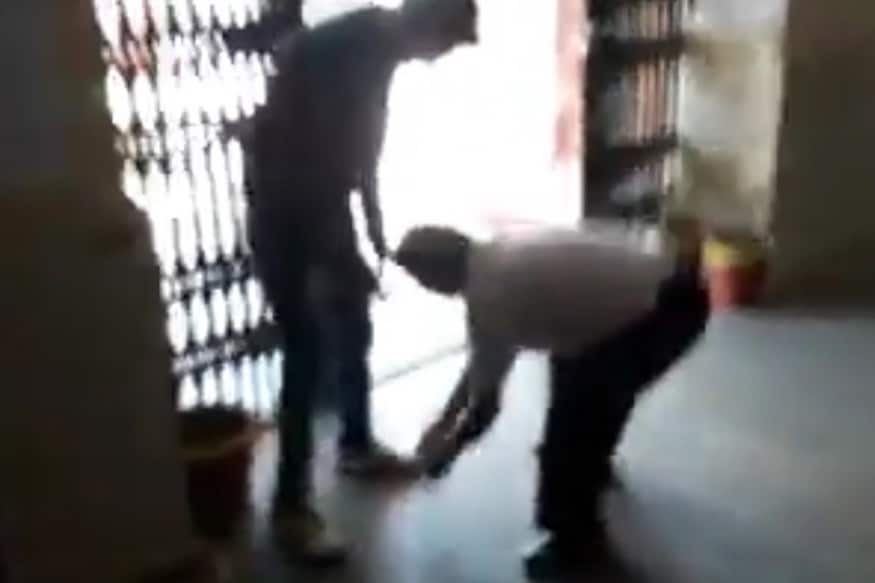 Professor Dinesh Gupta touches the feet of ABVP activists in Madhya Pradesh.
Bhopal: The Madhya Pradesh professor who was filmed touching the feet of ABVP workers who labelled him 'anti-national' was on Friday removed from a state-level body of government professors for 'insulting teachers'.
The principal of the college where the incident took place has also been relieved of his responsibilities as the district head of the Prantiya Shashkiya Mahavidyalayin Pradhyapak Sangh — a body representing professors of government colleges in Madhya Pradesh — over inaction.
The letter issued by the organisation and accessed by News18 states that principal Dr RK Sohni and the professor at the centre of the row, Dr Dinesh Gupta, have been removed with immediate effect. Gupta served as the body's secretary of the Mandsaur tehsil unit.
Trouble for the professor of Rajiv Gandhi Government College started when a 30-second video clip showed him running after Akhil Bharatiya Vidyarthi Parishad (ABVP) members, trying to touch their feet. The group was raising slogans in front of Gupta's classroom and when he objected to the noise, they labelled him 'anti-national' and demanded an apology.
The members reportedly also threatened the professor with a police complaint and kept pressuring him for an apology. When the students refused to relent, an irked Gupta touched their feet, mumbling that he had committed the crime of teaching so he should apologise.
However, as soon as the professor started his 'Gandhigiri', the youth leaders ran away, only to be chased by the teacher inside the campus. Finally some of the faculty members intervened, pacified Gupta and took him away.
Gupta's gesture, however, did not go down well the professors' body. Professor Kailash Tyagi, president of the organisation, told News18 that with his 'improper' behaviour, Gupta had brought disrepute to the teaching community in the state. He added that Sohni was removed as he refused to act on the issue despite being the principal of the college.
"We all work among students and face similar issues. There are proper channels to address grievances which Gupta did not opt for," he said.
When reminded about the case of an Ujjain professor who was beaten up by alleged ABVP workers and died due to his injuries years ago, Tyagi said his organisation did what it deemed fit.
Reacting to the action against Gupta, several former students of the college said he was a dedicated faculty member who was very popular among students.
Get the best of News18 delivered to your inbox - subscribe to News18 Daybreak. Follow News18.com on Twitter, Instagram, Facebook, Telegram, TikTok and on YouTube, and stay in the know with what's happening in the world around you – in real time.
Read full article