MTV Roadies finalist drives her way to Bollywood
The film produced by Ekta Kapoor and Suniel Shetty was offered to Shambhavi.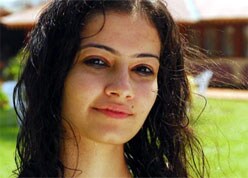 The film produced by Ekta Kapoor and Suniel Shetty was offered to Shambhavi.
New Delhi: Shambhavi Sharma, a finalist on MTV's reality show Roadies who was known for her flirtatious and cunning ways, has now stepped into Bollywood with The Little Godfather.
The film, being produced by Ekta Kapoor and Suniel Shetty, was offered to Shambhavi while she was featuring in the fifth edition of MTV Roadies, an adventure reality show.
"I was offered the film during the second or third episode of Roadies through MTV," Shambhavi told IANS on phone from Mumbai.
The 19-year-old law student was also selected to participate in the international leg of the show, but was voted out in its very first episode.
So how did the The Little Godfather come her way?
"I was not expecting it at all, it just happened. I used to love facing the camera and now that I am doing it, I am very excited about it," she said.
Asked about her character and co-actor in the film, Shambhavi said she could not divulge any details.
A self-confessed controversy queen, she feels she has become more confident after her stint in Roadies.
"I used to be very shy before being a part of Roadies. But after that, my whole perspective towards life has changed and I have also become more expressive," she said.
Shambhavi describes her experience in the show as "outstanding".
"Roadies is an awesome show. I enjoyed each and every bit of it."
She stole the limelight on the show for her conniving, forthright and flirtatious ways. She now proudly admits that it was her well-thought strategy.
"I don't gel very well with girls. So when I used to be with the boys, people started thinking wrong about me. Besides, yes, my scheming was a part of my strategy to survive in the show," she explained.
When Shambhavi returned to Mumbai, she realised that she had become a popular figure.
"When I came back, my friends and parents were very happy with the way I performed and people even started recognising me on the streets. I also signed a few autographs," she said excitedly.
Get the best of News18 delivered to your inbox - subscribe to News18 Daybreak. Follow News18.com on Twitter, Instagram, Facebook, Telegram, TikTok and on YouTube, and stay in the know with what's happening in the world around you – in real time.
Read full article