Multiplexes in 4 States Not to Screen Padmaavat as Karni Sena Runs Riot
The Multiplex Association of India, which represents about 75 per cent of multiplex owners, said the film would not be screened in Rajasthan, Gujarat, Madhya Pradesh and Goa.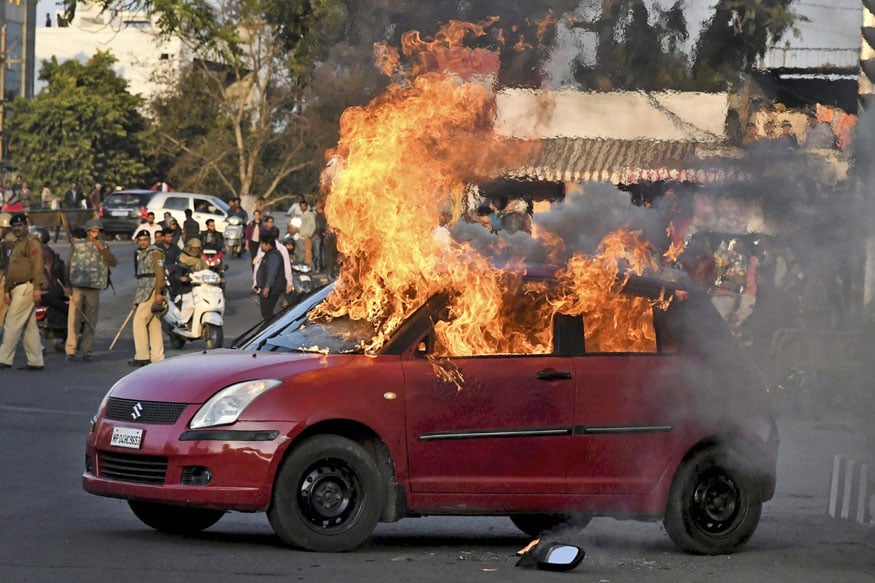 Karni Sena activists torched a car during a demonstration against the release of the controversial film 'Padmaavat' in Bhopal on Wednesday. (PTI Photo)
New Delhi: A school bus was attacked in Gurugram, a car was torched in Bhopal, a fringe outfit in UP declared a bounty on Deepika Padukone's nose and roads were blocked at many places as violence spread to several states a day ahead of the release of Sanjay Leela Bhansali's 'Padmaavat'.
Karni Sena members protesting the movie damaged two state roadways buses in Jaipur and blocked a road in the city's Kalwar area scores of activists were held in Mumbai and Nashik.
A bus was torched and a highway blocked in Haryana's Gurugram, where protesters violated prohibitory orders while the police had to use force to disperse an agitating mob in Lucknow.
In Ahmedabad, the police arrested 50 people in connection with the vandalism outside malls last night when as many as 30 bikes and scooters, parked outside multiplexes were set ablaze.
With the fringe outfits opposing the movie remaining defiant, the Multiplex Association of India, which represents about 75 per cent of multiplex owners, said the film would not be screened in Rajasthan, Gujarat, Madhya Pradesh and Goa.
"We have decided not to play the film in four states - Rajasthan, Gujarat, MP and Goa - as the local management has told us that the law and order situation is not conducive," Deepak Asher, president of the association, said.
"It will be a black out for the movie Padmaavat as no distributor has come forward in the region amid massive protests," said Basant Laddha, the director of the Central Circuit Cine Association, an association representing the film distributors and theatre owners of central India.
"We did not ask administration for additional security for theatres as we are not screening the movie," said Laddha.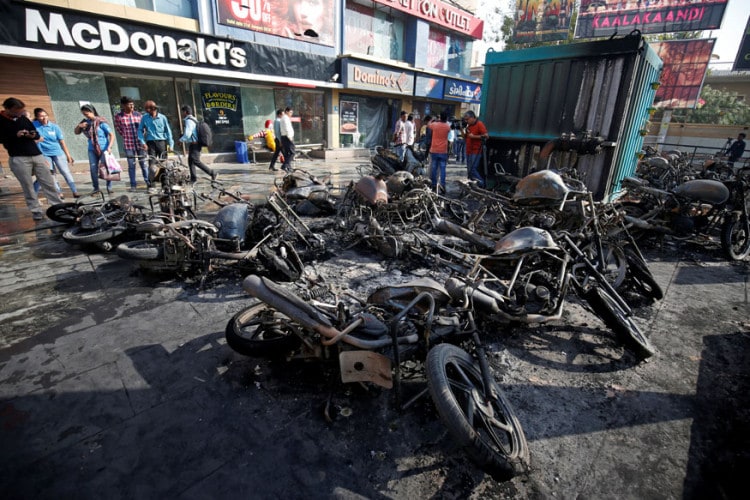 Vehicles set on fire by people belonging to Rajput community outside a multiplex in Ahmedabad. (REUTERS)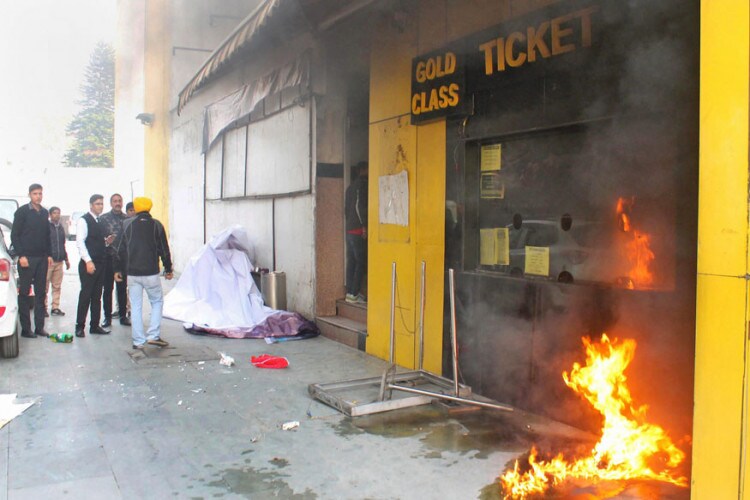 Smoke and fire emerge from Indira Theatre ticket booth after protesters attacked the counter against the release of film 'Padmaavat' in Jammu on Wednesday. (PTI Photo)
The movie, however, found support in West Bengal Chief Minister Mamata Banerjee who she will be happy if it is screened in the state as the Supreme Court must be respected.
"It is a film. The name of the film has also been changed. The states where trouble broke out are ruled by BJP," she told reporters at the state secretariat in Kolkata.
Gurgaon, meanwhile, witnessed one of the most shocking incidents, when a mob in its frenzy attacked a school bus. Fortunately none of them was hurt in the attack, police said.
In Uttar Pradesh's Kanpur, a fringe outfit, the Kanpur Kshatriya Mahasabha, announced a cash reward to anyone who chops off actor Padukone's nose. Padukone plays legendary queen Padmavati in the film.
"We have collected crores of rupees from Kanpurites to be given as reward to anyone who will bring the chopped nose of Deepika Padukone," its president Gajendra Singh Rajawat said.
In Madhya Pradesh's Ratlam, 27 women members of Rajput Karni Sena submitted letters to the district administration urging President Ram Nath Kovind to stop the film or permit them to end their lives.
"We demanded that the President should either grant permission to us to embrace death, as we are not able to protect the honour of Rani Padmavati, or else stop the movie from release," the outfit's Ratlam vice-president Mangla Deora said.
Nearly 200 protesters blocked National Highway-3, which links Agra with Mumbai, near Pigdambar crossing in Kishanganj area in Indore district and broke glass bottles on the road, police said.
A theatre was vandalised in Jammu while there were protests in Gorakhpur as well.
As protests raged, a defiant Shree Rajput Karni Sena, which has been spearheading the opposition to the flick, sought to pin the blame on director Bhansali. The fringe outfit's chief patron Lokendra Singh Kalvi insisted that a 'Janta curfew' will be imposed on theatres that screen the movie.
He also claimed that Shiv Sena leaders had assured the Karni Sena of support on the issue in Maharashtra. A Janta curfew will be imposed at any cost in film halls to stop the film's screening, Kalvi said.
He alleged that a dream sequence between the characters of Alauddin Khilji and Rani Padmavati existed in the controversial film, which, he said, was "intolerable".
"Those who watched the film on the invitation by the censor board few days back have said that there is a dream sequence between Alauddin Khilji and Rani Padmavati in the film. We have been demanding that there should be no dream sequence and no romantic scene between the two," he told a press conference in Jaipur.
The filmmakers have assured in the past that no dream sequence exists in the movie.
Striking a defiant pose, he said that he and other outfit leaders may be arrested and bullets fired but the protest would continue in states like Rajasthan, Haryana, Uttar Pradesh, Gujarat, Maharashtra and Madhya Pradesh.
The film, starring Padukone, Shahid Kapoor and Ranveer Singh, is based on the saga of the 13th Century battle between Maharaja Ratan Singh of Mewar and Sultan Alauddin Khilji.
The Supreme Court had paved the way for its nationwide release after some states issued notifications banning the film. The movie, earlier named 'Padmavati' and slated for a December 1 release, will now hit theatres worldwide on Thursday.
| Edited by: Aakarshuk Sarna
Read full article