Mumbai airport's runway safety report bogus?
Letter slams officers for lying while trying to declare runway 16/34 of Juhu airport unfit for operations.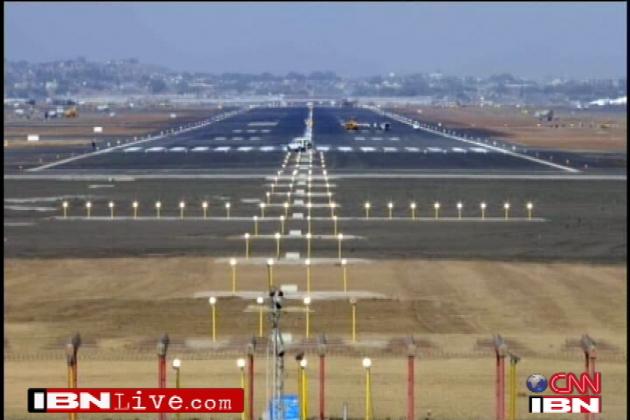 Letter slams officers for lying while trying to declare runway 16/34 of Juhu airport unfit for operations.
Mumbai: Even as aviation authorities are making a bid to revive the Juhu aerodrome, certain officials, it appears, are taxiing in the opposite direction. MiD DAY is in possession of documents that indicate an unholy nexus between some Airports Authority of India (AAI) bigwigs and the builders' lobby, endeavouring to shut down one of the runways at the aerodrome for furtherance of building projects. The records suggest the officials attempted to mislead the appellate committee of aviation ministry, Government of India, through their report, stating that runway 16/34 of Juhu aerodrome is not fit for operations. In response to this, the aviation safety department of AAI said that the two officials – JMS Negi (now retired, but working as a consultant for special projects) and VK Dutta – have blatantly lied in their report to the committee.
The plan of shutting down runway 16/34 first started with a study conducted under the then executive director, air traffic management (ATM), AAI, JMS Negi. As per Negi's report — dated May 6, 2011 — that also carries the copy of his study 'Aeronautical Study of Horizontal Surface (HIS)-Juhu Airport, (Mumbai)' on different runways, reads that Juhu aerodrome runway 16/34 was not specified as operational runway as per the airport directory since no declared distances were provided. The study further confers about runway 16/34 coming into the approach and takeoff path of Mumbai airport runway 09, and that therefore it was not feasible to use 16/34 for operational purposes in any combination.
The recommendations made in the report further read that approach surface of the runway need not be considered for the purpose of NOC, as the runway cannot be used in any arrangement with respect to Mumbai airport. It suggests that for this function, a special committee may be constituted to examine the issue and take final decision.
The proposals of Negi were sent to the appellate committee of ministry of civil aviation for further approval. According to the letter issued to chairman, AAI, by under secretary, Government of India on May 12, 2011, the counsels of Negi were fit to be accepted. "I am directed to refer to the meeting of the appellate committee held on May 6, 2011 on aeronautical study report of different cases. Considering the recommendations and the findings of the study report, the committee is of the opinion that recommendations made by AAI in the Juhu study report may be accepted," reads the letter of Syed Imran Ahmed, under secretary to the Government of India.
Second hand
On June 6, 2011, general manager, ATM-NOC, AAI, Vijayinder Kr Dutta wrote a letter to the regional executive director with reference to runway 16/34. The letter reads, "It has been intimated by the planning directorate of corporate headquarters (CHQ) that runway 16/34 at Juhu is non-operational and they do not envisage operationalisation of the runway. However, runway 16/34 may be used as a helicopter night parking stand. Further, an aeronautical Study of Inner Horizontal Surface of Juhu Airport was conducted by AAI, CHQ and the following recommendations have been made. The approach surface of the runway 16/34 need not be considered for the purpose of NOC as the runway cannot be used for operation in any combination with respect to Mumbai airport. The recommendations have been accepted by the appellate committee in the ministry of civil aviation vide letter dated 12th May, 2011." Further, a letter was sent by DGM (Aero) at western region headquarters, AAI to airport director, Juhu, asking what action was taken to the above recommendations made.
'It's all lies'
The office of aviation safety at the western region headquarters (Mumbai), registered a strong protest to these proposals. In its letter to executive director (aviation safety), AAI on November 23, 2011, the aviation safety office termed the study report bogus and a blatant lie to benefit builders and proposed buildings coming into the approach of this runway. Copies of the letter were also sent to DG (DGCA), chairman (AAI), BMC commissioner Subodh Kumar and several top officials of AAI. The letter reads, "Mr Negi's contention that due to the alignment of runway 16/34 of Juhu approach path of runway 09, runway 16/34 cannot be used for operations in any combination with Mumbai runways is utterly wrong."
The letter by aviation safety also adds, "The letter by VK Dutta, GM (NOC) has added to the lies in Mr Negi's report by stating that the planning directorate at CHQ, AAI has maintained that runway 16/34 at Juhu is non-operational and they do not 'envisage' operationalisation of the runway."
Another part of this letter reads, "Mr Negi and Dutta have blatantly lied in their reports to the appellate committee. The beneficiaries are the owners/builders of buildings in approach and takeoff of runway 16 and 34 at Juhu. The deliberate misinformation and wilful neglect of air safety practices indulged in by all those involved ought to be investigated. Request you to get the matter investigated and ensure that the HIS Juhu report concocted by Negi and Dutta's recommendation of it is cancelled with retrospective effect from the date of its inception. Given the alacrity with which, the appellate committee, ministry of civil aviation (MOCA) has accepted the recommendations of AAI in the Juhu HIS report, I hope the same committee would now be just as willing to accept the illegalities and irregularities in the Juhu HIS report and direct that it be cancelled immediately. There is an urgent need for an effective deterrent against such malpractices in MOCA/AAI."
Doing a rethink?
In reply to the action taken on above orders related to runway 16/34, the Juhu aerodrome authority on September 29, 2011 too requested for the above instructions to be re-analysed. The office in its reply said if 16/34 is not aligned properly as per the study then runway 08/26 at Juhu also must be closed as it is interfering with approach and takeoff paths of runway 14/32 at Mumbai airport. The reply maintained that runway 16/34 has been in operation since long and various procedures and circulars of Mumbai attest to this fact. It requested that the issue be re-analysed in view of Juhu's submissions, and a final decision taken. The same office in further correspondence to the GM (Aero) on October 31, 2011, again maintained that the runway is still operational as a plea not to de-notify it. This plea is still pending at the CHQ.
Negi, Dutta 'rewarded'
Despite the suggestion made by aviation safety department of AAI for review of recommendations made by JMS Negi and V K Dutta, it seems they have only been 'rewarded' for their efforts. Negi, after retiring in 2011, is now a consultant for the special projects of AAI. Dutta, who was then a GM, has now been elevated to executive director level.
The other side
When contacted, Negi told MiD DAY, "When I submitted the report, I had a job. Now I am a retired person and I should not comment upon this. As far as the report is concerned, I have submitted it to higher authorities including civil aviation ministry. It is up to them to accept the report. I can only say that I stand by my report." V K Dutta could not be contacted, despite repeated calls.
In reply to an RTI plea filed by MiD DAY, seeking details pertaining to runway 16/34, executive director, planning, AAI, Kalpana Sethi has said, "The information sought regarding the de-notification of Juhu aerodrome runway 16/34 pertains to a proposed plan, which is under review by ministry of civil aviation. Until a decision is taken by GoI, any information at this stage would hinder the process of decision-making. Dissemination of information at this stage is not appropriate, hence not possible."
Runway 16/34: The runway 16/34 is the secondary runway of Juhu aerodrome — the nation's oldest and the city's only airport till 1942. 16/34 caters to about 40 per cent of the total daily operations at the aerodrome. The runway, currently, does not cater to fixed-wing aircraft. According to officials, 16/34 was used in emergency situations like World War II.
Get the best of News18 delivered to your inbox - subscribe to News18 Daybreak. Follow News18.com on Twitter, Instagram, Facebook, Telegram, TikTok and on YouTube, and stay in the know with what's happening in the world around you – in real time.
Read full article