GET Stock

Quotes


Mumbai Film Festival Diary 2014: 'Party Girl' doesn't surprise, 'Unto The Dusk' makes thoughtful points on religion, sexuality on Day 4
Read on to know what the writer has to say about Day 4 of the ongoing Mumbai Film Festival 2014.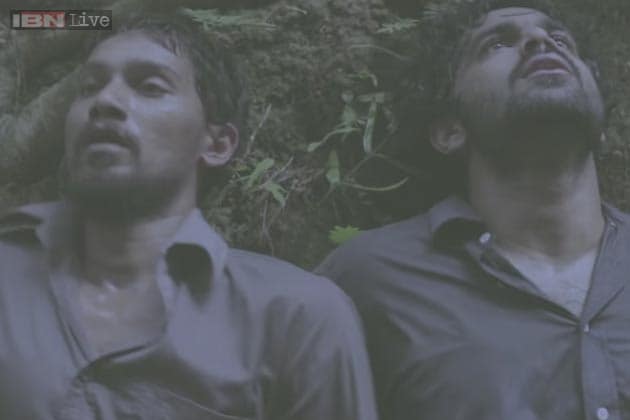 Read on to know what the writer has to say about Day 4 of the ongoing Mumbai Film Festival 2014.
Last night, I had a (few) round(s) of drinks with a film critic and filmmaker who works for a reputed Chennai-based publication. For me, it had been a not-so-good day at the movies; for him, it had been the opposite. We'd both watched one film in common:
Chauranga
, directed by Bikas Ranjan Mishra. Our opinions on that film differed quite a bit. For my friend,
Chauranga
, a twisted tale of caste politics set in Bihar, was a good film because of the moments it offered. And, to be fair, I agreed that Mishra's debut film sets up a number of great moments. For instance, a scene with two boys in which an older brother, Bajarangi (Riddhi Sen), reads out a chapter from his biology text-book to a wide-eyed Santu (Soham Maitra) is a delight. Another great moment involves a blind priest (Dhritiman Chatterjee) watching a screening of
Dabangg
in the village square but believing he's watching something... holier. However, at film festivals, I believe in being a bit of a pessimist and analysing all the empty space in the glass. It might make you unpopular, but films need to be evaluated as per their context, even in terms of where and when they were watched. For example, a film that releases in theatres by itself as opposed to premiering at a festival that is also showing great films from all around the world is likely to get two different kinds of reviews -- unless, of course, it is one of those exceptionally rare films that is absolutely beyond reproach.
Chauranga
, for me, did not qualify for that category. While it fulfilled the need of creating indelible cinematic moments somewhat, the film was undone by its inadequate attention to detail (a friend from Bihar confirmed to me that the dialects and costumes were all over the place) and the disastrous casting of Sanjay Suri as Dhaval, a powerful man carrying on a secret affair with Santu and Bajarangi's mother, Dhaniya (Tannishtha Chatterjee). Suri, at best an able actor, is unable to shed his urban inflections, physique, and body language for this role, something it badly requires. Dhaval's character needs to evoke contempt from a viewer, his mere presence should disgust one (read: every Ronit Roy role ever); however, here you watch Dhaval do despicable things and all your brain registers is: "Oh, look, Sanjay Suri in a moustache."
Arthouse as a genre
In the world of filmmaking, it is impossible to escape formulae. So, while film snobs might wrinkle their noses in the general direction of commercial cinema, there is such a thing as 'festival-bait' - a calculated film that pushes all the right buttons on the Film Festival Vending Machine and takes home accolades.
Party Girl
, which swept both the Un Certain Regard ensemble prize as well as the Camera d'Or award at this year's Cannes Film Festival, is a shining example of it. Directed by Marie Amachoukeli, Claire Burger, and Samuel Theis, it tells the story of Angélique (Sonia Theis-Litzemburger), an ageing former cabaret dancer who has a shot at shedding her hard-partying lifestyle in favour of a traditional family life and reconciling with her estranged children. While there is nothing wrong with the movie per se - it is superbly acted, and the emotions are as real as can be - there is nothing about the movie that surprises you either. The tone, the character graphs, the bleakness - these are standard arthouse tropes that
Party Girl
uses in an almost mockingly deliberate manner. This film, for me, was the cinematic equivalent of the Swedish house music producer who knows exactly what to do to create an international dance hit using nothing but a computer and a mic.
Necrophilia, both deliberate and inadvertent
Two films I watched on day 4 featured necrophilia. In the case of the first one,
Chauranga
, it was inadvertent. I won't reveal how or when, but let's just say that whether you find it horrifying, hilarious, or just plain terrible is entirely up to you. The second,
Unto The Dusk
, uses it as a catalyst. An avant-garde Malayalam film by debutant filmmaker Sajin Baabu, this is a fascinating and sometimes frustratingly oblique exploration of a young man in a seminary dealing with his demons. The film unfolds in a non-linear manner using plenty of hand-held camerawork and absolutely no background score. Its editing style is reminiscent of Lars von Trier's early work and Kamal Swaroop's
Om Dar B Dar
.
Unto The Dusk
takes the viewer on a beautiful journey through remote mountains and forests, but also makes thoughtful points on religion, mortality, and sexuality. Does it all make sense? I must admit I was left scratching my head several times and I suspect another viewing would be required to truly understand what the filmmaker is trying to say. Is it self-indulgent? Most definitely. Here's the thing, though: it's easy to dismiss such films as 'pretentious garbage' and walk out, as many did in the screening I was at, but if we don't watch such films at festivals, where else will we watch them?
Pick of the day
Unto The Dusk
(Malayalam), directed by Sajin Baabu
Quote of the day
"They teach all this in school? In front of girls?" - Santu in
Chauranga
, after his brother reads out a chapter describing the female anatomy from his biology text-book.
Also Watch

CNN-News18 Exclusive With Nandan Nilekani
Read full article