Mumbai, Gujarat Rains LIVE Updates: After IMD issued an alert of heavy rainfall in Gujarat, seven NDRF teams have been deployed in in Valsad, Navsari, Surat, Porbandar, Dwarka, Rajkot and areas of Kutchh, said the department of Information, Government of Gujarat.
Mumbai's suburbs and neighbouring Thane district received over 100 mm rainfall in the last 24 hours, the IMD said on Monday and predicted more heavy showers in those areas and other parts of Konkan Maharashtra.
The observatory in Thane-Belapur Industrial Association area recorded 213.4 mm rainfall during the 24 hours ending at 8.30 am on Monday. "Mumbai & around realised hvy rains with isol very hvy (>115.6 mm) at Thane/West Suburbs in last 24 hrs at 8.30 am 6 Jul. Mumbai, Konkan, isol hvy showers nxt 24 hrs, India Meteorological Department (IMD) Mumbai's Deputy Director General K S Hosalikar said in a tweet.
Here are the LIVE UPDATES on Mumbai, Gujarat Rains:
☁ After witnessing a spell of heavy rainfall over the past three days, Mumbai and neighbouring Thane received moderate rains on Monday, but the IMD predicted showers will continue in the night in the region.
☁ Heavy rainfall continued in several parts of Saurashtra region on Monday, causing flood-like situation in some areas a day after Khambhalia taluka in Devbhoomi Dwarka district received 487 mm downpour, officials said. A team of the National Disaster Relief Force (NDRF) was deployed at Khambhalia on Monday to meet rain-related exigencies in the area, they said.
☁ A nearly three-decade-old masonry bridge over Sabli river in Keshod taluka of Junagadh caved in after heavy rain on Monday, causing hardships to locals. Junagadh District Development Officer Praveen Chaudhary said the bridge was constructed in 1991 and was used only by locals.
☁ Waterlogging occurred in various parts of Rajkot, Gujarat, after heavy rainfall in the city.
☁ Here is the multi-hazard warning on the monsoon situation over India, issued by IMD.
☁ As heavy rains continue to lash parts of Maharashtra and Gujarat, the Indian Meteorological Department, Mumbai, said - "Mumbai and areas around received heavy rains with isolated very heavy (>115.6 mm ) at Thane/West Suburbs in last 24 hours. Konkan may get isolated heavy showers in next 24 hours. Extremely Heavy Rainfall warnings for Saurashtra/Kutchh, Arabian Sea."
☁ Heavy rains continued to lash parts of Mumbai, necessitating help from Mumbai police:
☁ High tide of 4.67 meters expected at 1:03 pm today as per Brihanmumbai Municipal Corporation in Mumbai, Maharashtra.
☁ The Powai Lake in Mumbai, which supplies drinking water to the Maharashtra capital, began to overflow since Sunday morning, due to the high and incessant rainfall.
☁ Here is the total rainfall in Mumbai in the past 24 hours, courtesy an IMD graph:
☁ Thunderstorm with rain would occur over and adjoining areas of few places of Entire Delhi, Noida, Greater Noida, Faridabad, Ghaziabad, Meerut, Bijnor, Muzaffarnagar, Sahaswan, Badaun, Palwal, Hodal, Nuh, Khurja, Aurangabad, Mathura, Alwar during the next 2 hours, said the IMD.
☁ Several districts in Gujarat witnessed heavy rains on Sunday, with Khambhalia tehsil in Devbhoomi Dwarka district receiving as much as 434 mm rainfall during the day, 292 mm between 6 and 8 pm alone, which led to major water logging, officials said.
☁ Heavy rains also lashed parts of Porbandar, Gir Somnath, Junagadh and Amreli districts in Saurashtra region, as well as Valsad and Navsari districts in south Gujarat throughout the day, they said.
☁ Meanwhile, parts of Uttar Pradesh are also set to witnessed thundershower and lightening during the next three hours, (valid up to 12:15 pm) at isolated places over Lucknow, Unnao, Raebareli, Amethi, Pratapgarh, Kanpur, Auraiya, Kannauj, Mainpuri, Farrukhabad, Hardoi, Sitapur, Jhansi Jalaun and adjoining areas, said the Meteorological Centre at Lucknow.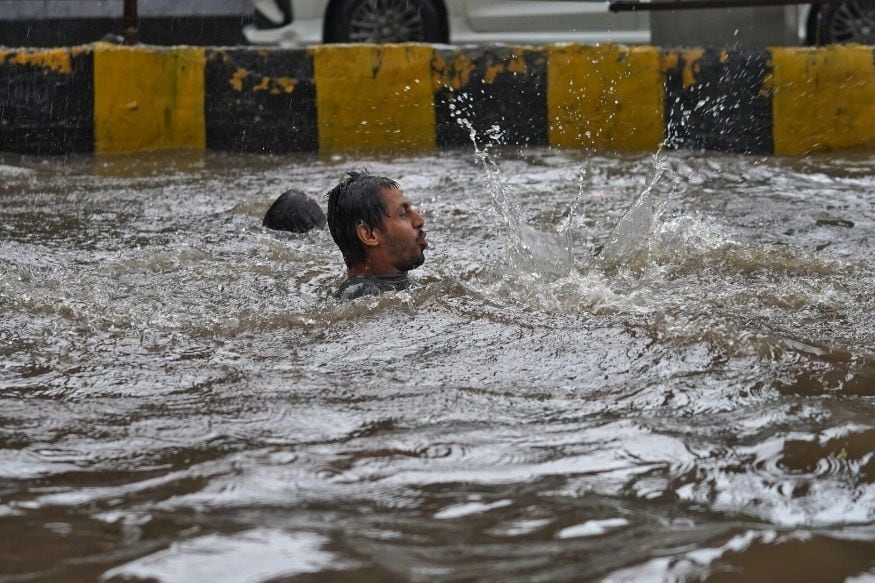 ☁ The Ahmedabad centre of the India Meteorological Department (IMD) predicted heavy to very heavy rainfall in Saurashtra, north and south Gujarat over the next three days.
☁ A farmer was killed in a lightning strike in Surendranagar district, while one person was feared drowned after a pickup van he was travelling in was swept away in a strong current of water following the downpour, police said.