Murdered Ryan Student Wasn't Sexually Assaulted, Says Post-mortem Report
Dr Deepak Mathur, who conducted the post-mortem, also said there were two cuts on the boy's body and a nerve was slashed due to which he could not cry for help when he was attacked.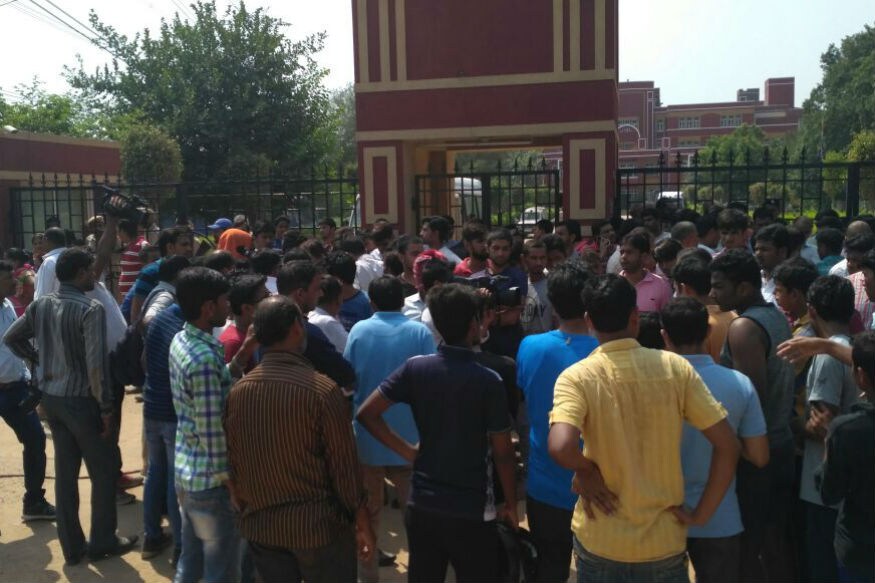 Protesting parents outside Ryan International School in Gurugram days after the murder. (Akash Kolluru/CNN-News18)
New Delhi: The seven-year-old student, found in a pool of blood in Ryan International School washroom, was not sexually assaulted and died of excessive bleeding, the doctor who conducted the autopsy said on Tuesday.
"The second point that came out in the report is that the child died due to excessive bleeding. There was no sexual assault on the minor and no semen marks were found on his school dress," he said.
Dr Deepak Mathur, who conducted the post mortem, also said there were two cuts on the boy's body and a nerve was slashed due to which he could not cry for help when he was attacked.
A three-member fact-finding committee, constituted by Gurugram district administration, in its report to the District Commissioner, identified lapses on the part of the school.
District Commissioner Vinay Pratap Singh told PTI that the report underlined there were "broken window, ill-equipped fire extinguishers, common toilets, no police verification of conductors and drivers and other ground staff, broken boundary wall and low quality CCTV without having wide-angle facilities, students' toilets without guard" in the school.
Meanwhile, police recorded statements of two students in connection with the murder of their schoolmate.
"The SIT recorded statements of two students who went to change their Taekwondo dress inside the toilet at the time of the crime. The team is also questioning the suspended school principal Neerja Batra and two other female teachers," a senior police officer said.
Schoolbus conductor Ashok Kumar, who allegedly tried to sexually assault the class II student in a toilet and slit his throat with a knife when he resisted last Friday last, was sent to judicial custody till September 17.
As police are working to crack the case, Subhash Garg, a businessman, claimed the conductor carried the injured boy to a car to be shifted to a hospital on the orders of two teachers.
Garg said he had gone to deposit his son's fees on Friday and was standing at the main reception in the school when he heard some commotion.
"I saw two female teachers and two students were following an injured student who was being carried by Ashok Kumar. One of the teachers was weeping at that moment. She ordered Kumar to place him at the rear seat of the car," Garg told PTI.
"There were also blood stains spread all over the place in a small toilet at the ground floor of the school building. There were blood stains on Kumar's shirt which may be due to the fact that he was carrying the boy," he claimed.
He further claimed that Kumar was behaving normally which is a rare thing for someone who has committed a crime, adding he recorded 1.14 minute video.
In a related development, the Bombay High Court granted interim protection from arrest to Ryan International Group's founding chairman Augustine Pinto and his wife and managing director Grace till tomorrow in connection with the murder.
The school, where the boy studied, is run by the group in Gurgaon.
Group CEO Ryan Pinto filed an anticipatory bail application in the high court this evening, their lawyer said.
(with inputs from PTI)
Get the best of News18 delivered to your inbox - subscribe to News18 Daybreak. Follow News18.com on Twitter, Instagram, Facebook, TikTok and on YouTube, and stay in the know with what's happening in the world around you – in real time.
| Edited by: Mirza Arif Beg
Read full article