Music Review: Jashnn
Will Adhyayan Suman and Anjajan Sukhani's Jashnn break the jinx?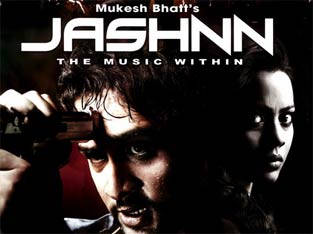 Will Adhyayan Suman and Anjajan Sukhani's Jashnn break the jinx?
Releasing in the wake of two chartbusters Jannat and Raaz, the odds are placed heavily in favour of Jashnn. But at the same time, whenever Vishesh Films have moved away from Emraan Hashmi, their soundtracks have never created the same impact. Will Adhyayan Suman and Anjajan Sukhani's Jashnn break the jinx?
Jashnn has music by Toshi-Sharib - singers of the very popular Maahi number (Raaz). First up is KK's Nazarein Karam. When it's a solo stage song, you just can't go wrong with KK. Nazarein Karam's easy to hum, melodious tune is akin to listening to a younger sibling of the Zara Si number from Jannat. Shreya Ghosal provides good support to KK energy.
Main Chala is a slow, situational number that doesn't make an instant impact on audio. Nevertheless newbie Nauman Jawad has a powerful voice that complements the intense mood of the song. Hopefully, the track will be more justified in the context of the film.
Nauman sings one more track Dard E Tanhai. And this time it's more commercial. Dard E Tanhai is the prototype Bhatt camp Sufi-Pop sound that's been working very well for them. Had Hashmi been in this song, it would have been a chartbuster by now in the form of a music video. Dard E Tanhai has the potential to work beyond the film's fate at the box office. The remix takes it a few notches higher. It appears yet again in a unique unplugged version.
Tere Bin is the regular Shaan-Shreya Ghosal romantic duet. Both singers are getting typecast in the soft and sweet mode with most of their numbers sounding the same.
Aaya Re is again a KK concert number. It opens with an uncanny resemblance to the Mumbai Indians IPL tune. But that's again because in both songs the singers are calling out to the people. It's a no surprises, peppy number that works while it lasts.
Aish Karle is the surprise track. Sung by the composers themselves it's got a heavy dose of rock. Situational yet catchy, the song has an interesting dialogue exchange in the background. It's like a 2009 version of the street anthem Rehne Ko Ghar Nahi from Bhatt's own Sadak. The song might take a while to grow but gets better with each listen.
Verdict: Jashnn is a melodious album that deserves better promotion. It does not have a chartbuster quality to it. But it's easily among the better albums on the music charts.
Rating: 3/5
Get the best of News18 delivered to your inbox - subscribe to News18 Daybreak. Follow News18.com on Twitter, Instagram, Facebook, Telegram, TikTok and on YouTube, and stay in the know with what's happening in the world around you – in real time.
Read full article