Music review of Aamir-starrer 3 Idiots
The music of the movie was released online via a live videoconference.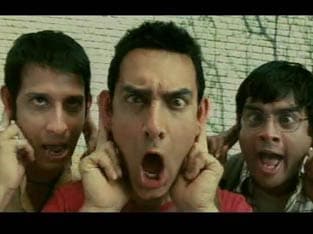 The music of the movie was released online via a live videoconference.
It's that film of the year and we are waiting with baited breath for the last significant release of 2009. The music of 3 Idiots was released online via a live videoconference on the movie's official portal. Odd, you say? But then it is an Aamir Khan film, so you can only expect the unexpected.
The Munnabhai producers rope in their regular Shantanu Moitra-Swanand Kirkire team – who bear the burden of scoring a soundtrack that has to click at all costs.
The theme song Aal Izz Well should be a campus anthem in no time. Enthusiastically sung by Sonu Niigaam and brilliantly picturised, Aal Izz Well has a catchy hook. The composition has the right punch to work on the big screen.
But the remaining songs require patient listening. The tunes take some time to register and don't have an instant recall.
Zoobi Doobi is a retro Bollywood track that draws references from the Shammi Kapoor rock n roll era. Sonu's singing style is similar to what he did with the Rab Ne Bana Di Jodi parody. But it's Shreya Ghosal who brings in a saccharine sweetness to the melody. Expectedly picturised on Aamir Khan and Kareena Kapoor, it might just be that much-hyped sensuous rain song everyone is talking about.
Behti Hawa is arranged on the semi classical lines of Parineeta. There is an overbearing sense of longing and nostalgia to the track. Shaan does a commendable job with the singing. It's a song about missing a lost friend, so there is obviously a situational element to it. After hearing it a couple of times the tune stays with you. But in terms of overall design it bears the stamp of a Vidhu Vinod Chopra production.
Sharman Joshi opens Give Me Some Sunshine with a little voice over. The song then moves into a chorus about youngsters wanting to go back in time. The emotion about stressed out students looking to relive their youth is heartwarming. There is an easy soft rock like feel to the song – the kind closet musicians croon across campus hostels.
Sonu gets into Tanhai (Dil Chahta Hai) mode with Jaane Nahi Denge. The lyrics are raw and intense and so is Sonu's singing. A song about holding back a friend, it's almost like a continuation of Behti Hawa.
The two remixes are obviously included to end the album on a lighter note. You end up liking Zoobi Doobi a little more in its neat remix version. The remix brings back memories of the relatively unknown Tumse Mili Nazar (Main Madhuri Dixit Banna Chahti Hoon). Aal Izz Well has more of a conventional techno music video like remix.
From the promos one gets the feeling of a frothy, youthful mad comedy. But there is obviously more to the film than just jokes. Save for Aal Izz Well and Zoobi Doobi to some extent, the other songs are extremely situational - pretty intensely arranged and worded.
Verdict: 3 Idiots is not going to be an instant chartbuster like Ghajini. But like Rang De Basanti, if the movie clicks, the tracks will justify their meaning. The quantity of sales is a different matter. For now the team deserves praise for keeping the quality high.
Get the best of News18 delivered to your inbox - subscribe to News18 Daybreak. Follow News18.com on Twitter, Instagram, Facebook, Telegram, TikTok and on YouTube, and stay in the know with what's happening in the world around you – in real time.
Read full article