Musical calendar: 7 Western albums to buy in 2010
Acts from the last 40 years show the posers a thing or two.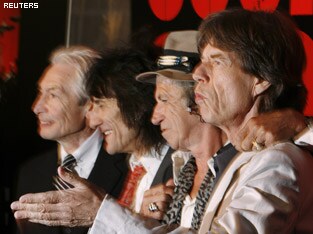 Acts from the last 40 years show the posers a thing or two.
Where have all the young rockstars disappeared to? It's a time for names and acts from the last 40 years to show the posers a thing or two
1. RHCP--untitled album
The Red Hot Chilli Peppers have returned to the studio after a two-year hiatus following the release and tour for the double album Stadium Arcadium. They have kept busy through the lean period with Chad Smith drumming for supergroup Chickenfoot, alongside Joe Satriani and Van Halen alumni Sammy Hagar and Mike Anthony. Guitarist John Frusciante has got serious enough about his solo career to the point where fans are wondering if he'll return to the Peppers. Be that as it may, expect a dose of radio-friendly funk rock to come your way some time in 2010.
2. Smashing Pumpkins--Teargarden by Kaleidyscope
Former darlings of the alternative rock circuit, the Pumpkins alienated a lot of fans through the tour for their last album, Zeitgeist. The sets were short on hit singles and long on exploratory jams and guitar noise. Vocalist, guitarist and main composer Billy Corgan intends to release the new album four songs at a time, starting in 2009 moving all the way up till 2010, ending with a total of 44 songs. According to a blog post on the official site, this will allow Corgan to establish a new standard for a Pumpkins song: "That it be excellent and fantastic and most importantly essential or it's not coming out."
3. Peter Gabriel--Scratch My Back
Often thought to be the first sign of a creative burnout, the covers album generally works as a stopgap between more serious work. Except, of course, if you are Peter Gabriel. For his covers album, Gabriel intends coming up with orchestral versions of songs from artists like Lou Reed, Radiohead and Paul Simon. Besides, Gabriel has hinted that some of these artists may just return the favour by contributing to the Scratch My Back project.
4. Radiohead--untitled album
After standing the music industry on its head for a brief span of time in 2007, with its "pay what you want to pay" model for In Rainbows, Radiohead appear to be walking a more mainstream path for the next album. Guitarist Ed O'Brien has made no secret about his fondness for older formats of music complete with lyrics and album art. In spite of their relatively sparse output, Radiohead continue to be among the most influential and revered art rock bands.
5. The Rolling Stones--untitled album
If the Rolling Stones soldier on for just a little longer, the band will have been in existence for a full 50 years. The Stones have taken a break after the success of the tour supporting their last album, A Big Bang. Considering the recent move from Virgin to Universal, and the fact that the Stones are expected to resume touring in 2010, fresh material might be in the offing.
6. Grinderman--untitled album
Australian-born singer/songwriter Nick Cave's early albums were chaotic sonically harrowing affairs, driven by wailing vocals and Southern Gothic tales of doom and damnation. If his last few albums have seemed restrained by comparison, track down Grinderman, where the hell raising spirit that suffused albums like From Her To Eternity and Your Funeral My Trial still lives on. The line-up remains practically unchanged between Grinderman and The Bad Seeds, Cave's regular backing band. The difference is purely in sound and attitude — Grinderman is a noisier more raucous beast.
7. Amy Winehouse--untitled album
2010 will hopefully be the year in which Amy Winehouse puts her personal demons behind her long enough to record new material. Winehouse won five Grammy awards in 2008, at just 24, for Back to Black, an infectiously catchy amalgam of R&B, soul and big band music. Her career since has been one long downward spiral into every rock star cliché in the book: Addiction, multiple stints at rehab and even the occasional brawl. However, her record label, Island, is confident that Winehouse will be in the news for music again.
Get the best of News18 delivered to your inbox - subscribe to News18 Daybreak. Follow News18.com on Twitter, Instagram, Facebook, Telegram, TikTok and on YouTube, and stay in the know with what's happening in the world around you – in real time.
Read full article