Muslim ex-communicated for Ganesh laddoo auction
Muslim leaders told him he had committed a big sin.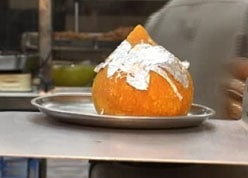 Muslim leaders told him he had committed a big sin.
Hyderabad:A Muslim who bought a 'laddoo' in auction during the Ganesh festival thinking it would bring him good fortune was ex-communicated. But he returned to the fold after the recitation of 'kalma'.
Carpenter Mohammed Yousuf took part in the auction in Boorabanda neighborhood. He was the highest bidder, and got the holy sweetmeat for Rs.12,000.
The auction was conducted September 14 by a Ganesh Utsav Samiti to mobilise funds for the festival. Impressed by his contribution, the Samiti felicitated him last week.
As word spread, some local Muslim leaders told him that by taking part in the auction, he had committed 'shirk' or a big sin and that he would have to recite 'tajdeed-e-Iman' or 'kalma' to again become a Muslim.
Yousuf recited 'kalma' in the presence of few people and returned to Muslim fold.
"The issue was dealt with by a few local leaders who are associated with a political party," said Syed Khalid, a resident of Borabanda. He denied that the man was asked to move out of the locality.
He pointed out that several Muslims from coastal Andhra who reside in the area participate in Ganesh and other Hindu festivals.
It is also not the first instance of a Muslim taking part in a Ganesh 'laddoo' auction. A few years ago, a Muslim businessman bought the famous Balapur Ganesh 'laddoo' here for over Rs.200,000.
Auction of 'laddoo' has become common in several localities here. The biggest auction takes place in Balapur neighborhood.
Get the best of News18 delivered to your inbox - subscribe to News18 Daybreak. Follow News18.com on Twitter, Instagram, Facebook, Telegram, TikTok and on YouTube, and stay in the know with what's happening in the world around you – in real time.
Read full article