Nagaland Insurgent Group Expanding Cadre Even as Its Leaders Talk Peace With Centre
According to highly placed sources, NSCN(IM) is busy recruiting new cadre and providing them with military training at camp Hebron in Nagaland.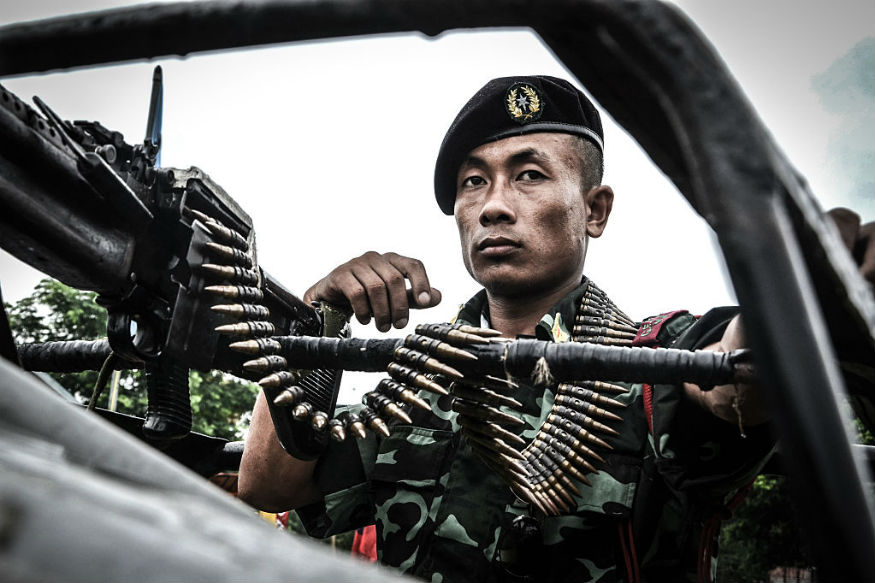 A member of the Nagaland based NSCN(IM).
While it is negotiating with the Indian government on one side, NSCN(IM), an insurgent group based out of Nagaland, is also busy expanding its military base.
According to highly placed sources, National Socialist Council of Nagaland (IM) is busy recruiting new cadre and providing them with military training at camp Hebron in Nagaland.
Sources told News18 that around 40 new cadres are receiving Basic Military Training (BMT) at the insurgent group's base camp while its leaders are holding peace talks with the central government.
"Around 20 newly-inducted members of NSCN (IM) were provided BMT in March in Manipur's Ukhrul. One male and three female instructors were seen in the forests of Ukhrul giving military training to the new members. They were brought there from camp Hebron in Dimapur," a source told News18.
The group, that has been fighting with the Indian state for a long time to establish "Nagalim" or greater Nagaland and also has bases in Myanmar, is conducting the training in batches, sources told News18.
The group recently made headlines when it rebuked BJP's Nagaland election in-charge and MoS Home Affairs, Kiren Rijiju in a press statement in April this year. Rijiju had claimed that in the peace talks with the insurgent group that were in advanced stages, NSCN(IM) had dropped demands like "sovereignty". The group hit back at the minister with a press statement, saying Rijiju had no business talking about the Naga peace accord.
"It is demeaning of him to denigrate the Indo-Naga talk which is being held at the Prime Ministerial level. At no point of the negotiation have both the parties ignored important political issues, and the concocted statement of Mr Rijiju that, 'NSCN has 'dropped' the stand of the Nagas on their sovereign right' is a figment of his own imagination," the NSCN(IM) had claimed in its statement.
The group was in news again last month when a senior militant of the outfit was killed in a gunbattle with Assam Rifles in Longding district of Arunachal Pradesh. Senior officials of the paramilitary force had claimed that the insurgent group's members had open fired on Assam Rifle's personnel.
In August 2015, Prime Minister Modi had announced a framework agreement between the Centre and NSCN(IM) for a final peace deal. The deal, which was signed by representatives from both the Indian state as well as the insurgent group's leaders, was seen as one of the major successes of PM Modi's policies.
The Modi government has also been working to extend the peace deal to groups other than NSCN(IM). Several groups, other than NSCN(K), which is designated a terror group, have been in touch with the Centre over the peace deal.
| Edited by: Sanchari Chatterjee
Read full article
Countdown To
Elections Results
To Assembly Elections 2018 Results