GET Stock

Quotes



Nagrota Attack: Terrorists Dug Tunnel to Enter Army Camp, Reveals Probe
Combing operations on Wednesday resumed at the army camp in Nagrota, where seven defence personnel were killed in a terror attack, to flush out any remaining militants.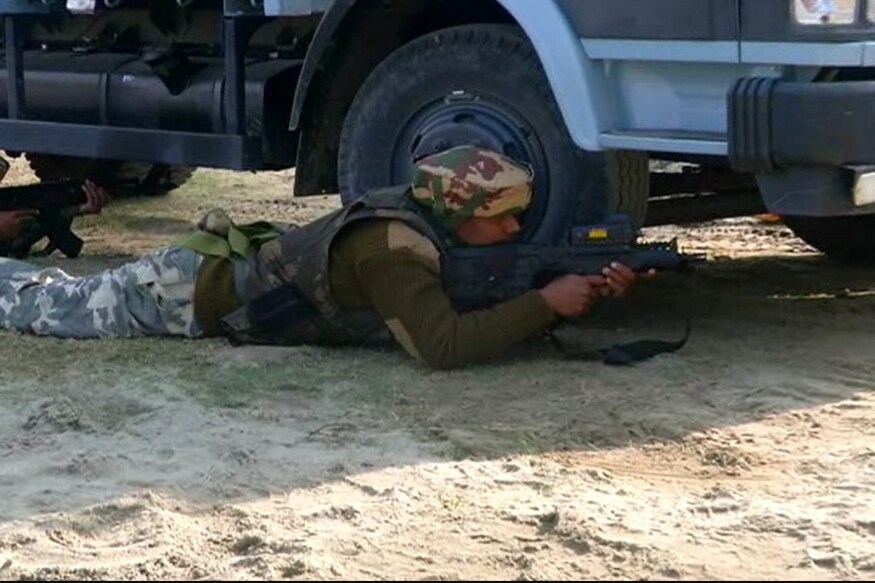 Soldier keeping a watch during combing operation at Nagrota on Tuesday.
Jammu: Combing operations at the army camp in Nagrota on wednesday revealed the presence of a tunnel which the terrorists used to enter the Indian side.
"We spotted a tunnel in Chambliyal - samba area this morning which might have been used for infiltration," said BSF DG KK Sharma.
The BSF DG also said that efforts were underway to fill the unfenced gaps using technology.
'Blinds' (unexploded shells) were destroyed at the site of the terror attack by a bomb disposal team during the combing operation.
Also Read: Nagrota Attack: 7 Soldiers Killed, 3 Terrorists Neutralised, Hostages Freed
"A part of Bangladesh border is unfenced including water bodies. It is not humanly possible for me to put manpower in such areas," said KK Sharma.
We have made a concerted effort to modernise our border fences: BSF DG KK Sharma pic.twitter.com/Wbb3HKnF2r

— ANI (@ANI_news) November 30, 2016
Also Read: Nagrota Attack: Terrorists Dressed as Policemen Wreaked Havoc
The government has provided two pilot programs to mordernise the border fencing technology which will be a force multiplier in border security and will plug gaps and ensure good border protection.
Army Chief Gen Dalbir Singh Suhag today visited the Nagrota-based 16 Corps headquarters and was briefed about Tuesday's terror attack
Also Read: Outrage on Twitter After Martyrdom of 7 Soldiers in Nagrota Attack
Jammu was rocked by two terror attacks yesterday in which 7 army personnel, including two Major-rank officers, were killed and eight other securitymen, including a BSF DIG, were injured, before six heavily-armed terrorists were eliminated in the separate fierce encounters.
In one incident, a group of heavily-armed terrorists in police uniform stormed an army unit in Nagrota, about three kms from the Corps headquarters on the outskirts of Jammu city.
Seven army personnel, including two officers, were killed in this attack before three terrorists were killed in an armed stand-off which also involved a hostage-like situation with 12 soldiers, two ladies and two children being held captive. All were rescued.
Also Read: Bravery of Officers' Wives Averts Hostage Crisis In Nagrota
Three terrorists were gunned down by BSF in Ramgarh area of Samba near the International Border after an encounter that lasted several hours and was followed by intense cross-border firing by Pakistani troops. Four security personnel, including BSF DIG, were injured in this incident.
Also Watch
Read full article