'Naiyaandi' review: The jokes fall flat in this Tamil film
In this rural romantic tale, Dhanush plays Chinna Vandu, who falls head over heels for Vana Roja.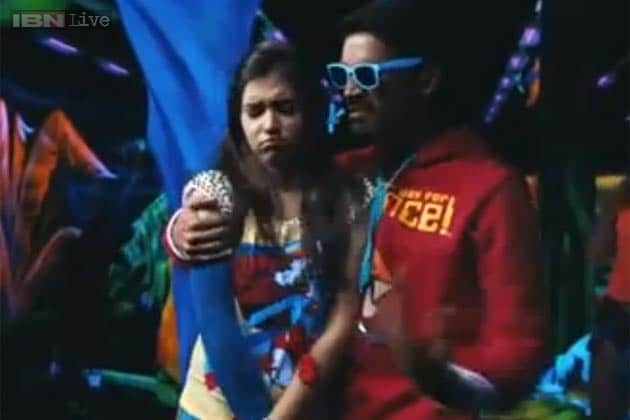 In this rural romantic tale, Dhanush plays Chinna Vandu, who falls head over heels for Vana Roja.
Cast: Dhanush, Nazriya, Soori, Saranya Ponvannan, Sreeman, Sathyan
Director: A Sarkunam
Rating: 1.5 out of 5
When two National Award winning artists, Dhanush and Sarkunam, are associated with a project expectations are bound to be high. But if you watch 'Naiyaandi' with such high expectations you're likely to be disappointed.
It is one of those films that top actors claim they need to do to impress their mass following every now and then. Alas, after two back-to-back impressive performances in 'Raanjhanaa' and 'Maryan', Dhanush makes a fool of himself in this cliched romantic entertainer.
In this rural romantic tale, Dhanush plays Chinna Vandu, who falls head over heels for Vana Roja (Nazriya) when she comes to visit her grandmother. Initially, he faces a lot of hiccups in his romance but eventually Roja falls for him too. However, Vandu has too many problems to handle before he can dream of living with her happily ever after. He needs to take care of his elder brothers who abhor love and a goon who yearns for Roja.
A good portion of the first half banks on comedy which is not exceptionally rib-tickling but still manages to hold you in your seats. In the second half, the audience is not spared the usual melodrama, a predictable climax and a happy ending.
Dhanush has his heroic moments, especially around the end where he locks horns with the villain and his sidekicks. Just when you thought we finally have an actor who wouldn't mind shedding his hero avatar, Dhanush proves us wrong with this outing. Even though he plays his role effortlessly, we question the potential of this powerhouse performer who can definitely give us something far better than 'Naiyaandi'.
The film hardly has any scope for a story as it follows the proceedings of a common rural potboiler with comedy and action laced together just to keep the audiences hooked for the most part of the running time.
Nazriya is a promising actress but sadly she once again gets limited to portraying a glamorous love doll. She gets to showcase her comic side to an extent but the film mostly rests on Dhanush and others. Sreeman and Sathyan manage to keep us partly entertained with their acts of buffoonery, which by the way, isn't funny.
Technically, 'Naiyaandi' isn't bad, thanks to the visual appeal brought to perfection by cinematographer Velraj. Be it the night shots across a paddy field or the picturesque locales in Switzerland - he gives us a visually good film.
'Naiyaandi' is a mistake every talented actor commits in his career. This one belongs to Dhanush, who has majorly disappointed one and all.
####
Get the best of News18 delivered to your inbox - subscribe to News18 Daybreak. Follow News18.com on Twitter, Instagram, Facebook, Telegram, TikTok and on YouTube, and stay in the know with what's happening in the world around you – in real time.
Read full article