Naseeruddin Shah: I don't depend on the film industry. I don't have any friends in the industry. I don't owe the film industry anything
Shah, considered one of cinema's finest actors, brushes off stars acting in what he disdainfully calls masala films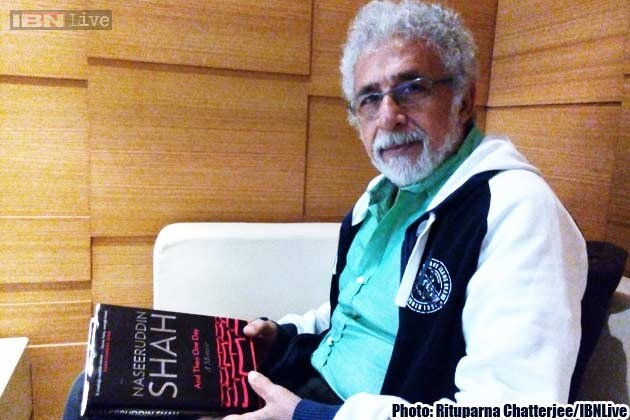 Shah, considered one of cinema's finest actors, brushes off stars acting in what he disdainfully calls masala films
I finished actor Naseeruddin Shah's memoir 'And Then One Day' in a day, reading late into the night, fascinated by the brutal honesty in his recollection of his relationships and the years of struggle before he made it as an actor in Mumbai. I met him in Delhi and he spoke at length about Shyam Benegal who found him at a time he was days away from starvation, his complete disregard for 'Sholay' - feted as a pop culture milestone in Indian cinema, and the secret of good acting.
Shah, considered one of cinema's finest actors, brushes off stars who act in what he disdainfully calls 'masala' movies, get Botox injections by 40 and says he would like to teach aspiring actors one day the craft of punctilious acting that he learnt the hard way - the only way there is.
Shah also says the advent of colour spelt a death knell for Hindi cinema as it stifled all attempts at creativity. He minces no words to describe the industry and its people he spends some energy actively avoiding.
Shah is an interviewer's dream. He holds nothing back and offers the best quotes. Here are some from the interview:
- There is nothing in the world so miserable as a failed actor.
- Sometimes an actor needs to just shut up and follow instructions.
- The audience is a mob.
- I don't depend on the film industry.
- I don't have any friends in the industry.
- I don't owe the film industry anything. I didn't start my career with them. They come to me when they need an actor who can deliver the goods.
- I like people who are politically incorrect, I like people who are outrageous.
- The coming of colour brought mediocrity into the film industry because all attempts at creativity ceased.
- Because the bloody film (Sholay) flopped in the first week. Nobody went to see it and those who did were jeering it and I was there.
- They're (sons) very close to Ratna but they are very distant from me. I don't know why, I've tried very hard. Must be something about me. As it was something about my dad.
- I'm not dead, not in any serious way at least.
Have you thought of writing something exclusively on contemporary Indian theatre?
Not on theatre but exclusively on acting is something I want to write about, because I think the business of training actors in our country is very, very chaotic and at times damaging. I find everywhere that failed actors are teaching acting and I find that is a very, very harmful thing. There is nothing in the world so miserable as a failed actor.
Define 'failed'.
Failed means a person who has not gained employment because he doesn't know his job. That is the reason most actors fail because they don't know their job. Most actors mistakenly feel that acting is a job in which they do not have to know anything and acting just happens by chance or by the grace of god (or if you know someone influential or if you ARE someone influential). But they don't realize that acting a craft like carpentry, like sculpting, like painting and there are disciplines which have to be learnt.
You can't only depend on the ability to laugh or cry and imagine that is only what acting consists of. Unfortunately, in our country crying is taken for good acting all the time.
In his disillusionment with commercial cinema and his effort to fit into characters with his unconventional look, Shah writes in his book of a time a director testily told him once "Naseerji, this is not an art film, here you have to act!" Years later, it makes him chuckle. But it deepened his contempt for most mainstream films that had no roots in reality.
You have worked with Satyadev Dubey and have come away dissatisfied, you went to Poland looking for the great Jerzy Grotowski and yet eventually felt you haven't learnt anything of significance in your time at the National School of Drama and after. Doesn't this conflict directly with what you were saying because eventually, you were self taught.
There isn't such a huge abyss between theatre and stage. I think all actors are self taught. Their level of learning varies with the kind of influences they encounter. If you have encountered nothing but Hindi cinema, you are going to become a certain kind of actor. If you have a certain kind of awareness, you will become a different kind of actor. If you are only from the theatre you will become a certain kind of actor. If you are from folk theatre you will become a certain kind of actor, it varies according to the influences you've been exposed to.
I can't say that I have learnt all on my own. The influences that worked on me are of Alkazi (the renowned theatre director Ebrahim Alkazi) and before Alkazi the priest in my school at St Joseph's College, Nainital, and the professors in Aligarh Muslim University who guided me.
Of course Alkazi saab was the greatest influence, though not for my acting. He was influential as far as widening and expanding my mind was concerned. He was not interested in actors, he did not much like actors. He was a superlative designer. He did not waste his time with actors. If an actor asked him 'why' he would never answer, he would say 'just do it'.
He taught me the discipline an actor needs and sometimes an actor needs to just shut up and follow instructions.
These were the important lessons I learnt from Alkazi saab as an actor, but not about the technique of acting. That I have to say I learnt with the help of professor Taneja at the Film and Television Institute of India (at Pune) and I was itching to learn. I was dying to learn. There was nobody who could teach me, and that I take credit for. For doing that search on my own.
But is there a single technique that fits all?
There is a technique that fits all.
There is not a huge difference between theatre, film and television. It is nonsense to believe that in theatre your performance has to be enlarged. Good acting is good acting whether on stage or in cinema. No doubt the camera can come closer to your eyes and so on, but so can the audience's eyes. You would have seen plays. You would know that even sitting at the last row at the back, that if the performance is good, you can see the actor's eyes. You don't need a camera close-up. And stage directors have a technique of drawing the audience's attention where they want it on stage. There is a difference in the way to approach a film or a play. As far as the acting is concerned there is not much difference as is made out to be.
All the great film actors in the world are all from the stage.
If you see a person on screen and say 'he's so theatrical' does that not say a lot about the medium?
In other words you are saying he is acting badly, sometimes you see an actor in the theatre and say he is so filmy, (laughs) which is basically bad acting, and that is a universal thing.
Have audience profiles changed? People are on their phones constantly checking their social media accounts. How do you deal with that on stage, are you a short tempered actor? Has it become increasingly difficult to hold your audience's attention? Do you tell them to switch it off when a phone rings mid-performance?
Yes I do that, but not in anger. I have realized that the audience is very eager to love you but they also turn against you if you get on their wrong side. The audience is a mob so you have to tackle them cleverly. So if a phone rings and continues to ring I borrow a line from Zakir Hussain who was acting one day at the Prithvi theatre and this phone went on and on and on so he stopped and said "If that call is for me, tell them I'm busy". (laughs) Which is just brilliant. If anytime this happens during a play, I do that which gets a laugh and gets applause. But if you say 'get out!' it will antagonise not only the person but everybody else.
Isn't an actor entitled to that respect?
You are, but you can't demand it. I consider it a compliment if not a single phone rings in the course of my performance and then I know I've done all right. We walk out and people take photographs. You have to learn how to live with these things. In the old days actors had to live with rustling programmes and noises of plastic packets of chips being opened. Stage actors have to learn how to cope with distractions and as far as audience intruding on your personal space, when you are on stage there is no personal space.
Where do you draw the line?
I don't mind revealing myself completely on stage. It's not me, it's somebody I'm representing. But I don't enjoy meeting audiences after the performance. Some confuse me with the character I am playing. They want to take photos. Then they are intruding on my personal space.
Do you ever feel you are an introvert in an industry that does not allow that privilege to anyone?
I don't, I don't bother to explain myself to anyone. I am plugging this book because I want word to spread about my book. I don't normally give interviews, I don't go to film parties. Ever.
Not even if it's a friend's party?
I have no friends in the film industry. My friends are all people who work in different professions, some are lawyers, some are teachers some are architects.
Do people from the industry allow you that space? The people you have to work with?
I don't need them to allow me to live my life the way I want. I don't depend on the film industry. It wasn't they who made my reputation, it was the smaller filmmakers. I don't owe the film industry anything. I didn't start my career with them. They come to me when they need an actor who can deliver the goods.
And roles nobody else can do?
Well, no, there are other actors who can, but they are probably more expensive than me, (laughs) so once every year I get to do a big budget film which helps my bank balance. But I don't mingle with the film industry at all. Not at all. Politically correct people are big bores. I like people who are politically incorrect, I like people who are outrageous.
Do you ever wonder how your life would have turned out if you hadn't gone to Shyam Benegal's residence on Peddar Road? He's given you employment consistently for a certain period of time in the late 70s.
I don't think he could have escaped me. I would have hounded him. Girish (Karnad) recommended me. But when I was in FTII, I saw Ankur and I felt this is the kind of film in which I can get work. There was a guy in Ankur I looked like when I was much younger. And I felt Shyam Benegal is the guy who will cast me some day and had Girish not recommended me, I would have probably gone to meet Shyam on my own. Shyam could not have escaped me for long. He was looking for an actor just like me for 'Nishant'.
I met a whole lot of people Shyam met for my role and he had turned them all down because they 'were too good looking' (laughs).
And suddenly you find yourself amidst theatre's royalty.
All of whom I have looked up to. I was sitting next to Amrish Puri and there was Dubey sitting and Girish and Kulbhushan (Kharbanda) and Mohan Agashe, I thought 'wow man, I am in exalted company' and none of them knew who I was but I knew them all, so I introduced myself. They were all very nice, I have o say.
Nishant was Shah's first film in 1975 in which he plays the youngest brother of a powerful village landlord.
You were down to Rs 200 stipend at that point and Benegal signed you for 'Nishant' for the princely sum of Rs 10000. He was also the director everyone at that time wanted to work with - he was making meaningful cinema that was also commercially viable. In a way, was Benegal a turning point in your career?
In a way that he started my career, yes. But I never got any work after 'Nishant'. So it was not a turning point in that sense. If I had been deluged with offers, it would have been.
Did you wonder why?
No, I didn't expect to get work after 'Nishant' because I didn't look anything like a character in Hindi cinema, I looked too authentic. I was of course disappointed because I needed to eat and I needed to get my career going. Not a single offer.
For one year I just sat twiddling my thumbs. And acted in a terrible play by Dubeyji's and met Ratna (Pathak). And then 'Manthan' happened and I started getting work. When people saw 'Manthan' they realized, 'oh is this the same guy? The idiot from 'Nishant''? It was very generous of Shyam to give me such two varied roles in my first two films. He could have cast anybody. All the actors in Bombay were dying to work with him.
You made a decision to shift to FTII from NSD.
Ours was the first batch really in NSD from which people attempted to get into movies. The batch after ours had people like Rohini Hattangadi, Raj Babbar, Ajit Vachani, Rajesh Vivek, lot of guys who've been successful.
FTII was having a particularly good run in the early 70s.
FTII students were being snapped up by the film industry. Every FTII graduate was getting work, so I thought it was a good idea to transfer to FTII from NSD.
You spoke of wanting to train actors - when you compare the formal training you went through while preparing to be an actor - do you feel modern filmmakers are not as demanding?
There are so many more avenues now for actors to get work. A newcomer in Bombay today would not have it as tough as Nawaz (Nawazuddin Siddiqui) and Irrfan (Khan). There was nothing. There was Doordarshan, one channel on which if you got a job you got Rs 15. No other method of employment.
What do you think of Nawazuddin Siddiqui?
Nawaz is flying high now. He is in the stratosphere. Now the only one who can mess things up is Nawaz himself. I hope he doesn't but he is unstoppable now. Nawaz is the best among the younger crop without a doubt. He will be a star.
Doesn't he fight the same obstacles you once fought?
Yes, he does, but I think he's a better actor than I ever was at his age. I think Irrfan is a far better actor I was at his age. I've learnt over the years.
What do you think of young actors today?
You are talking of kids who debut every second day, some are nephew or cousin of somebody. These kids do not study acting seriously because they really do not need to. To act in masala films you need to have a good body, you need to know how to dress, how to dance, how to fight, how to laugh and cry, you don't need to have an understanding of human life, human psychology, human beings or anything because masala movies do not contain any of that.
You acted in some 'masala' movies yourself.
Those movies have no connect with reality and the mistake I made was to try to bring authenticity to something that was patently fake. So these kids learn how to look good and Botox themselves by the time they are 40. Those are the right things to learn.
But do they look after themselves better than your generation did?
Yes they are savvier, they are exposed to more, that's why. They handle media better. A lot of them are actually are very hard working, very disciplined; they work on their bodies which we didn't do. A lot of them are very skilful. But they learn what they have to learn. If I train actors I would not concentrate on these things.
What is the biggest internal change that you have seen in the industry over the years?
The air-conditioned vans have appeared. The money riding on films is bigger. Actors sit in AC vans, now not in makeup rooms. Photography is better and editing is better but as for the rest, people are making bad if not worse films than we made in the 50s. That was the golden phase when we made our best movies, when Bimal Roy was around. Guru Dutt and V Shantaram was around and black and white was still a medium. Colour came and destroyed cinema.
How?
The coming of colour brought mediocrity into the film industry because all attempts at creativity ceased once colour appeared. Study the history of cinema and you will notice that it is synchronous with the coming of the age of colour cinema. It is completely simultaneous - the drop in the quality of film's music and lyrics and script writing and dialogue writing.
It did not happen to cinema worldwide, why did it happen to Hindi films?
Why it happened to us is another story on which a book can be written. Colour came too suddenly and took over everything before anyone knew what to do with it. When colour came in the late 60s and every Hindi film tuned into colour, the quality of music dropped. See, making a film in colour suddenly made filmmaking very easy. You didn't need to bother about good poetry, or good dialogues; just put your heroine in coloured clothes against a backdrop. As far as a song is concerned - just steal a tune from the west.
There are half a dozen Hindi film songs stolen from the tunes of 'Come September'. And then they stopped bothering about scripts, they celebrated mediocrity because the effort that was needed to shoot in black and white was not required in colour. To make a shot in black and white look beautiful needed artistry. This attitude seeped into every department.
You never somehow warmed up to 'Sholay'.
It's a pop culture icon, I can no longer deny, everybody has seen it more than once, as have I. But I don't consider it a great movie. I've seen plenty of Dara Singh movies and I don't consider them great movies either. I'll probably offend Mr Sippy and I don't care because I'm entitled to my opinion and nor am I a critic or an authority, I'm just stating what I felt about the movie.
What was so offensive about 'Sholay'?
It was not offensive, I felt it was a perfectly good timepass. But there was nothing great about it. Except Amjad Khan. And it's absolutely true that all the industry blamed Amjad Khan (when the film did not get the response it wanted at the Box Office) and his career nearly ended before it began. The entire industry was on his case. Because the bloody film flopped in the first week.
Nobody went to see it and those who did were jeering it and I was there. This fellow whom we didn't know was upstaging our beloved Bachchan and Dharmendra. And then suddenly the audience cottoned on to the fact that we were wrong about this chap. Then they started cheering for Amjad and he became a phenomenon. Till today Gabbar is synonymous with Sholay.
You have made your opinion clear about mainstream cinema. If you were to recommend one Hindi film to someone outside India, what would it be?
Mughal-e-azam.
None of your own?
Well also Pyasa, Guide, Teesri Manzil, A Wednesday and the Munna Bhai films - they were wonderful. I love Rajkumar Hirani's work, he uses the popular form to great effect to make a serious effect, I'd recommend Anurag's first film 'Black Friday' and 'Dev D'.
What do you think of Anurag Kashyap?
I like his work very much. Recently he has been disappointing me. His last 'Girl In The Yellow Boots' was rubbish, then the films he has been backing also I don't really care for.
You have written much about your strained relationship with your father. If you had to do the father-son relationship all over again, what would you do differently?
It won't depend on me alone. It would depend on him too. He would be the crusty old guy he always was. I don't think he'd be different. If I had to live my life all over again, I'd probably live it the same way. The perfect life you can't have.
What lessons would you take from your own relationship with your father to help connect with your sons?
I'd be more open with them, I am, but they pretty much are more distant. They're very close to Ratna but they are very distant from me. I don't know why, I've tried very hard. Must be something about me. As it was something about my dad.
If you wrote your own obit, what would be its opening line?
I'm not dead, not in any serious way at least (laughs).
Get the best of News18 delivered to your inbox - subscribe to News18 Daybreak. Follow News18.com on Twitter, Instagram, Facebook, Telegram, TikTok and on YouTube, and stay in the know with what's happening in the world around you – in real time.
Read full article