Naseeruddin's '4084' relies heavily on acting
Naseer is the most prominent actor of the lot and lately he has gained a superstar status in offbeat films.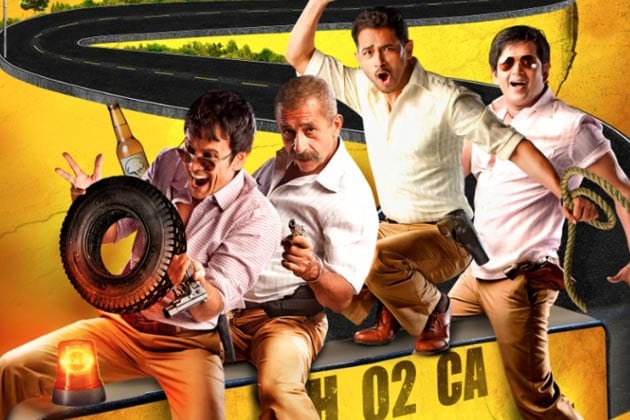 Naseer is the most prominent actor of the lot and lately he has gained a superstar status in offbeat films.
New Delhi: MH-02-CA-4084, this is the number of an ordinary Mumbai Police jeep with four extraordinary cops Naseeruddin Shah, Atul Kulkarni, Ravi Kishan and Kay Kay Menon. The star cast gives the hint about the potential of the film because all these actors have carved a place for themselves in the Hindi film industry.
Naseeruddin Shah is the most prominent actor of the lot and lately he has gained a superstar status in small budget offbeat films. His presence is felt in commercial cinema too. Recently released 'The Dirty Picture' has once again established Naseer's authority over the character roles. His portrayal of Suryakanth was funny but subtle in its impact. There are filmmakers who have shown faith in Naseeruddin Shah by casting him in lead roles even at this age. Basically Shah can give relatively younger actors a run for their money at 61.
Films such as 'Parzania', 'A Wednesday', 'Ishqiya', and 'The Dirty Picture' have dictated that an aged but talented actor can carry the film on his shoulders.
Hollywood echoed the same sentiment by casting Naseeruddin Shah in 'The League of Extraordinary Gentlemen'.
Upcoming films like 'Michael' and 'The Blueberry Hunt' are also going to showcase Naseeruddin Shah in substantial roles which suggests that Shah's stature has risen to a point where filmmakers are writing the story keeping him in mind.
Atul Kulkarni had arrived to the Hindi film industry with 'Hey Ram'. 'Chandni Bar', 'Dum', and 'Satta' proved his mettle. Some cameos in 'Rang De Basanti', 'Khakee', and 'Delhi 6' made him endear to serious film lovers. Atul's strength is his honesty as an actor. Remember the scene in 'Rang De Basanti' where he scolds Aamir and group for corrupting the Indian culture. The audience could feel the heat despite angular cinematography.
Ravi Kishan may not be a big name for Bollywood lovers but he has constantly pushed his limits as an actor. He has travelled a long way since 'Army'. Small roles in films like 'Agnee Morcha', 'Tere Naam', and 'Luck' have made his face recognised and now the filmmakers have the courage to put him in pivotal roles. 'Chitkabrey' is an example.
The last of the four is Kay Kay Menon, a powerhouse of talent. The man seems all set to become the next superstar of offbeat films. The performance of 'Sarkar' was just a glimpse. The long monologue in 'Gulaal' was capable enough to generate terror. It was his depiction of loneliness in 'Life in a Metro' that confused us whether to hate or sympathise. 'Corporate', 'Shaurya', 'Sankat City', 'Mumbai Meri Jaan', the list can go on. Every time Kay Kay appears on the screen, people expect something special.
There is no harm in expecting a good film from the director Hriday Shetty also, simply because this star cast has done it before and they look promising in the promo too.####
Get the best of News18 delivered to your inbox - subscribe to News18 Daybreak. Follow News18.com on Twitter, Instagram, Facebook, Telegram, TikTok and on YouTube, and stay in the know with what's happening in the world around you – in real time.
Read full article