National Investigation Agency Set to Take Over Probe Into AK-47 Haul in Bihar
Investigations revealed that more than 80 AK-47 rifles were smuggled from Jabalpur to Munger between 2012 to 2018.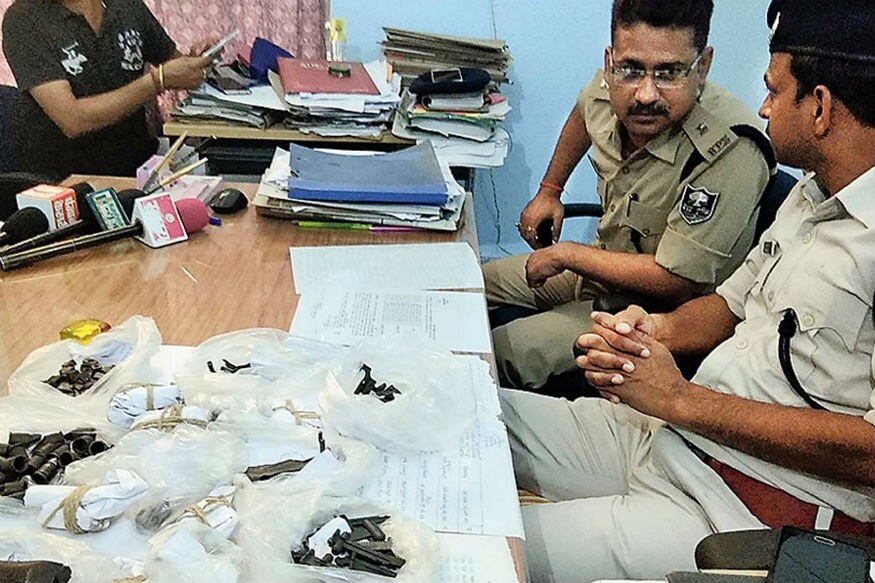 Munger SP Babu Ram (right) with the recovered spare parts of AK-47 rifles.
Patna: The National Investigation Agency (NIA) is likely to take over the probe into recovery of 20 AK-47s, smuggled from the Central Ordnance Depot in Jabalpur, from Munger district since last month.
Some powerful politicians have also come under the scanner of police who allegedly bought these weapons.
The Bihar Police have requested the NIA to probe the case taking into account multi-state connections and a possible terror angle. The recent recovery of 12 AK-47s from a well in Bardah was based on the information of arms dealer Mohammad Tanweer, who was hiding in Hazaribagh, Jharkhand.
A day after a JCB machine was pressed into service to dig out agricultural fields. More than 40 spare parts of AK-47 rifles were recovered.
Till now 20 AK-47 rifles have been seized by Munger police. A senior police official told News18 that NIA was approached earlier also, but they wanted to be sure that the seized assault rifles were indeed of Kalashnikov series.
Shamsher, who was nabbed by the Munger police with second set of three AK-47 on September 7, during interrogation has taken names of some politicians as well to whom he sold the weapons. One of them is a sitting MLA from the ruling Janata Dal (United) party, sources told News18.
"Many criminal turned politicians continue to possess unlicensed guns. Usually their henchmen use such weapons. Sometimes only to show the power of their masters. So, directly blaming any politician would not be a wise thing unless there is more evidence," the source said.
When asked about the role of politicians in the matter, Munger Superintendent of Police, Babu Ram, said, "The accused has taken many names but instead of asking them to join the investigation, we have already started tracking their involvement, if any."
Shamsher was arrested on the basis of statement by Mohammad Imran, who was nabbed on August 29 with three AK-47s. Imran had taken the consignment from Purushottam Lal Razak at Jamalpur railway station. Razak, a retired armourer of Jabalpur ordinance Depot, since then has emerged as the key accused with present employee Suresh Thakur. Both were subsequently arrested by the Jabalpur police.
Investigations revealed that more than 80 AK-47 rifles were smuggled from Jabalpur to Munger between 2012 to 2018.
This startling revelation has puzzled the security establishment and focus shifted on tracking the beneficiaries. The suspicion that these Assault rifles were used in July 1, 2016, terror attacks in Bangladesh's Dhaka has also enhanced the scale and scope of the investigation.
Apart from terror and Naxal angles, some of the rifles were sold to different people in Munger, Aurangabad, Nalanda and Gaya district of the state. During interrogation, Shamsher and Imran confessed to selling rifles to politicians as well. However, the district police have refrained from making the names public.
Meanwhile, Jabalpur police have decided to seek transit remand of Purushottam and Suresh Thakur from a Jabalpur court for questioning.
Get the best of News18 delivered to your inbox - subscribe to News18 Daybreak. Follow News18.com on Twitter, Instagram, Facebook, Telegram, TikTok and on YouTube, and stay in the know with what's happening in the world around you – in real time.
Read full article