GET Stock

Quotes


Navy Officer Breaks Shackles Of Male Body, But Struggles To Keep Uniform On
Sabi, 25, a marine engineer with the Navy, signed up for service in 2010, then a young man known as MK Giri, who had always wanted a job in uniform. Despite getting the dream job, Giri was frustrated and depressed, feeling trapped in a man's body.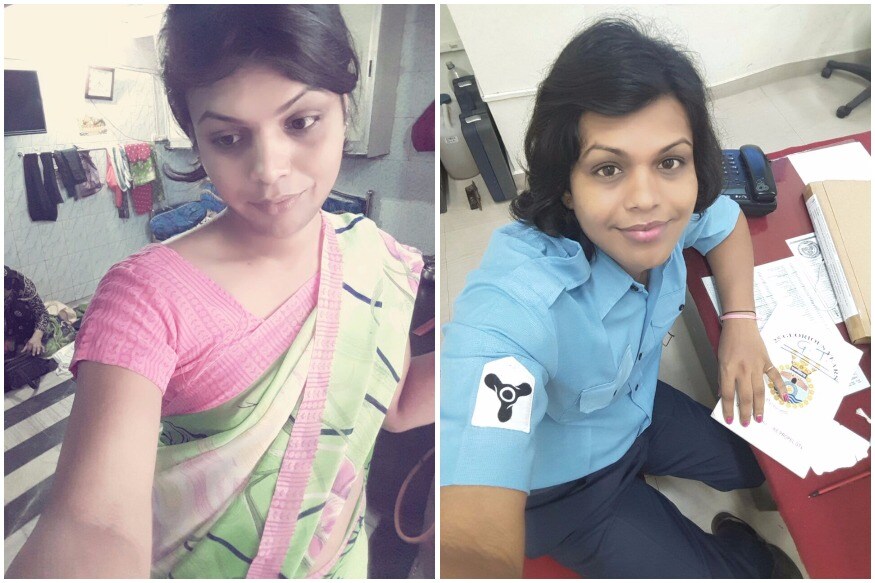 Despite getting the dream job,MK Giri, now Sabi, was frustrated and depressed, feeling trapped in a man's body. (News18 photo)
New Delhi
: For the Indian Navy's first publicly out transwoman sailor, the path to claim her identity has been a thorny one. For years, Sabi pleaded with doctors for help as she was unable to feel at home in the male body she was born in. The doctors, all with the Navy, gave her medicines for headache instead, and later locked her in a psychiatric ward.
Sabi, 25, a marine engineer with the Navy, signed up for service in 2010, then a young man known as MK Giri, who had always wanted a job in uniform. Despite getting the dream job, she was frustrated and depressed, feeling trapped in a man's body.
In October 2016, she underwent sex reassignment surgery (SRS) and came out as a transwoman. This was nothing short of liberation for Sabi. But her case presented the forces with a situation they had never faced before. Instead of the liberation she'd dreamed of, Sabi faced more ordeals from her superiors.
After her seniors at the Visakhapatnam base found about her transition, they locked her up in a male psychiatric ward for six months, with three guards, she told News18. "Being in that ward was like a jail. I couldn't go anywhere," she recalls. "I kept asking them why I was in here. They just said the orders had come from top because my case has to be reviewed."
"I couldn't understand… what crime did I commit by telling people that I am a woman," Sabi said.
"There were only men in that ward, and you know how men talk, they made comments and jokes. Even my guards did."
According to Sabi, though the doctors at the INHS Kalyani, the hospital where she was kept in, refused to answer her questions, she managed to look at her file to see they were trying to get her discharged from the navy on grounds of mental illness. "They were going to use my history against me, all those times I had gone to them for help before I transitioned," she said.
Sabi was only released when the Command Hospital in Kolkata refused to sign off on her being mentally ill. "They told my doctors this was an administrative issue and should be resolved thus," said Sabi. Even then, she said, it took over a month for her to be let out.
News18 reached out to the Eastern Naval Command and the Delhi headquarters to ask why Sabi had been kept in confinement for six months in a male ward, but there was no response till the time this story was published.
Naval sources, meanwhile, said they are considering discharging her under SNLR (services no longer required) clause.
The idea of being kicked out gets Sabi's back up. "You tell me why I can't serve," she asked, bristling. "I was taken in because of my talent, because I passed every test. Just because I am a woman now, how can I not perform those duties? I can still fight for my country, still pull the trigger of a gun if needed."
The six months in INHS Kalyani's ward were hardly the first time Sabi found herself on the wrong side of her superiors and doctors. Sabi served as a marine engineer at INS Eksila, at Visakhapatnam, described officially as "self-contained gas turbine overhauling facility". Soon after she'd arrived for this posting, she'd approached her Commanding Officer to tell him her 'problems', as she calls her struggle with her body before transitioning.
She thought it was best after what had happened in her first posting in Mumbai, at the INS Ganga. "I'd run away in Mumbai without leave for about 20 days," she said. "The doctors wouldn't help me. I was so frustrated, I left the base to be with my friends in the trans community." Friends she had found online in those years.
Though Sabi gets cagey about sharing any details about the community she found, fearing they would get in trouble, she said, "They were the only people I could turn to". The trans community has been her support system throughout, staying by her side while she got surgery in Delhi, even as the few friends she formed on base deserted her.
Fearing punishment and police involvement, for herself and her parents, she returned to base in Mumbai and was put in detention for 60 days, a time she recalls with shudders.
After that, she was posted to Visakhapatnam, where she turned not only to the doctors but also her Commanding Officer for help. "I used to ask them why my body didn't have breasts, or a vagina, they knew my problems," she said.
The CO, she said, admitted her to Kalyani's psychiatric ward, his actions foreshadowing the future. The doctors, she said, appeared sympathetic, but unhelpful, telling her their hands were tied because of their uniform.
"At that point, I thought I would commit suicide if I didn't get help. So I went to civil psychiatrists and psychologists who told me I had gender dysphoria."
The diagnosis, of a condition of feeling emotionally and psychologically at odds with one's biological sex made a lot of sense to Sabi. The hormone therapy she was put on and subsequent changes to her body helped her get better. She grew determined to get SRS.
Naval sources told News18 that Sabi didn't intimate them of what she was going to do. Sabi is emphatic, the navy knew what was going on with her and didn't help. This she wrote in a long letter to her CO — after being discharged from the psychiatric ward — when she got notice asking why she hadn't told them about her decision.
"I have not been discharged yet, but I am ready to fight them in the Supreme Court," Sabi said. However, her anger wavered, as she asked in a softer tone, "I can serve in another capacity. Women serve in other roles, and I can do that work. Please tell them for me."
Also Watch
| Edited by: Mirza Arif Beg
Read full article