Doublespeak? Prachanda talks peace, warns of violence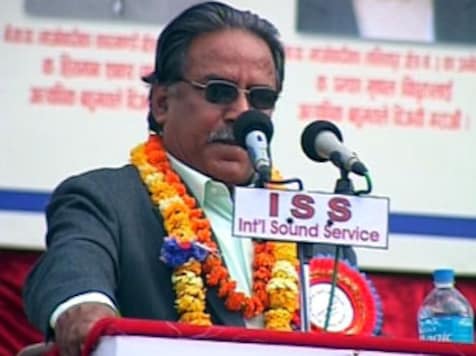 Kathmandu: The agitation against President Ram Baran Yadav will continue in Nepal – that's what ex-prime minister and Maoist supremo Pushpa Kamal Dahal 'Prachanda' says.
In an exclusive interview with CNN-IBN in Kathmandu, Prachanda also held out the olive branch to the Nepali Congress and the CPN(ML), saying he was in favour of a national political consensus on resolving the crisis.
The CPN(M) has also confirmed that Prachanda was in favour of joining the new government.
The Nepali Congress has already declared its support for the Communists who broke away from the Maoists when they sacked the army chief Gen Katawal.
Prachanda had boycotted the all party meeting held on Tuesday on forming a new government.
"We discussed the current crisis, it can only be resolved through consensus and also how to improve relations between the UML and the Maoists. And within a couple of days we will try to reach a consensus," he told CNN-IBN.
Meanwhile, Prachanda has lashed out at those behind a tape that showed him lying about the numbers of Maoists to the United Nations. He said the tape was totally outdated and it was aired to derail any prospects of peace.
"Everybody should note that I led the war for 10 years therefore I train my cadres in different ways and different circumstances. That videotape shot one-and-a-half-years back. We are not afraid of the tape," he stated.
Analysis: What Prachanda wants
Prachanda says that he is in favour of a political consensus emerging as a way out of this current impasse.
UML says he went a step further and he told the UML leadership that he was in favour of a national unity government which at least in the UML's books means a government which comprises the Nepali congress, the UML and the Maoist.
This is a hopeful sign for those who want the Maoists to return to power because a government of these three parties perhaps holds the brightest hope of a fairly stable future.
But Prachanda is not letting go of the pressure as yet as he is also exploring options of making a comeback in government with or without the UML, NC combined.
He is also keeping up the pressure, saying the agitation on the streets and within Parliament will not end so far.
Meanwhile, Prachanda's Deputy Baburam Bhattarai is not softening his stand on India. In an exclusive interview to CNN-IBN, he warned that the bilateral relationship had been badly hit by what he called New Delhi's support for the sacked army chief.
"Indian politicians are too busy with their elections and have allowed bureaucrats to make a big blunder to side with the army in Nepal. I am afraid the relationship will cool between the two countries. It shouldn't have happened," he said on Wednesday.
Next Story