0/288 Seats ((145 Seats to Win)
Alliance
BJP+
YSRCP+
TDP+
INC+
OTH
Wins + Leads
0
0
0
0
0
+/- 2014
+0
-0
-0
+0
0/90 Seats ((145 Seats to Win)
| Alliance | BJP+ | INC+ | BJD+ | OTH |
| --- | --- | --- | --- | --- |
| Wins + Leads | 0 | 0 | 0 | 0 |
| +/- 2014 | +0 | -0 | -0 | +0 |
Nepal Snubs India Again as Army Chief Declines Indian Army's Invite to Attend BIMSTEC Conclave
The development comes in the backdrop of Nepal's growing closeness to China for deeper economic and security cooperation.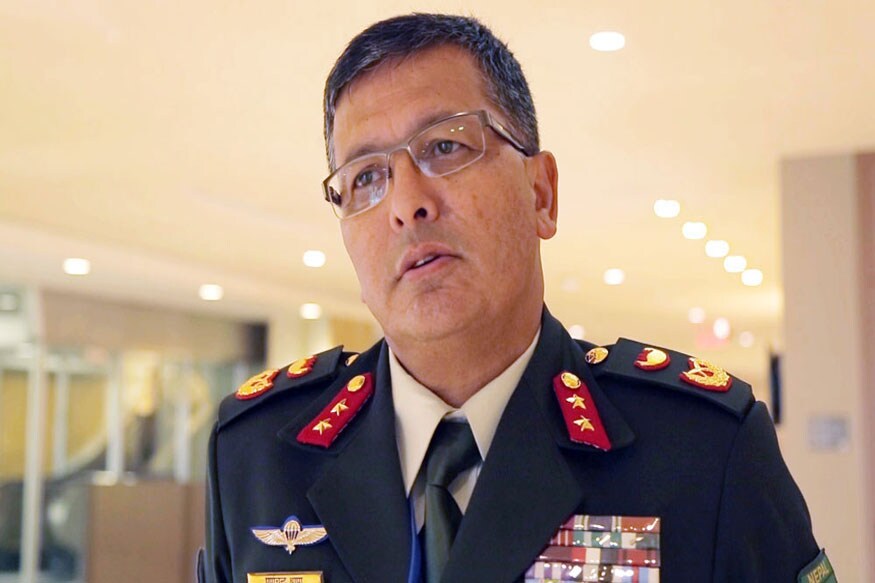 File photo of Nepal's Army Chief Purna Chandra Thapa.
New Delhi: Days after backing out from the first ever military exercise for BIMSTEC countries in India, Nepal has once again snubbed India.
The nation's newly appointed Army Chief, Purna Chandra Thapa, has declined an invite by the Indian Army to attend a conclave of army chiefs on September 16, PTI reported.
The militaries of BIMSTEC member nations, barring Nepal and Thailand, had begun a week-long exercise at Aundh near Pune on Monday to enhance cooperation in dealing with the challenge of terrorism in the region.
All members of the Bay of Bengal Initiative for Multi-Sectoral Technical and Economic Cooperation (BIMSTEC) sent its troops barring Nepal and Thailand, which sent only observers.
The BIMSTEC is a regional grouping comprising Bangladesh, India, Myanmar, Sri Lanka, Thailand, Bhutan and Nepal. The grouping accounts for 22 per cent of the global population, and has a combined gross domestic product of USD 2.8 trillion.
Officials said that all other BIMSTEC member nations have agreed to participate in the September 16 conclave. They said Nepal's Gen. Thapa conveyed to the Indian Army his inability to attend the conclave as he has prior engagements, including ceremonial events to attend in his country, the sources said. Gen. Thapa was sworn in as Nepal's Army Chief on Sunday.
The development comes in the backdrop of Nepal's growing closeness to China for deeper economic and security cooperation.
While Nepal did not participate in the BIMSTEC military drill, the nation will take part in a joint exercise with China from September 17-28 in Chengdu and its main focus would be counter-terror operations.
According to Hindustan Times, India has expressed its displeasure with Nepal over its decision to not join the BIMSTEC exercise and has told Kathmandu that its decision was not appropriate and its explanation of internal political pressure was "not convincing".
The Nepal government reportedly made the decision after strong criticism from different quarters, including influential leaders from the ruling Nepal Communist Party.
The two decisions come just after Nepal finalised the Transit and Transportation Agreement with China, which will end India's monopoly on the country's transit and allow Kathmandu vital access to Beijing's sea and land ports.
Kathmandu has sought access to Chinese ports to reduce dependence on India since a prolonged blockade of its border crossings with India in 2015 and 2016 left the country short of fuel and medicine for several months. This is not surprising considering Nepal's prime minister KP Sharma Oli is largely known for his 'pro-China' stance.
Get the best of News18 delivered to your inbox - subscribe to News18 Daybreak. Follow News18.com on Twitter, Instagram, Facebook, Telegram, TikTok and on YouTube, and stay in the know with what's happening in the world around you – in real time.
| Edited by: Aakarshuk Sarna
Read full article