News Digest: When Jayalalithaa interviewed them for tickets and asked about their falling hair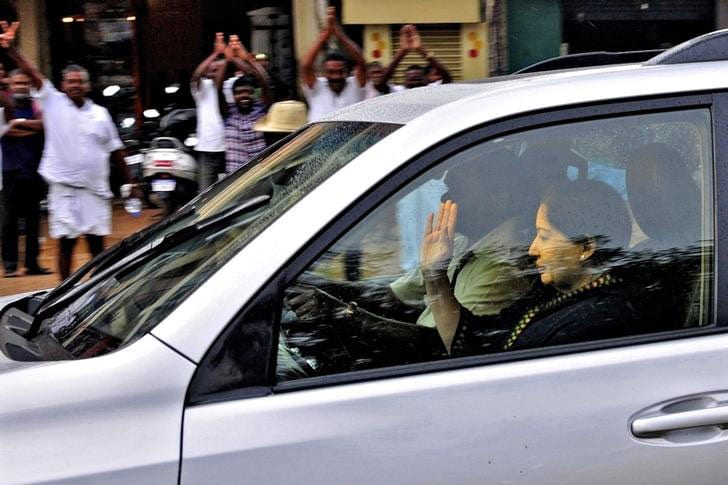 Here are some important reports from the biggest newspapers of India.
1. When Jayalalithaa interviewed them for tickets and asked about their falling hair and children
Rivals may be talking about her health and her absence from public view but as far as her party is concerned, Jayalalithaa remains as much in control as ever. The list of AIADMK candidates announced on Monday, for example, was the result of a screening process she personally conducted over four hectic weeks.
During the time actor-politician Vijayakanth's wife Premalatha raised questions about Jayalalithaa's health and alleged she had undergone in a "makeshift surgical room" at her Poes Garden home, Jayalalithaa was actually meeting 600-odd candidates from across the state, giving each two to 20 minutes, on the first floor of her home, the Indian Express reported.
2. Mumbai: Pratyusha Banerjee's suicide moves cops to focus on live-in couples
TV star Pratyusha Banerjee's suicide has prompted the Mumbai police to get the word out on its counselling services for couples in live-in relationships as well. Till date, the counselling cell, which functions under the women's grievance cell, had seen complaints from only married couples, even though it's open to all.
Sub-Inspector G Chavan from the counselling cell explained that the personnel have been trained by NGOs and guided by senior IPS officers in handling cases. The cell, set up in 2006, has a staff of 10, including two women police personnel, Vrushali Raut and Shubhangi Mohite. It used to function out of three centres — in Santacruz, Chembur and near the police commissioner's office in Fort — but staff crunch forced the police to keep just the Fort cell open.
3. Dalit teens stripped, filmed assaulted over 'bike theft'
Three Dalit boys were stripped and beaten by a mob and paraded naked after they were accused of stealing a motorcycle in Rajasthan's Chittorgarh district.
Six people were arrested on Tuesday for assaulting the minors against whom a theft case had been registered, police said, as the incident caught on video, sparked condemnation with Congress saying the attitude of the state's BJP government towards Dalits is "absolutely condemnable".
The boys, who belonged to Kanjar tribe who are traditionally treated as social outcasts, were going to their village on the stolen motorcycle which was identified by some youths of Laxmipura village who caught them. Police claimed the incident was not a caste-related issue and that three of the six arrested persons belonged to the ST community, the Hindustan Times reported.
4. Somnath Bharti charged for bid to kill wife
Aam Aadmi Party MLA Somnath Bharti has been chargesheeted for attempting to kill his wife Lipika Mitra and inflicting cruelty on her in a domestic violence case.
The Delhi Police filed the chargesheet before the court of metropolitan magistrate Rajinder Singh, the Hindustan Times reported.
According to the chargesheet, the AAP MLA from Malviya Nagar, "unleashed his dog on the complainant (Lipika) which bit her badly".
5. Meerut girl part of US team that cracked Zika structure
Devika Sirohi, 29, a doctoral student at Purdue University in the United States, is the youngest member of a team of seven researchers which has, for the first time, determined the structure of the Zika virus. The breakthrough is revealing insights crucial for the development of effective treatments for the deadly disease.
Sirohi, born and brought up in Meerut, spoke to the Times of Indi about the intense work that lay behind the breakthrough."It took us four months to identify the structure of the virus. Out of the seven-member team, three were professors and four students, including me.
During the period of the research, we barely slept for two to three hours a day , but our hard work finally paid off. This discovery will help doctors and researchers to find a cure for the deadly disease that has been reported in 33 countries," she said. Determining the structure of the virus was a major hurdle for researchers, and the team's find, Sirohi said, would now make it possible to create effective anti-viral treatments and vaccines.
6. Make in India: F16 and F/A 18 discussed - Boeing, LM hold talks for fighter jets
In the first government facilitated talks on producing an American fighter jet in India, rivals Boeing and Lockheed Martin (LM) jointly met top defence ministry officials in the capital on Tuesday, offering to locally manufacture the F16 `Super Viper' and a customised FA 18 `Super Hornet' for Indian Air Force requirements.
The formal meetings, held in the presence of Pentagon's Director for International Cooperation Keith Webster at South Block, is the first step towards a possible foreign military sales (FMS) proposal for producing American jets under the Make in India initiative.
Several officials associated with the project told the Economic Times that the government to government discussions ­ in the presence of the two defence manufacturers offering the aircraft would continue over the next few days with US Defense Secretary Ashton Carter scheduled to meet Defence Minister Manohar Parrikar on April 12.
7. Slain NIA officer kept low profile, had no weapon when attacked
His immediate family aside, a few knew Mohammed Tanzeel Ahmed was an officer deputed with the National Investigation Agency. His family and friends knew him as an upright, humble police officer and someone to look up to.
Ahmed was killed by two motorcycle-borne assailants on Sunday morning, when he was driving back home with his family after a wedding near his village Sahaspur in Bijnor, UP. Ahmed succumbed after suffering 22 bullet injuries and his wife Farzana battles for life in a Noida hospital with four bullet wounds.
According to the Indian Express, Ahmed's sister-in-law Ruksana said he never discussed his work. "Many of our neighbours and family did not even know he worked with the NIA. He was a problem solver."
8. Condoms, diapers, pads to come with pouches for clean disposal
Manufacturers of condoms and products like diapers, sanitary pads napkins and tampons in India will now have to give out pouches or wrappers with each pack for their proper disposal. The environment ministry on Tuesday made the provision mandatory under its new solid waste management rules, keeping in mind the reluctance of ragpickers to handle used sanitary pads, diapers and condoms if not wrapped.
Under the rules, manufacturers, brand owners and marketing companies are also expected to educate the masses on proper disposal of the products, the Times of India reported.
The economics and modalities of providing pouches or wrapping material for `sanitary waste' will be worked out under the `extended producer responsibility' concept. The rules define 'sanitary waste' as "comprising used diapers, sanitary towels or napkins, tampons, condoms, incontinence sheets and any other similar waste".
9. IITs hire Indians from foreign shores as faculty to build brand
Steadily climbing up charts on academic rankings, the new IITs are now looking at ways to build their academic brand in a big way and one of the target areas identified by them is bringing in world class faculty to their institutes.
So even the younger set of IITs are now heading to foreign shores to hire faculty . Case in pointIIT Ropar, one of those that has made it to the top 10 on the National Indian Rankings. IIT Ropar is set to go to three countries and six locations next month scouting campuses from London to LA to hire its new faculty, the Economic Times reported.
10. Haryana doctors to get Rs 1,000 for post-mortem, up from Rs 10
Government doctors in Haryana will now be given Rs 1,000 for performing post-mortem, marking a huge jump from the meagre Rs 10 they used to get till now.
"Now doctors and their assistants of Class IV, shall be given Rs 1,000 and Rs 500, respectively, for performing post-mortem in hospitals," Haryana Health Minister Anil Vij said on Tuesday.
Till now, they have been getting Rs 10 and Re 1 per post-mortem. This decision was taken in a review meeting of Health and Medical Education Departments presided over by Vij here, an official release said, according to a report in the Hindu.
Get the best of News18 delivered to your inbox - subscribe to News18 Daybreak. Follow News18.com on Twitter, Instagram, Facebook, Telegram, TikTok and on YouTube, and stay in the know with what's happening in the world around you – in real time.
Read full article