News18.com Daybreak | 2G Scam Explainer, Jaya Hospital Video and Other Stories You May Have Missed
Get a fresh dose of the news that matters, delivered directly to your inbox, every morning. The perfect way, to get you started and informed, for the day ahead.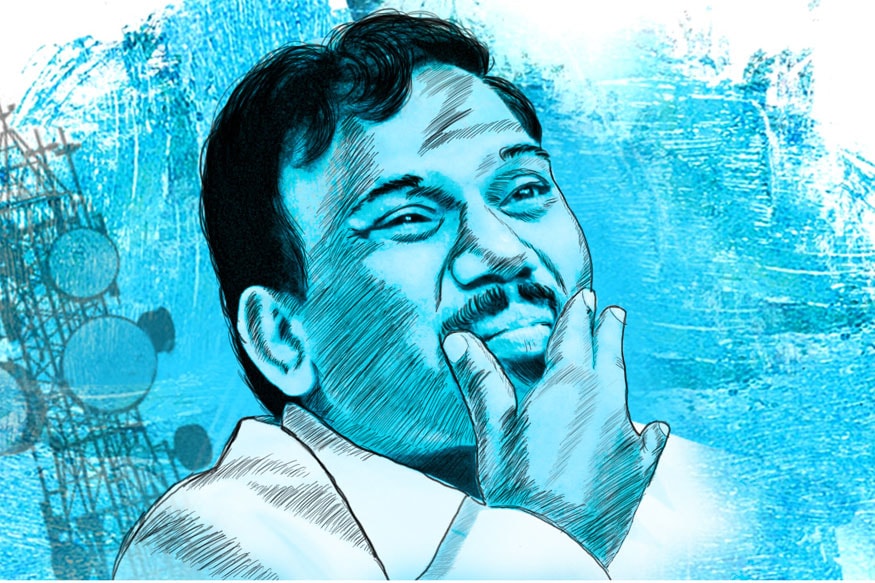 Network18 Creative
In case you missed it
A special court is expected to announce its verdict on the 2G spectrum allocation scam case today. The biggest scam in the history of Independent India, conspired over a decade ago, involved ministers, bureaucrats and leading corporates. The Comptroller and Auditor General of India in a report quantified and pegged the scam loss to Rs. 1.76 lac crores.
Right before the verdict is announced, here's an explainer on the 2G scam.
What is the scam? On 16 November 2010, CAG, then headed by Vinod Rai, revealed 2G licenses had been issued to telecom operators at throwaway prices. Moreover, licenses had been issued to ineligible applicants who had deliberately suppressed facts, disclosed incomplete information, submitted fictitious documents and used fraudulent means for getting licenses and thereby access to spectrum.
Who were accused? What were the numbers? How does the 2G scam compare with other big scams of India?
Find out here in this explainer of ours.
In other news, the 20-second video clip purportedly showing late Tamil Nadu chief minister J Jayalalithaa in a hospital has not just created ripples in political circles, but has also caused cracks in VK Sasikala's family. Although P Vetrivel, the TTV Dinakaran aide who released the video, said he had done it of his own volition and not consulted either Dinakaran or Sasikala, not everyone is convinced. It is being seen as an attempt to sway the voters in the RK Nagar bypoll by clearing the air over Jaya's death.
Over the last two years, a $250,000 worth of investment made by Amitabh Bachchan and his son Abhishek Bachchan in bitcoin, has now increased to a whopping $17.5 million in value. Yep, Amitabh Bachchan has reportedly ridden the wave of cryptocurrency's exponentially surging value and earned millions.
Pakistan has granted visas to Kulbhushan Jadhav's mother and wife, close to 21 months after he was taken into custody by their military. The two are expected to meet Jadhav on December 25 and will also be accompanied by an official of the Indian High Commission there.
An Air India passenger took to Twitter to complain about a cockroach being found on a food plate at the airline's lounge for premium passengers at the Delhi airport, forcing the airline to apologise.
TV producer Suhaib Ilyasi has been sentenced to life imprisonment for murdering his wife. Suhaib's wife Anju Ilyasi was stabbed to death at her marital home in East Delhi 17 years ago.
A Dalit woman, in the tribal region of Pendurthi in Visakhapatnam district of Andhra Pradesh, was allegedly assaulted and stripped by local TDP workers following a land dispute.
It's been 103 days since a 7-year-old was brutally killed in at Gurgaon's Ryan International School. The 16-year-old boy who was apprehended by the CBI will be tried as an adult. Has the law kept up with the heinous crimes by teens? Watch the discussion on this with Bhupendra Chaubey.
Even as women account for 47.80 per cent voters, their representation by the two biggest political parties— Congress and BJP— was 1.19 percent in Gujarat. While politicians across parties make long, glorious speeches on women's safety and empowerment, what happens to women representation? In the 182-seat Gujarat Assembly, only 13 members are women.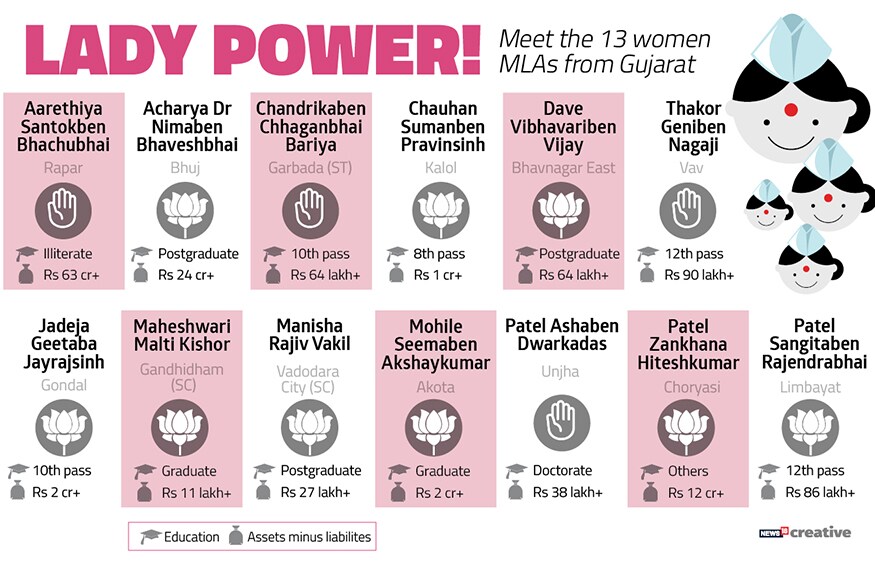 Meet the 13 women MLAs from Gujarat. (Image: Network18 Creative)
Agree or disagree?
TTV Dinakaran and the ruling AIADMK faction are fighting a prestige battle for late AIADMK supremo J Jayalalithaa's RK Nagar seat and have allegedly jacked up the price in the electoral market. It is believed that DMK working president MK Stalin has told his party they won't pay for votes. Probably because it's become too expensive, and DMK which once mastered the practice, now feels it has become the singular credible party in the state. If it wins it will reiterate that position. Senior journalist TM Veeraraghav writes about why the RK Nagar episode shows the rising the value of a vote.
Since his appointment earlier this year as the Chief Minister of Uttar Pradesh Chief Minister, Yogi Adityanath is increasingly being called upon by the BJP to campaign far and wide, outside his home turf. In the recently concluded Gujarat elections, Yogi was the most visible face from the league of BJP chief ministers. The BJP is clearly depending on Yogi way too often for their election campaigns.
With India skipper Virat Kohli excusing himself from the ongoing limited-overs series against Sri Lanka to marry Anushka Sharma, Rohit Sharma has been leading the team. While Sharma has done a wonderful job in winning the 3-match ODI series 2-1, India will be without Kohli for the first time in a T20I since the 3-match series between India and Zimbabwe in Zimbabwe in June 2016. Can Sharma fill in Kohli's big boots?
(Get a fresh dose of the news that matters, delivered directly to your inbox, every morning. The perfect way, to get you started and informed, for the day ahead. Subscribe to News18 Daybreak here.)
Get the best of News18 delivered to your inbox - subscribe to News18 Daybreak. Follow News18.com on Twitter, Instagram, Facebook, Telegram, TikTok and on YouTube, and stay in the know with what's happening in the world around you – in real time.
| Edited by: Huma Tabassum
Read full article