Municipal Corporations

9/10

TRS

8

INC

0

BJP

1

AIMIM

0

OTH

0
MUNICIPALITIES

114/120

TRS

96

INC

9

BJP

3

AIMIM

2

OTH

4
Refresh Data
News18.com Daybreak | CBSE to Re-conduct Exams, Chandrababu Naidu's Attack on the Centre and Other Stories You May Have Missed
Get a fresh dose of the news that matters, delivered directly to your inbox, every morning. The perfect way, to get you started and informed, for the day ahead.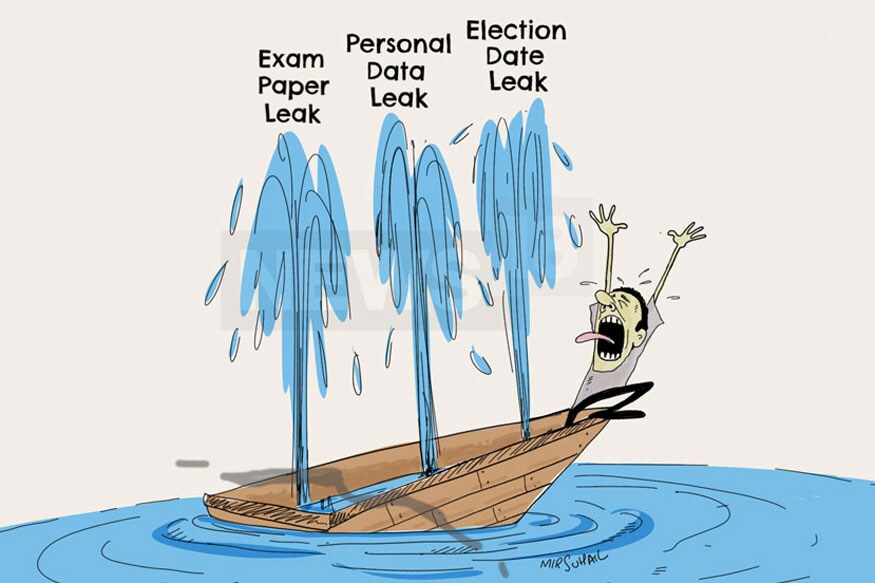 Illustrated by Mir Suhail.
In case you missed it
Prime Minister Narendra Modi has expressed his unhappiness over the leak of the Class X and Class XII CBSE exam papers on WhatsApp and asked the human resource development ministry to take strict action. Addressing the media, HRD minister Prakash Javadekar assured that there won't be any more leaks from now and security would be increased at exam centres to deal with the leaks. Earlier, the Central Board for Secondary Examination (CBSE) had announced that it will re-conduct Class XII Economics and Class X Maths examinations after reports of leak.
The Central Board of Secondary Education's Controller of Examination had warned the board that attempts were being made to access the question papers through frivolous messages and emails to examination centres. In a letter written on March 4, Controller of Examination KK Choudhury had said that "some elements were writing to examination centres and asking for copies of the question paper for verification".
In a major security breach, the President's secretariat has found that six employees working at the Rashtrapati Bhavan for over a year had been selected for the job based on fake degrees.
In an unprecedented move, Andhra Pradesh Chief Minister N Chandrababu Naidu played chunks of Prime Minister Narendra Modi's speeches before and after winning elections on the big screen especially put up inside the state Assembly. He, then, attacked the PM and the Centre for not granting Special Status to the state.
The appointment of Amit Chavda as president of the Gujarat Pradesh Congress Committee, replacing Bharatsinh Solanki, has not come as a surprise for many. Thanking his party workers after the 2017 Gujarat assembly elections, then Congress vice president Rahul Gandhi had said that it was time to infuse the party with young blood. Quite clearly, the appointment of Dhanani and Chavda is part of a larger gameplan of Congress President Rahul Gandhi to revamp the state party unit by promoting the younger generation of leaders.
A day after BJP president Amit Shah met Lingayat seers of various mutts in Chitradurga, the seer of the Murugha Mutt wrote to him, saying that minority status for the community was not a move to divide but rather unite Hindus. This also comes a day after the BJP president's statements against Karnataka Chief Minister Siddaramaiah, calling him an anti-Hindu leader who has "divided the Hindus" by recommending a minority religious status for Lingayats.
Christopher Wylie, the former employee of Cambridge Analytica who blew the lid off the Facebook data scandal, revealed that Nitish Kumar's Janata Dal (United) had employed the services of the data firm's parent company, SCL group, for the 2010 Assembly elections.
Raising a banner of revolt against her own party, BJP MP from Bahraich Savitri Bai Phule has said that there is a conspiracy to end reservation and her government is a mute spectator. She will now hold a rally in Lucknow on April 1 to protest against the voices in the party against reservation.
India has never faced a single case of a judge being impeached, so how difficult would it be for the Chief Justice of India? Can the CJI be impeached like other judges of the Supreme Court or is the process different? Here's an explainer.
March 27 means nothing to most people in the Indian Subcontinent but those in far off Balochistan, Pakistan's largest and most impoverished province, March 27 is a 'Black Day' – the anniversary of the day Pakistan's "illegal occupation" of Balochistan. But there is one corner of the subcontinent where the Baloch people live life in peace, almost unaware of their ethnic identity and roots – in the state of Uttar Pradesh. Life went on as usual in Bilochpura until one watershed event shook things up – Prime Minister Narendra Modi's Independence Day Speech from the ramparts of the Red Fort in 2016.
In an exclusive chat with CNN News18, India men's hockey coach Sjoerd Marijne has said that he doesn't rue the experiments at the Azlan Shah Cup where the team fielded youngsters. He also emphasised on one touch hockey and why it is important for India. Watch it here.
Slowly driving through the alley of stereotypes, the Saudi Arabian women are all set to occupy wider roads, both metaphorically and literally. But before the ladies set out on roads from June, their 45-year-old sister has already succeeded in making a positive dent in the kingdom's rigid system. After a battle of nearly 20 years, Nouf Marwaai was finally announced as Saudi Arabia's first certified yoga instructor.
Consider this— if you are a stand-up comedian, and no one except one person showed up for your show. Would you go on or pack your bags and go home? When Shridhar Venkataramana, a Bengaluru based stand-up comic, went to perform at an open mic, only one person turned up for the show. Shridhar continued performing. Here's what exactly happened.
Agree or disagree?
Indian polity, since Independence, has been rotating on an axis of caste and religion. Either minority bashing or its appeasement has also been another hallmark of the Indian political mindset. Minorities, though, traditionally voted for the Congress but later became political fodder for several regional parties. They oscillated their support like a pendulum in anticipation that prosperity and, above all, sense of security would prevail. However, the Congress has failed to reciprocate the unconditional support they enjoyed for decades with progress and development. Here's why minorities are in a dilemma on whether to support Congress in the absence of a Third Front.
On reel
Punjabi heartthrob and singer Hardy Sandhu has become a household name with his super hit number, 'Naa Goriye'. In an exclusive selfie interview with News18.com, Hardy unfolded some secrets. Watch it here.
https://www.youtube.com/watch?v=egrciIsndv0
Get the best of News18 delivered to your inbox - subscribe to News18 Daybreak. Follow News18.com on Twitter, Instagram, Facebook, Telegram, TikTok and on YouTube, and stay in the know with what's happening in the world around you – in real time.
| Edited by: Ahona Sengupta
Read full article