News18.com Daybreak | Killer WhatsApp Message, Revamp of Madrasa Education and Other Stories You May Have Missed
Get a fresh dose of the news that matters, delivered directly to your inbox, every morning. The perfect way, to get you started and informed, for the day ahead.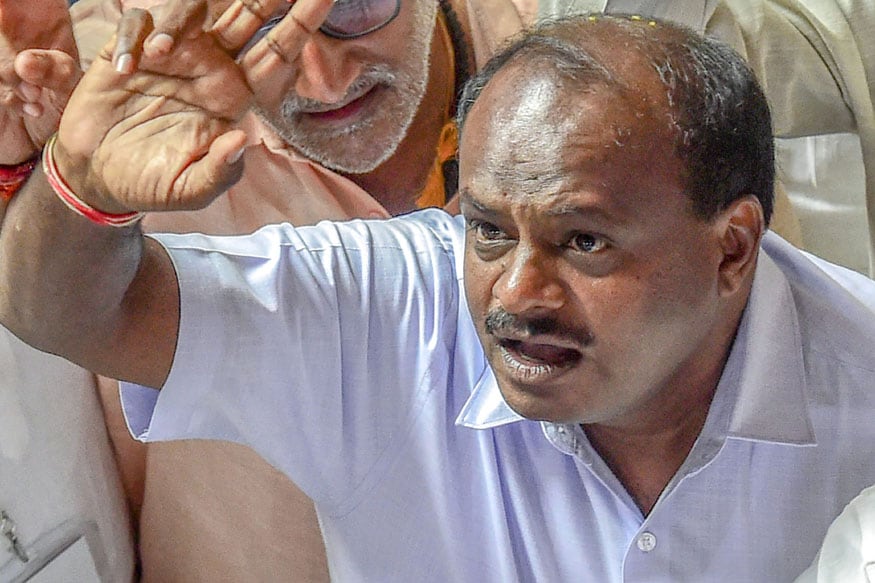 File photo of Karnataka chief minister HD Kumaraswamy. (PTI)
In case you missed it
'Guys please be on hight alert…three kids were kidnapped'. The fatal messages were both in text and audio, and in different languages. 22 'outsiders' were lynched by mobs on the mere suspicion of being the non-existent 'child lifters' following this fake WhatsApp message. WhatsApp has unfortunately become a fertile breeding ground for parasites that prey on fear. News18.com reporters from six states unfolded what really happened after this fake news, and how it led to the murder of 22 people. Here's our immersive on it.
Karnataka's newly appointed chief minister HD Kumaraswamy said his government was taking steps to ensure the information technology sector, a mainstay of the state, continues to grow, and not just in Bengaluru. In an exclusive interview with Moneycontrol, Kumaraswamy spoke about his government's technology-related initiatives. The chief minister said his government would encourage tier-2 and tier-3 cities such as Hubballi, Mangaluru and Belgaum to come up as IT destinations, which the previous Congress government was also planning.
The Jharkhand Police, with the help of CRPF jawans, finally started moving towards Kochang Village in Khunti district, where five women activists of an NGO were gang-raped on Tuesday while performing a street play to educate locals about trafficking of tribal girls. Even six days after the incident, no police team could reach the crime spot and start investigating the case as they were apprehensive about the reaction from the local tribal population. The area is considered a stronghold of Maoists, its splinter group PLFI and Pathargarhi supporters who recently had held a police party hostage for two days.
The HRD Ministry is working on a plan to revamp madrasa education in the country under the Scheme to Provide Quality Education in Madrasas (SPQEM), under which the institutions would have to to get affiliated to either madrasa boards or state boards to be eligible for central government funds. Sources in the HRD ministry said that states have submitted proposals, which are being studied, and that based on the budget available the plan to give a makeover to madrasa education will be taken forward.
Over 2.5 crore people supposed to take the online examination for nearly 90,000 jobs offered by the railways in what was being touted as the world's largest recruitment exercise are yet to hear from the mass recruiter. The deadline for submitting applications was March 30, 2018 but the railways in its open advertisement had not given any timeline for the online tests. Now, three months after the last date, aspirants are in limbo.
As the BJP and its leaders maintained their silence, it is the Congress party that has come out in support of Union external affairs minister Sushma Swaraj after she received a barrage of abuse for transferring an Islamophobic passport officer.
In what was a sample of Delhi's own version of the Chipko movement, residents, environmentalists and even children descended upon the peaceful neighborhood of Sarojini Nagar. Here's why 1500 Delhi residents came out on the streets to hug trees.
Taking note of the views expressed by the Delhi High court which appeared inclined to order an interim stay of the tree chopping process, the National Buildings Construction Corporation (NBCC), tasked with redeveloping half a dozen south Delhi colonies, agreed not to cut any tree.
Two SHOs were suspended and all the policemen of Agamkuan Police Station of Patna were suspended on Monday after a high level probe found them guilty of framing a minor boy in a motorcycle theft case because the victim had refused them free vegetables. The victim's father, Sukhan Paswan, told News18 that his son was arrested when he and his wife were not present at home. "No one informed me about his arrest. I kept searching for him for two days and reached Bypass police station where I was told that my son was booked in a motorcycle theft case with two others. When I went to jail to meet my son he narrated his story. He had denied free vegetable to a policeman who came back with other cops and arrested him," said the victim's father.
Cristiano Ronaldo missed a penalty before Portugal conceded an injury-time spot-kick in a 1-1 draw with Iran at the World Cup as the European champions set up a last-16 clash with Uruguay. Ricardo Quaresma curled in a trademark trivela goal on the stroke of half-time at the Mordovia Arena, but Karim Ansarifard's late penalty dropped Portugal to second in Group B behind neighbours Spain. Ronaldo won a second-half spot-kick after a video review but saw his effort saved, with the Real Madrid star unable to add to his four-goal tally at the tournament.
Agree or disagree?
For the last two weeks, everyone went around recommending Netflix's latest anthology - 'Lust Stories'. The reviews commented on how this fascinating set of stories directed by our finest directors Anurag Kashyap, Zoya Akhtar, Dibakar Banerjee and Karan Johar have empowered women through their tales of lust. Well, here's the hard-hitting fact. Netflix's 'Lust Stories' is neither about women's pleasure nor about their empowerment.
Ravi Visvesvaraya Sharada Prasad writes why Indira Gandhi lifted the Emergency in January 1977 and called for fresh elections to be held in March 1977 remains a mystery to this day. In this piece, he shares his personal memories of the Emergency days. His father, the legendary HY Sharada Prasad, was Information Advisor to Prime Minister Indira Gandhi till her death. "The popular notion is that intelligence agencies gave her reports that she would win the elections easily. But this is not true at all. She told my father and other officials of her Secretariat in January 1977: "I am lifting the Emergency and calling for elections. I know I will probably lose, but I must do this," he writes.
Get the best of News18 delivered to your inbox - subscribe to News18 Daybreak. Follow News18.com on Twitter, Instagram, Facebook, Telegram, TikTok and on YouTube, and stay in the know with what's happening in the world around you – in real time.
| Edited by: Naqshib Nisar
Read full article